Wenger v Mourinho
Are the hostilities really in the past? We will soon find out. Arsene Wenger and Jose Mourinho go head-to-head in the Premier League for the first time in six years on Monday Night Football and we remember some of the standout moments from a hostile rivalry...
By Peter Fraser & Edward Watson
Last Updated: 23/12/13 9:40am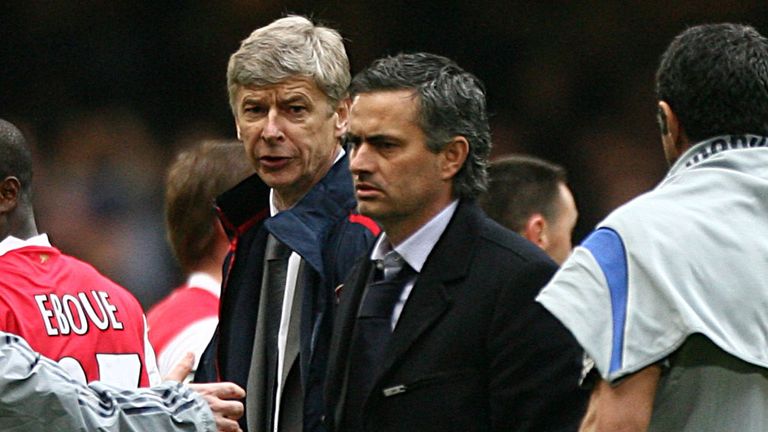 Le Professeur versus the Special One. Arsene Wenger is looking to make it '10th time lucky' as he meets long-standing rival Jose Mourinho's Chelsea for the first time in the Premier League since 2007.
The Arsenal manager has failed to beat his Portuguese foe on all nine occasions they have clashed, the latest a 2-0 Capital One Cup defeat at the Emirates in October when both sides fielded second-string teams, and their relationship has been far from friendly.
Wenger, who was reportedly even close to legal action against Mourinho during the latter's first spell in England after being accused of being a 'voyeur' with a 'big telescope', claims they have since made their peace and the League Cup tie earlier this season was relatively friendly.
But the stakes will be much higher on Monday Night Football when Arsenal host Chelsea with a win offering the chance to move five points clear of their London rivals at the top of the table. And with Wenger determined to set the record straight against Mourinho, we could expect another feisty affair.
Head To Head...
Competition
Mourinho wins
Draws
Wenger wins
Goals for Mourinho
Goals for Wenger
Premier League
2
4
0
7
4
League Cup
2
0
0
4
1
Community Shield
1
0
0
2
1
Total
5
4
0
13
6
Arsenal 2 Chelsea 2 (Premier League), Highbury, Dec 2004
Their first encounter saw Chelsea twice peg back goals from Thierry Henry. The Frenchman opened the scoring with a sublime finish but John Terry levelled things 15 minutes later. A controversial free-kick, taken by Henry before Petr Cech had organised his wall, gave Arsenal a half-time lead. But Eidur Gudjohnson scored a deft header after a knock back from then-Chelsea man William Gallas in the second half to earn a point.
Chelsea 2 Arsenal 1 (Community Shield), Millennium Stadium, Aug 2005
The day Didier Drogba introduced himself properly to Arsenal fans. The striker was in deadly form to score two goals either side of half-time. His first displayed superb control off his chest before volleying past Jens Lehmann. His second showed his strength, as he shrugged off challenges from Philippe Senderos, Lauren and Lehmann to fire into the roof of the net. Cesc Fabregas pulled one back for Arsenal but it was Drogba who stole the headlines.
Chelsea 1 Arsenal 1 (Premier League), Stamford Bridge, Dec 2006
Arguably the closest Arsene Wenger has come to beating Mourinho. Mathieu Flamini scored against the run of play after 78 minutes to give Arsenal the lead. It was short lived, though, as Michael Essien's superb shot equalised for Chelsea. Essien and Frank Lampard then both hit the woodwork in stoppage time but failed to find a winner. Ashley Cole played the pantomime villain in his first game against Arsenal since leaving.
Chelsea 2 Arsenal 1 (League Cup final), Millennium Stadium, Feb 2007
The game was surrounded by controversy. Wenger's pre-match description of what it entailed to be a 'great manager' wound up Mourinho, three red cards and a stoppage-time fight made this one of the most memorable League Cup finals. Theo Walcott scored his first goal in Arsenal colours but Drogba haunted Wenger's team once again with another double. A mass brawl saw Kolo Toure, Emmanuel Adebayor and John Obi Mikel all sent off.
Arsenal 1 Chelsea 1 (Premier League), Emirates Stadium, May 2007
The first time the two sides had met since that League Cup final and the last time Wenger and Mourinho would take each other on for six years. Chelsea had to win or else concede their Premier League title to Manchester United. There was another red card, this time for Khalid Boulahrouz for hacking down Julio Baptista in the box. Essien equalised in the second half for the 10 men but it was not enough and United were crowned champions.
What They Say...
In August 2005, Wenger takes a swipe at Mourinho's Chelsea for a perceived lack of on-field attacking tactics...
"I know we live in a world where we have only winners and losers, but once a sport encourages teams who refuse to take the initiative, the sport is in danger."
With Mourinho having been busy in the transfer market, in October 2005, the Chelsea boss hits back with a bang in response to Wenger's complaints about the free-spending...
"I think he is one of these people who is a voyeur. He likes to watch other people. There are some guys who, when they are at home, have a big telescope to see what happens in other families. He speaks, speaks, speaks about Chelsea."
That strikes a nerve with Wenger and, in November 2005, there is a threat of legal action against Mourinho...
"He's out of order, disconnected with reality and disrespectful. When you give success to stupid people, it makes them more stupid sometimes."
Mourinho does not back down and states, again in November 2005, Chelsea have been keeping tabs on Wenger's persistent comments...
"At Stamford Bridge, we have a file of quotes from Mr Wenger about Chelsea football club in the last 12 months - it is not a file of five pages. It is a file of 120 pages so we have a very strong reaction. My objective is that it is enough."
Before that bad-tempered 2007 League Cup final, Wenger again pokes at Mourinho with a none-too-subtle suggestion of the skills required to be a top manager...
"If you would like to compare every manager you give each one the same amount of resources and say: 'you have that for five years'. After five years you see who has done the most."