January sale part II
Part two of our January transfer window guide looks at possible activity at Manchester United to West Ham. We deliver our verdict on what's needed at each club and offer realistic expectations over what will actually transpire
Last Updated: 06/01/14 9:07am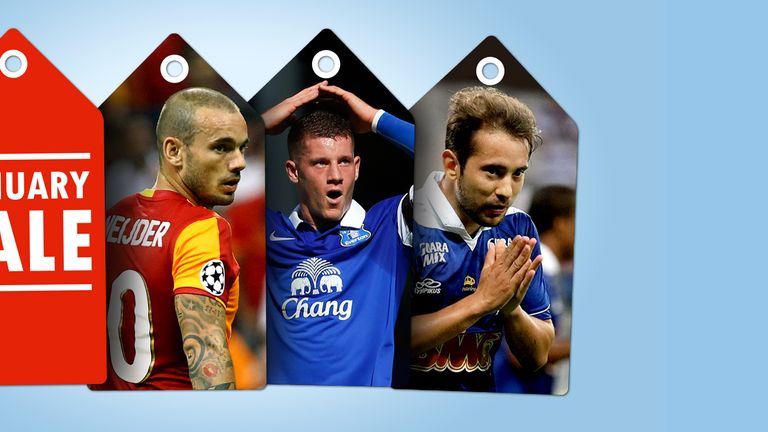 With the January transfer window now upon us the big question is which Premier League clubs will open the coffers and buy big?
Manchester United are hardly notorious spenders at this time of the year but after a disastrous summer in terms of recruitment, it could be that David Moyes will act boldly to placate a swell of support who are worried the club are slipping behind their rivals.
Arsenal and Chelsea are both in the market for a striker, while Brendan Rodgers would love to add a couple of new faces to a light looking Liverpool squad.
Tim Sherwood is unlikely to be given an open cheque book at Tottenham but will be keen to make his mark in terms of recruitment, whilst Manchester City are rarely bystanders when it comes to eye-catching market moves.
At the other end of the table, those at the bottom will be acutely aware that whoever comes out on top in terms of January recruitment will likely have the greatest chance of staving off the drop.
Here, we look at the potential transfer plans of Premier League clubs - Manchester City to West Ham.
MANCHESTER UNITED
What they need
Everything they needed in the summer - creativity in midfield, steel in midfield and another left-back, although that can perhaps wait until the end of the season. Despite arriving for the handsome fee of £27million, Marouane Fellaini has failed to make an impact, while it took United 16 Premier League matches before any of the club's midfielders registered a goal or an assist. Given Moyes' comments on the champions' top targets choosing to move elsewhere, United could really do with pulling something out of the bag to restore their dented reputation and credibility in the fight for fourth.
What they will probably get
Less than they need. This could be a defining transfer window for United after the debacle of last summer and, should they end the season outside the top four, it will be even harder to attract the biggest names next year. A move for Wesley Sneijder may not carry the appeal it did three years ago, but the 29-year-old still has plenty to offer and would certainly be an upgrade on several of United's options in the middle. Moyes should ditch his plans to sign Leighton Baines - now a symbol of the manager's failure to broaden his vision - and pursue the promising Luke Shaw or make a rekindled loan move for Fabio Coentrao.
What's been said
"I have a good squad. Can I improve it? Of course I can. Am I going to improve it? Yes I am. Undoubtedly we will alter things in the coming months and transfer windows. Will they come in January? I don't know" - Moyes, December 13.
Merson's verdict
David Moyes needs to buy a central midfielder all day long and they probably need another centre-half and maybe even a centre-forward. They need a few players there's no question about that. They had been ruled out after the Newcastle game and whilst they've been on a decent run since then (bar the Tottenham game) you can't let a few good results cover over the cracks of their problems this season. I think they need to pick a couple of players up.
Manchester United's transfer news in full - click here
NEWCASTLE
What they need
Strength in depth. Along with Hull, Newcastle are the side that have performed the highest above expectation this season, but that has been largely due to a lack of injuries to any key players (other than Jonas Gutierrez's extensive sojourn in South America). Newcastle have been fortunate that a rather thin-looking squad has not been fully tested as yet, and they do have the opportunity to kick on. Support for Loic Remy up front may be a priority (Bafetimbi Gomis has been oft-mentioned), whilst another winger would remove the necessity to ever need to bring on Gabriel Obertan in the Premier League - always a good thing.
What they will probably get
With Joe Kinnear seemingly in charge, goodness only knows. It would be a surprise if Newcastle splurged significantly in January, especially given the morale and form within the squad currently. One or two arrivals shouldn't be ruled out, however.
What's been said
"The transfer window is open soon and that might be an opportunity for us to galvanise ourselves. I haven't really talked too much about the finance available but we've talked about players. We're making sure that we don't miss what might be a key signing." - Alan Pardew, December 22.
Merson's verdict
The biggest thing Newcastle can do in January is to keep hold of their best players. That's probably more important than bringing anybody in. They have players like Yohan Cabaye, who is top drawer and will be attractive because he is eligible to play in the Champions League. They need to keep hold of him.
Newcastle's transfer news in full - click here

NORWICH
What they need
Only three sides have scored fewer and only one has conceded more, so you do the maths. With Gary Hooper (who has impressed of late), Ricky Van Wolfswinkel, Johan Elmander and Luciano Becchio all on the books a new striker would seem unlikely, but some defensive solidity and more bite in midfield (where Leroy Fer has been ploughing a lone furrow) may prove the difference between sink and swim. The problem is, that's exactly what everyone wants.
What they will probably get
Norwich's first problem is that they have too many Championship-level players in their squad. Their second problem is that they are unlikely to attract much better in January. Loan deals (Nick Powell, Kyle Naughton, perhaps?) or those at the upper end of the Championship (Jake Buxton, Kieran Trippier) seem the likely options. Who's playing well at Leeds?
What's been said
"We are looking to build and make progress - not to disrupt. We will make decisions in January where we want to strengthen the squad. If that is not the case, then we are happy to go with what we have got." - Chris Hughton, December 14.
Merson's verdict
Norwich are another team who just need a bit of freshening up and any new face would be welcome. I don't really want to pick out a certain position because they have Gary Hooper to score goals for them and they have decent players throughout the side, but Chris Hughton needs a new face or two.
Norwich's transfer news in full - click here
SOUTHAMPTON
What they need
The first thing is to keep hold of their manager, and possibly Luke Shaw as well. Once those tasks are ticked off the 'To do' list, a little squad depth would be very handy, particularly in the middle of their defence. In addition, if they can conjure a decent goalkeeper from somewhere that doesn't try Cruyff turns in his own penalty box and isn't Paolo Gazzaniga, that would be lovely too.
What they will probably get
Well, not a great deal, if the words of their manager are anything to go by...
What's been said
"We're not really concerned, we're happy with the young players that are part of this team. That gives us an important balance but we're not really looking at the January transfer window. We're happy with our young players' contributions, so we're not really looking to use the window" - Mauricio Pochettino, December 20.
Merson's verdict
Southampton spent their money in the summer. They took their chance and did some very good business bringing in three players down the spine of the team in Pablo Osvaldo, Victor Wanyama and Dejan Lovren. I don't think they will do anything else in January.
Southampton's transfer news in full - click here
STOKE
What they need
A striker. Boy, do they need a striker. Stoke seem to have made not scoring many goals their 'thing' in the Premier League. They scored the second-fewest goals last season, the fewest the season before, etc and so on. Their top scorer this season is Charlie Adam with three, and only two other players have scored more than once. Yes, they could probably do with someone to stick the thing in the net.
What they will probably get
Peter Coates has a history of giving his managers money, and it's hardly his fault that some of that money has been spent on Dave Kitson. They probably will recruit at least one forward, with Shane Long and Luuk de Jong mentioned. If they could sign both those men, a rhyming forward line would be just splendid.
What's been said
"There will be money available for Mark in January and it's pretty clear that we are looking for a striker. That's the one position where we need to strengthen but they're not cheap and we haven't been able to find one for one reason or another...There is nobody singled out at this moment but it will be Mark's choice and there is money for him" - Peter Coates, December 3.
Merson's verdict
I would probably say they need a central defender. We are used to seeing Robert Huth and Ryan Shawcross, but if one of those players gets injured then Stoke just aren't the same team. If I was Mark Hughes I would be looking to get a bit of cover in that department.
Stoke's transfer news in full - click here
SUNDERLAND
What they need
Well, what they really need is not to be quite so rubbish, but will a single transfer window solve that? If Wes Brown and Steven Fletcher can stay fit, then midfield looks to be the area most in need of improvement. Two plus two merchants might suggest a move for Gus Poyet's former Brighton charge Liam Bridcutt, who is conveniently returning to fitness in time for the transfer window. A proper goalkeeper might be handy too, rather than flitting between two average ones.
What they will probably get
Very much depends on whether Ellis Short wants to spend again, after financing Paolo Di Canio's wheeze of chucking the Sunderland squad into a big pile in the Stadium of Light car park, setting it on fire, then buying a whole new one. Might Poyet have to sell in order to buy? And if so, who on earth can he sell? Fletcher? Emanuele Giaccherini? Maybe dupe someone into taking Adam Johnson?
What's been said
"My aim all the time is to do things quickly in January. We're having meetings practically every day and we're getting close to January now. January 1st is a Wednesday, it's not on the weekend, so if there are not any problems with bringing them in from abroad, they could be signed that day" - Gus Poyet, December 20.
Merson's verdict
I've seen Sunderland play well this season and they could have got more points than they have, but at other times they simply haven't been good enough, especially against the big teams. Any new faces to freshen things up would be a bonus for Gus Poyet. He just needs to inject a bit of impetus into the squad.
Sunderland's transfer news in full - click here
SWANSEA
What they need
As with many clubs in the Premier League, a striker will be top of the list. Wilfried Bony is just returning from injury, and £2million Michu has looked much more like a £2million player this season, scoring just twice in the league, the last one coming in September. Some defensive beefing could be in order too, what with Garry Monk's continuing absence leaving them with only Ashley Williams, Chico and Jordi Amat as central defensive options.
What they will probably get
If they listen to Michu, then Iago Aspas could arrive on loan, which might solve a couple of problems if he manages to play as he did with Celta Vigo, rather than as he has at Liverpool. There has been talk of a slightly bigger splash, possibly for someone like Tom Ince, as well.
What's been said
"It is always our aim to improve the squad, whether in January or next summer. We will always look to do that. There could be one or two coming in January. A few in January would help us and we will have funds ready to make sure we bring a few in. But we have to make sure they are the right players for our system" - Swansea chairman Huw Jenkins, December 4.
Merson's verdict
I must be honest and say I haven't seen enough of Swansea this season to say exactly what they need. They play so many games on Sundays that I don't cover them much on Soccer Saturday. From a distance I would say they may need a back-up central defender in case Chico or Ashley Williams gets injured.
Swansea's transfer news in full - click here
TOTTENHAM
What they need
Blimey. Well, I dunno, probably a striker? Maybe someone comfortable playing on the left wing who isn't Nacer Chadli? Assuming you rate Kyle Walker, the only real, wide, gaping hole in their squad is at left-back, with Danny Rose their only specialist in that position, something that Franco Baldini/Andre Villas-Boas/Daniel Levy/whoever you're blaming this week should be given a smack with a wet slipper for allowing to happen.
What they will probably get
Well, probably not much. Tim Sherwood has the gig at least until the end of the season, and as part of this no-nonsense, tell-it-like-it-is, none of that fancy muck image that he seems to be trying to build for himself, he reckons they don't need any new signings. If Jermain Defoe leaves for Toronto then that may well change, of course.
What's been said
"I don't know how they fit all the players out there [on the training ground]. There are so many players. The injuries have helped with the numbers to be honest, even though you want them fit. It's fifteen a side games in training. What are you going to do with them all. I want to sign players who can have an affect on the first eleven. That's how I see it" - Tim Sherwood, December 20.
Merson's verdict
I think Tim Sherwood is just going to have to work with the players he's got unless there are a couple of managers out there that want some of these Spurs players that aren't getting a game. Then you could take them off the wage bill and do something special. It isn't the worst squad in the world by a long way and all it has taken is for someone to put Emmanuel Adebayor in the team and they're a completely different team. I don't think they'll be given any money to spend at all.
Tottenham's transfer news in full - click here
WEST BROM
What they need
Hey, join the queue for a striker, Baggies. There are some that have said Steve Clarke was essentially sacked because Victor Anichebe isn't as good as Romelu Lukaku, and while that's a little reductive, there is some truth to such talk. The thing is, aside from a lack of a top-class striker, the Baggies squad actually looks OK, for their mid-table ambitions, they've just been under-performing. Having said that, Liam Ridgwell and Goran Popov aren't particularly convincing left-backs, so a new one of those might be handy. However...
What they will probably get
It seems they won't be making an especially big splash, with sporting director Richard Garlick admitting that they basically spent their cash in the summer, and won't be making any significant moves this January. A loan or a free signing here and there, but nothing especially eye-catching. A few fringe players - Markus Rosenberg and so forth - might leave, freeing up a little room for manoeuvre.
What's been said
"We exhausted all available resources during the summer window to ensure the squad is as competitive as possible for the season ahead. We've traditionally used the January window for topping up the squad due to injuries or unforeseen circumstances and we'll be looking to do that via the loan market or short-term deals. January will also be a time to reassess the positions of players who may not get regular game time and become surplus to requirements" - Garlick, December 17.
Merson's verdict
I don't think Keith Downing has done bad at all since taking over as caretaker I don't think they need to be in such a mad rush as Cardiff to get a new manager. Tactically Downing looks very good so I don't think they'll be majorly panicking. They've had some big results and draws at Tottenham and West Ham, where the most important thing in these games was not to lose. I don't think they'll be in a mad rush with appointing a manager, which means not much action in the transfer window at the moment.
West Brom's transfer news in full - click here
WEST HAM
What they need
Lord, take your pick. The obvious one is a striker, but there are problems throughout the West Ham side that could do with addressing. The absence of Winston Reid means that a central defender is probably a priority, while Jussi Jaaskelainen certainly has his moments. So, basically, if they buy anyone that isn't a winger (not that their wingers have been particularly good - they've just got loads of them), then that would be smashing.
What they will probably get
That striker will surely arrive, with Rickie Lambert, Diego Forlan and Obafemi Martins (seriously) mentioned, while they're definitely on the look-out for a central defender, even if Johnny Heitinga doesn't fancy it. Plus, don't rule out a panic and a big splash on someone perhaps slightly ill-advised as the deadline approaches.
What's been said
"We are talking with a club and a player's agent to see whether they are going to join us or not. It's an attacking player. We're trying to do the deals as quick as we possibly can. David Sullivan is the quickest owner of a football club that I've ever had. He doesn't 'ooh, ahh and um', like most of the other owners I've been involved with" - Sam Allardyce, December 15.
Merson's verdict
They put all of their eggs in one basket with Andy Carroll and they could be in trouble with him injured. They need back-up for him with so many games coming up and while reaching the Capital One Cup semi-final is great for the fans, it is another two games to test a squad that isn't the biggest in the world. If they can't get Carroll fit then they need to get a forward in.
West Ham's transfer news in full - click here
Read part one of our guide here