Cup of Dreams
Our Cup of Dreams feature continues as we head into the all important third round and catch up with Kidderminster captain Kyle Storer as they look to take the scalp of League One Peterborough.
Last Updated: 03/01/14 1:19pm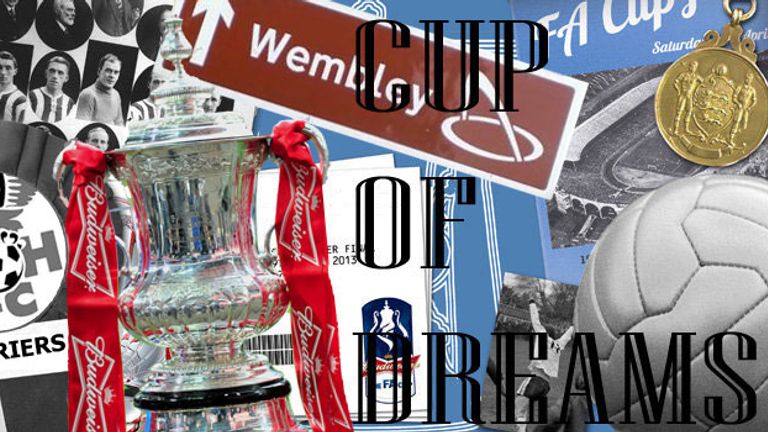 It is nearly a decade since Kidderminster departed the Football League, and they have been trying to get back ever since.
Even cup runs have evaded them in recent times, with their fondest memories going back to the mid-90s when they made the fifth round for the only time in their history before going out to West Ham United.
Whilst getting out of the Conference remains the main aim at Aggborough, cup fever has come to town and with a home game with Peterborough awaiting them in the third round, confidence is relatively high that a shock could be in store in Worcestershire on Saturday.
We caught up with Harriers captain Kyle Storer, who has been in the third round before with his previous club Tamworth but has never made it any further.
"This will be my third time in the third round, I got there twice with Tamworth. The best was when we got Stoke to a replay, but I have been no further so it would be a nice day for an upset," he told Sky Sports.
And Storer admits that the chance of an upset is something which is really egging Kidderminster on: "There is no doubt about it, there is a chance of a shock.
"They are a very attacking side and we are an attacking side, so it will be an entertaining game and there should be plenty of goals."
He admits that he would have loved to have been drawn against his own team Arsenal, but believes a winnable cup tie is the next best thing if you don't get a Premier League team.
"Obviously when the draw is being called out and it's the third round, you see all the big teams and I'm an Arsenal fan myself.
"When you have them, Chelsea and Spurs in the draw your thinking might be to get a big one but if you don't, you want a home tie to cause a possible upset. Peterborough should be an entertaining one."
Promotion
Kidderminster's main aim this season is very much promotion from the Conference, but their form of late has been anything but great, and they are coming into the game off the back of a 6-0 loss to Luton Town.
But Storer insists that being in cup action can be a 'nice distraction' for the squad.
"We are not performing to our best, but when you get to this stage of the FA Cup it is a nice distraction and is a great feeling to be in the third round.
"I have played in it a few times myself but for a few boys it might be the highest they ever play or it might be the first time they have been here, so they have to take it in their stride. The aim is to win and hopefully get ourselves on the TV on the night. We need to make sure this does not pass us by.
"We lost in the first round last year, and were unlucky but this is the furthest Kidderminster have been for a while, since the fifth round in the 90s, so it is a chance to put us on the map a bit again and hopefully give a good account of ourselves.
"Any cup tie like this is a carrot for the players, you have to progress yourself and as an individual you want to perform week in, week out."
Whilst the cup is their priority this weekend, winning promotion remains the main aim and it is never far from their thoughts.
Kidderminster missed out on the final day last season when Mansfield went up and Storer admits it still crosses their minds.
"I have never played in the league myself, it is such a hard league - as we found out last year. We missed out by a couple of points and we should have really won it last year.
"It is going to be a tough season and the main aim is to get out of the league and I think we have the squad and management to do it, but you have to win the games that we have been losing recently. You have to be on your game every week and anyone can beat anyone, but our main aim is still to go up. If we don't win it then very much we want to be in the play-offs."
Despite not being a league club for nearly a decade, Kidderminster are full-time and Storer insists they are ready to make the step up.
"We try to be as professional as we can. On and off the pitch we train very hard, so when we do play against full-time teams, there is no excuse as we are the same and hopefully we can show that this weekend.
"The last two years we have been geared up for promotion and everything is in place. We are on a sound footing financially, the lads are all on good contracts and we are getting well looked after. We are all geared up now, ready to go up and we just need the results. We need to have a good push on in the second half of the season."