Scott Parker Q&A
'Don't call us Dad's Army' - veteran midfielder Scott Parker sees experience as a positive as Rene Meulensteen's Fulham battle against relegation ahead of Saturday's important London derby at Premier League table-toppers Arsenal...
Last Updated: 18/01/14 7:15am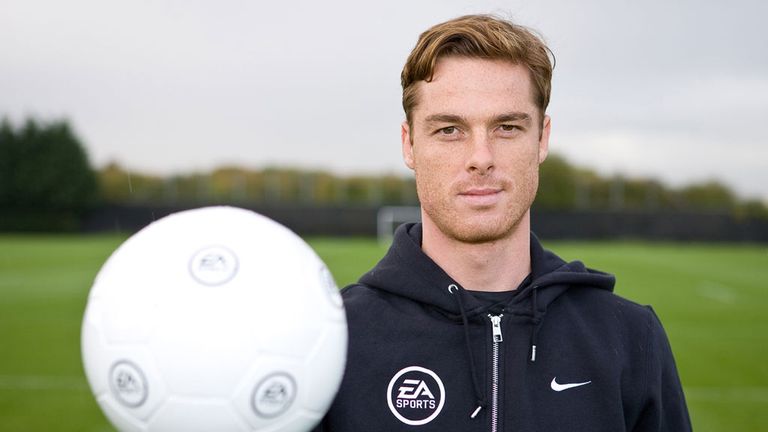 When battling against Premier League relegation, the last thing any team would want would be to visit the table toppers. That, though, is the task which faces Fulham this weekend as they prepare to take on Arsenal at Emirates Stadium.
Ahead of Saturday afternoon's important London derby, Fulham's Scott Parker spoke to the national media - with Sky Sports granted access to the interview with the former Charlton Athletic, Chelsea, Newcastle United, West Ham United and Tottenham Hotspur midfielder.
Here, 33-year-old Parker discusses Fulham's inconsistent season, the arrival of new head coach Rene Meulensteen, a reunion with Alan Curbishley, a Dad's Army tag, the challenge of facing Arsenal, and the battle to avoid the drop.
It has been a mixed couple of weeks for Fulham. How have you found things?
"It has been a mixed bag. We went into the Christmas period and seeing those four games as very important. We picked up six points out of the four. In an ideal world, we would have probably wanted a little bit more. But it was not to be and we fight on. There are a couple of tough fixtures coming up but we got a good win in the week against Norwich City. When you win games, it breeds confidence. At the moment, our inconsistency is letting us down a little bit. In this league, when you are down there, if you can go and get a couple of back-to-back wins it is massive. You can separate a little bit and get a bit of breathing space and the pressure is not on which makes it a bit easier."
Is it difficult to understand Fulham's inconsistency?
"It is very up and down. That is the reason why we are where we are. When you are down in the league where we are, confidence plays a massive part in it and certainly you could say that is a big factor with us. The minute we get a good result, confidence starts rising. If you get a bad result, you are back down there. So I think we all have to try and stay as level as we can and grind out results. We either seem to win or lose. I cannot remember many draws that we have had this year. We have got to be hard to beat and pick up some points."
How are all the new coaches settling in at Fulham?
"Very well. Rene has come in and brought his ideas and has done very well along with [technical director] Alan Curbishley and [assistant head coach] Ray Wilkins. They have come in and all brought different parts. There is vast experience between them all and so it helps massively. As a team, we seem to have picked up a little bit and we are playing a bit more dynamic. I am sure Rene is looking at it and has an understanding of what needs to be done. I am sure over the course of time he will address it as much as he can."
Talk us through Alan Curbishley's appointment. Did you have contact with your former Charlton and West Ham boss before he took up the position?
"No, I had not spoken to Crubs for a long time. Honestly, I did not have a clue. I found out the evening it was announced. Curbs has been in this position before with West Ham so I suppose the people at the club have looked at that and he will bring experience and hopefully a bit of knowhow of what needs to be done and what the players need to do to get us out of it [a relegation battle]. He will also be a sounding board for the manager. The manager is probably new to it so he can bounce ideas off Curbs."
Were you surprised Alan Curbishley was out of the game for so long?
"I probably was. I do not know whether that was Alan's choice or not. He enjoys the media side of it, I think, and got into that. When he left West Ham, it was on difficult terms so I was quite surprised. He brought me up at Charlton and then he took me to West Ham, where he did a fantastic job."
What is Rene like? Is he interesting and different to work with on the training pitch?
"He is very hands on as a coach. He takes a lot of the session and drills into the players how he wants us to play. He is very confident. His experiences at Manchester United have brought him that success. He has a mentality where he has been at a club where, the majority of time, they are going into games preparing to win. I am sure that is a little bit different here and I am sure there are certain things he is going to have to change, like any man has to when they leave a club. The lads have taken to him really well. You can see that in some of our performances."
Do you feel you have enough in the squad to push on and get the results to move up the table again?
"Definitely. I have no doubt this is a very good squad. The Premier League is tough but you look at that table and there are a whole bunch of teams who are in it [a relegation battle] so there is still a way to go. I certainly think there is enough experience, knowhow and quality in this squad to get out of it."
The Fulham squad has been criticised this season for being a bit old. What do you say to that?
"I cannot really argue against it, I suppose. We are an older squad. But you can reverse that and talk about the experience. Playing the years that all of us have played, we have an understanding now. If you look at the stats and the data, there have not been many as a team when we have been outperformed by the opposition. I do not think age is an issue but I understand people might suggest that."
Do you feel it is a strength that you have been in a battle against relegation before in your career when you were at West Ham?
"I think that can only help. When you have been in a situation before, you have an understanding of what has to be done. Along with that, we do have some youngsters in the squad who have done very well. I see it as a balance. Hopefully the experience in the squad can help us move on."
The battle to avoid relegation is going to be very close this season. There could be three clubs from about 11 who could go down. What do you make of it?
"I looked at last weekend's game against Sunderland and if we had won that we would have been on 22 points and sitting in 11th place in the league. That is how tight it is this year."
What do you think of Arsenal this season? How surprised are you that they have become so consistent?
"They have been fantastic. I have always been a big admirer of the way they play. Over the last few years, the one criticism which has been put at them is that they have not won any trophies and have been a bit inconsistent. Certainly, this year, they seem to have turned a page in that sense, really. They have got a fantastic team with unbelievable individual talent but, not only that, this year they have shown a real defensive side to their game. Now they have got that, they are looking like a team who are well worthy of winning the Premier League."
You have had some good games at the Emirates in the past. Is it a ground which you enjoy visiting?
"Obviously I have been at some London clubs so there has been the derby rivalries - and none more so than Spurs. I do not really know my record there but the Emirates is a difficult place to go. We are all under no illusions about how difficult it will be at the weekend, with Arsenal flying and doing so well and their abundance of talent, but we are going there to give them a hard game."
Arsenal's attacking midfield could be argued as being the strongest in the league. How will you approach that challenge?
"The strongest part of their team is probably their midfield. We will prepare as much as we can and watch videos. We have all played against Arsenal and see them enough on TV to understand their qualities and understand what they do. I think the reality is that we can dress it up as much as we want but we have to be out there and it is a day when we will all have to be 9/10. If not, it is going to be a tough game."
Scott Parker appears in EA SPORTS FIFA 14, available to buy now on Xbox One, PS4 and all other formats from Game.co.uk. Start your Ultimate Team today at easports.com/uk/fifa/fut-hub