Secret Agent
The shadowy world of the football agent is one that is cloaked in secrecy amid accusations of greed. Thankfully, we have got one of the good guys on board to lift the lid on what life really is like at the sharp end of a notoriously cut throat business.
Last Updated: 20/01/14 2:14pm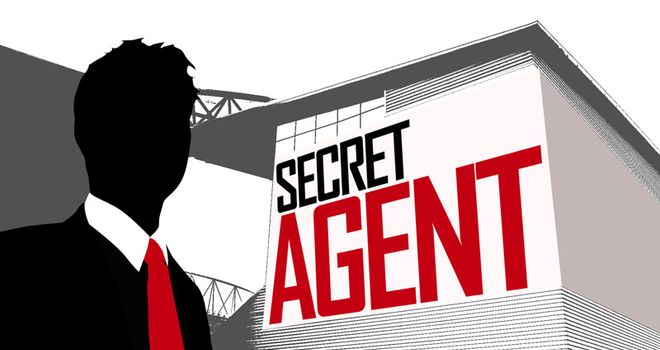 All squads have fat. Whether it be Paulo Ferreira happy to keep Gordon company in a Stamford Bridge broom cupboard or a lower league journeyman content to see out the final year of a contract playing with kids in the stiffs, every club has a player or two they'd happily trim off the wage bill.
It's about this time of year, with managers under pressure to bring in fresh faces, that the blame for a lack of recruitment sits squarely at those happy to take a wage without contributing a right lot. Of course, it's nothing to do with the average chairman being able to a peel a tangerine in their pocket.
When a beleaguered boss wheels out the line 'we need to get players out before we can bring any in' it's effectively as subtle an accreditation of blame for the situation as pointing a giant foam Gladiators-style finger in the direction of that chubby schemer or useless full-back most supporters forgot the club still owned.
Yeah, I'm talking about you Winston. When Chelsea gave Mr Bogarde a four-year contract worth £10million in 2000 they probably anticipated the Dutchman would make more than four starts. He didn't. Instead he chose to fight for his place by piling on the pounds, with the normally mild mannered Graeme Le Saux moved to say: 'he put a lot of weight on at Chelsea. I'd have been embarrassed to be in that shape as a professional, but he didn't seem to care.' In his final season at the club he chose to commute to training. From Osdorperweg, in the Netherlands.
The problem is that while the Premier League, such is it riches, is rife with players who are ready to accept that the pre-season photo-call will be their busiest day of the year, lower down the food chain it's often more a case of necessity over greed driving a reluctance to be shifted out.
It's probably right then to redress the balance and offer an insight as to why so many player are 'happy' to 'sit on a wage'.
Recently I had a player with six months left on his contract, earning a decent wage at his club. Despite being a fan favourite he'd found himself out of a favour and hadn't made a match day squad for a month.
It could be his new manager didn't fancy him, but I suspect he'd been told part of his mandate was to reduce the club's budget by his chairman. A classic way to save wages is to drop your top earners, hoping that they will want to play games and move on.
Nothing wrong with that and it happens all the time. As an agent, it's my job to work with the player's current club, speak to potential suitors and work out an agreement for all concerned.
First and foremost, my job is to look after my players' careers. There's nothing worse than one of my clients not playing, especially when a contract is up at the end of the season. It's not an easy task to get a player who hasn't played for six months fixed up with a new club, especially given the raft of free agents available every summer.
I quickly found a couple of options for my player, however, as he was getting a decent wage at his current club the interested teams weren't able to match his salary. The idea of a loan move where his new club pay half or two-thirds of the player's wage was mooted by me. This meant my player wasn't losing any pay and his parent club was still making a saving.
This was quickly rejected. The club offered a free transfer with a percentage of any future sale of the player, but they stopped short to make any offer of a severance package or 'pay-off'.
I had to dig my heels in on this matter and in the process risk both myself and client being labelled as mercenaries. The reality is that no player will be willing to leave a club without some kind of pay-off, especially when prospective next port of calls are a long way from getting close to matching existing salaries.
It's all about economics. He still had the same bills to pay every month and with a young family to take care of and a far from settled future, my player's choices were no different to yours or mine.
Let's flip the scenario. Just imagine that while you're reading this your boss taps you on your shoulder and asks for a word (maybe they should if you're reading this on work time!). They tell you that you're 'just not part of the plans, maybe it's best that you move on'. What would your reaction be? 'No worries boss, I'll clear my desk. And don't worry about that severance pay, I've been tapped up anyway by a rival company who are offering £20k-a-year less!'
I'm not the sort of agent to tell my player to sulk, refuse to play or just sit on the bench and pick up their wages for the rest of the season. At the end of June he will be gone from the club, so to give himself a better chance of getting a move it's better that he is playing regularly in the last few months of the season, at whatever level. However, when his employers (that's what they are when you strip away the emotive 'club' part) were basically taking the proverbial with their offer, it's hard to always turn the other cheek.
At the end of the day a club struggling with its wage bill even after a pay-off would still make a reasonable saving. Surely a win-win for all concerned.
Well for some reason this club owner wasn't prepared to compromise and in the end they had to pay the wages for the remainder of the contract plus his extra month's severance wage, which all players are entitled to if not offered a new deal. And don't forget the club also has to pay both the pension and the employers' national insurance contributions.
So from my suggestion of a pay-off figure, they ended up paying three times as much of that amount in salary. They were relegated and the manager moved on. I wonder if he got a pay-off?
I think I won the battle in the long-run after finding my guy a new club. I don't mind admitting though that it needed a number of lengthy and at times heated conversations with regards to whether I'd made the right decision on his behalf. It is noble when a player's instinct is to say 'sod it, playing is the most important thing - I'm off' and that's fine when you're earning a decent wage. Where I feel responsible, as in this case, is when you're talking about a kid with a young family and no guarantee his career in the game will be a long one.
Thankfully, I'm still his agent and he's enjoying his football again. Sometimes you have to stick to your principles and play the game with the long-term at the forefront on your mind.
Let's consider a recent article on the subject of player finances published in The Independent: "Research by XPro, a charity for ex-players, suggests that three out of five Premier League players - who earn an average of £30,000 per week - declare bankruptcy within five years of retirement."
My player isn't on anything like £30,000. Not even close.