Taylor-made
As part of Sky Sports' Sky Bet League One spotlight, Chris Burton catches up with Gillingham manager Peter Taylor ahead of Friday's live Sky Sports match at Brentford...
Last Updated: 26/01/14 10:09am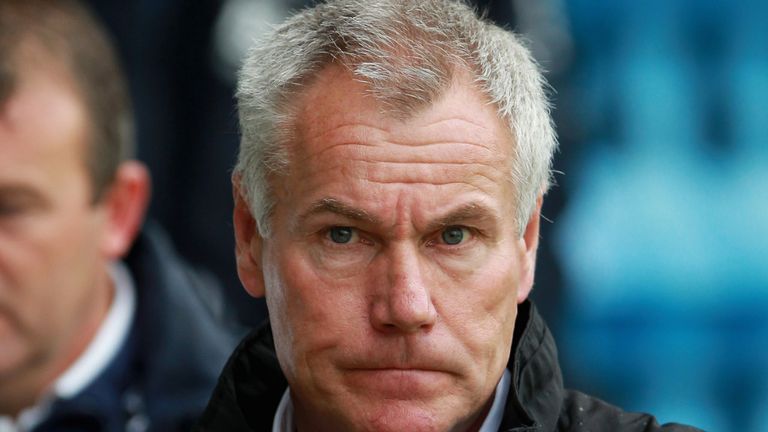 The 2013/14 campaign is now past the halfway stage, with divisions beginning to take shape.
Here at Sky Sports we will look to take you to the very heart of the Sky Bet Football League over the coming months, with our Spotlight features intended to give you a greater insight into the clubs and players that keep us on the edge of our seats.
We hope to bring you the views and thoughts of a representative from each of the 72 teams over the course of the season, with those involved asked to give their take on the division they compete in, the club that pays their wages and those we should all be keeping an eye on.
Gillingham's Peter Taylor is next into the hot-seat, with the experienced coach taking time out to discuss the joys of club management and transfer window frustrations with Chris Burton.
Are Gillingham still a work in progress for you, it's always difficult to take charge mid-season isn't it?
It is, but it's a thoroughly enjoyable group to take and we feel that we are progressing. We still know that there is a lot to do because of the quality of the League One teams, but we think we're getting better.
You're like any manager aren't you, you're looking for consistency? If you look at your results against the likes of Swindon, Wolves, Peterborough, you're capable of competing with the top sides.
To be honest, most managers in the bottom half of League One and League Two will be saying the same every week - they don't know what they're going to get next week, even though there has been a good performance this week, they don't know what they're going to get next week. Until you get into those top seven or eight places, that's the time when you start getting that consistency. Brentford won't be saying that at the minute because they are a consistent unit, and that's why they are in the top three. Teams like ourselves, I spoke to Joe Dunne at Colchester and they are having a good spell at the minute but before they were losing four on the spin. That's the level where we are and until we reach a better level, that's when it's Championship and that's when it's Premier League because they are consistent every week.
But for you, I take it it's nice to be back somewhere you know well and somewhere you've been successful before?
I'm enjoying it. It's nice just being 40 miles away from where you work. I quite enjoy that and it's good for the family situation. It's very, very enjoyable. I know the club well, I know a lot of the inside staff well and I know the chairman well. Everything has gone okay, everybody seems to be quite comfortable, so we just need another 20-odd points.
Is it club management that still gives you the biggest buzz - the day-to-day duties, being hands on?
You do enjoy that. You enjoy planning and you know that they are your group of players. The U21 level was fantastic, international football is always fantastic, but there are frustrations in that as well because you don't have them as much as you would like and so on. But when it's the club level, they are your responsibility and that is an enjoyable part when it's going right. Of course when it's not going right it's hard work for everybody, but I enjoy club level without a doubt.
You're all about the coaching side of things aren't you, you're a coach's coach and working at club level allows you to mould a team?
That's where it's a very enjoyable job. It's also important that the players are switched on as well, and that's what I have been impressed with at Gillingham. The players are certainly up for anything new and they are trying to get to grips with the things that we are trying to give them. I have been impressed with them. That's where it's an enjoyable job, they are good to work with.
You've spent a lot of time working with young players and with the FA, do you feel that football, across the spectrum, is heading in the right direction?
Yes, honestly, it is. I went to see Billericay Town versus Hendon the other night and that's the Ryman Prem. Even there you have got teams playing different systems and playing more football - on bad pitches, by the way. I think overall the football is getting less physical and there is more football being played at grass roots as well, which is good news.
Has the standard been raised in some ways because you get more free agents, more loanees and you get good, young players dropping into the lower leagues? Does that help to raise the standard from the bottom?
Yeah, I think so. You have got your pluses and you have got your minuses on that. I still think that if there were less foreign players then more British players would get an opportunity a little bit earlier. But on the other side of that, because there are so many players around then there are more good players dropping levels to play football. That's got to be good news for the lower sides on the football pitch. There are pluses and minuses on that. If it means that there are so many players around and they are happy to go and play at a level than they are better than just to get a game, then that's got to be good news.
Good news for teams like Gillingham, but what will be considered success for you this season - is anything above 21st a step in the right direction and a platform on which to build?
We have still got 19 games to go, eight at home and 11 away, so it's a difficult situation that we are in, even if we're happy with it. The main thing is to keep the team in the division and then I would love to say to Paul Scally, 'Give me a chance to build a team next year'. That's what I would like to do.
So in an ideal world you would like to stay on past the end of your current short-term deal and still be there next season?
Yeah, I would like to be. I have enjoyed it. I have enjoyed getting some young players on loan and I feel as though that is the way that we could go forward.
Before all of that, the transfer window is upon us - you have already got a couple of deals tied up but are you hoping there might be a couple more?
I think that when the window closes nothing will have happened. I think the week after that, that's when we can start getting the loans again. We could get a three-month loan in which would cover the end of the season, so at the minute I'm not going to rush into anything. I have made a couple of enquiries, but I don't think I will be successful before the window closes.
Deadline day, though, is hectic for any manager, what's it like to be involved at the centre of it all?
Deadline day, where it's a nightmare is if you are going to lose one of your best players. If all of a sudden you get an enquiry for your best striker and you haven't got time to go and get somebody in, that's when it's a big, big decision for the chairman. The manager will be saying, 'No, I'm not going to do it', but the chairman, if he's got a good deal on the table, it's a bit of a problem. That's where the windows are a little bit of a nightmare.
I suppose you don't know who's looking do you until somebody comes in last minute?
That's where it kills you. If you have some idea, then you can say, 'I'll keep looking in that area because I know that he fancies him'. You can guess and you can keep looking, but you can't look as strongly because you are hoping that you aren't going to lose anybody. The last knockings you do lose somebody, it's a bit of a pain but that's where you have to take the gamble at times and maybe get somebody in on loan at the last second.
And January is slightly different as well isn't it because it's a mad scramble to get deals done inside a month?
That's where I just can't understand about the window. I think windows take more money out of the game, I really do. Some of the things that happen are desperation and you pay more than what you should be. Agents know that you are desperate for that player, so they hold out a little bit - agents have openly admitted that to me, that they sometimes ask a little bit more because they know how desperate the club are in the window. I think for the lower clubs, I just can't see how it's an advantage. The bigger clubs, even in our division, they can stock up and have a bigger squad, but the ones like ourselves can't overdo it and can't over-spend.
So you'd like to see more of an open market - maybe taking the Premier League out of the equation - leaving Football League clubs to do their business throughout the season?
Yeah, I would. I'm a little bit surprised. They talk about us having so many foreign players over here and we can't do anything about it because of the EU rules. That to me is a restriction of trade if that's the case. With saying that, a window to me is exactly the same. I can't work out the difference. If you can't stop somebody working, how can you stop somebody working with a window? I can't work that one out.
Peter Taylor was talking to Sky Sports on behalf of Sky Bet, the Title Sponsor of The Football League.
For a wide range of match odds and specials on all Football League matches and a £5 free bet every week, go to skybet.com.