Captain fantastic
"The two key attributes are to be unselfish and a good role model" - Ahead of the Merseyside derby against Everton, Sky Sports sat down with Liverpool and England skipper Steven Gerrard to learn what it means to be an on-field leader in the modern game...
By Words: Peter Fraser (@SkySportsPeteF) Graphics: Thomas McClure
Last Updated: 04/11/14 11:29am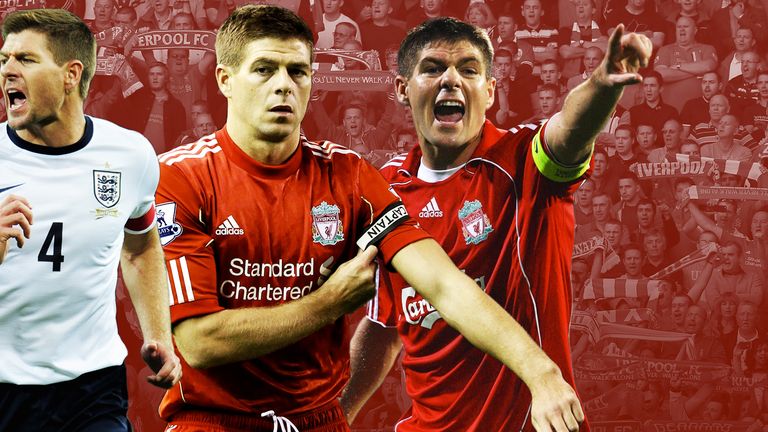 Ron Yeats, a Liverpool legend who captained the club for the decade he spent at Anfield between 1961 and 1971, once told a story of the day he made his move to Merseyside. Travelling down from his native Scotland in the backseat of then-Liverpool vice-chairman Sidney Reaks' Rolls Royce, Yeats found himself sat next to his new club's manager, Bill Shankly, and a conversation began.
"I was only 23 and did not know what to say," explained former Dundee United player Yeats. "Bill just turned round and said, 'Ron, I want you to captain the side. You will be my eyes, my ears and my voice on that pitch'. I thought to myself, 'bloody hell'... I did that for him, to captain Liverpool, for 10 years. It was the best 10 years of my career and my life."
Centre-back Yeats, a mountain of a man from Glenbuck, Ayrshire, skippered Liverpool through their meteoric rise to prominence under Shankly, who himself became an icon in the process. With the two Scots as the club's on and off-field driving forces, the Second Division title was won in 1962 before First Division titles followed in 1964 and 1966. In between those two titles, Liverpool won the FA Cup for the first time in their history in 1965. At the same time, the Charity Shield was won in those three successive years in the mid-1960s.
Liverpool had been transformed from simply just another club to the greatest force in British football. This had been achieved through Shankly's ethos of work ethic, community, dedication and skill. Those traits embodied Liverpool in the 1960s and there was perhaps no greater symbol of this than the captain, Yeats. Indeed, Shankly would later say: "Ron Yeats was one of the cornerstones here at Liverpool. His coming... was the very beginning of Liverpool's rise."
There is also a wider picture. Yeats not only defined what it was to be Liverpool captain, he epitomised what it was to be any football captain. Perhaps downplaying his own achievements, Yeats would say: "I would describe myself as a 120 per cent player. I hated to get beat. I was possibly a good captain, and maybe a little bit of a bully. I liked everyone else to be doing their work and it went well that way."
Political correctness means bullying is today no longer used as a description in any workplace but that behaviour in a football captain is perhaps now better described as influencing. Being a football captain is about the responsibility of encouraging or demanding actions in team-mates - inspiring, helping, motivating and setting the example whether through giving orders or personal behaviour.
Steven Gerrard is of course the man who now wears the captain's armband of Liverpool and he, like long-term predecessor Yeats, can also be held up as a perfect example of all of those traits.
Unlike Yeats, Gerrard is a homegrown Liverpudlian, which will mean his leadership counts for even more in Tuesday's Merseyside derby against Premier League top-four rivals Everton. But the similarities between the two players are otherwise impossible to ignore. Like Yeats, Gerrard has passed his own 10-year anniversary as Liverpool skipper - reaching the landmark in October 2013 - and he was also identically 23-years-old when he earned the armband on a permanent basis.
Since that time, Gerrard has come to embody the modern footballing captain. He is not necessarily the most vocal figure but his driving-force standards demand respect and set the example for his team-mates. Gerrard is a hero for those in the stands, he does not fear any opponent, he makes fans and team-mates believe anything is possible, and he is the physical representation of his club - whether on the field or speaking to the media. In turn, that has brought the experience of more than 400 games as a club captain and a win ratio of more than 50 per cent.
That credibility has subsequently led to Gerrard becoming the England captain. He led his country in varying spells under the differing England managers of Sven Goran Erikson, Steve McClaren and Fabio Capello before then being made the current undisputed captain under Roy Hodgson. Gerrard will continue to fill that role for England at this summer's World Cup in Brazil and he therefore epitomises a 21st Century football captain. So, who better to ask than the man himself with regards to what creates a successful on-field leader?
"There are many, many attributes which make a good captain," Gerrard told Sky Sports in an exclusive interview. "I think, first and foremost, you have got to be unselfish. You have got to think of other people, you have got to put other players before yourself, and you have got to help other players.

"But I think the key to being a good captain is to do things right yourself - be a good role model. If you do things right, more often than not, players will follow suit. If you set a good example, they will follow. The two key attributes are to be unselfish and be a good role model."
The role model is a familiar duty for footballers but it is especially pertinent for captains. Gerrard is an on-field example for others - both team-mates and fans - but the midfielder, who will be 34 in May, did not get to where he is today without himself learning from previous skippers. This includes both his captaincy predecessors for club and country earlier in his career and also skippers from different eras. They were Gerrard's role models.
Former England captain Paul Ince was Liverpool skipper when Gerrard made his club debut in November 1998 as a 17-year-old but when he began playing regularly in the first team in 1999/2000, Jamie Redknapp, a current Sky Sports expert, had taken over the armband. Robbie Fowler and Sami Hyypia would then go on to become Gerrard's next Liverpool captains. All the time, Gerrard was watching, learning and absorbing. In November 2002, Gerrard captained Liverpool for the first time in a League Cup game against Southampton and then, in 2003, he permanently succeeded Hyypia as skipper.
Gerrard's captaincy, which before this season was supported by the vice-captaincy of another now-Sky Sports pundit - Jamie Carragher, has since brought success to Liverpool - again similarly to Yeats. The club have won almost every trophy during his tenure, peaking with the 2005 UEFA Champions League, with the only major omission being the Premier League title. And Gerrard's achievements as a captain undisputedly owe a part to the men he has played alongside throughout his career, those who helped him develop.
It is also not just captains who he once called team-mates who have influenced Gerrard. Yeats is not the only Liverpool skipper from a previous era to whom he can be compared. When Gerrard barks orders, there are echoes of three-time European Cup winner Graeme Souness. When he conducts himself with class on the field, there are similarities to Alan Hansen. At the same time, Gerrard has also learned from his opponents, taking games by the scruff of the neck in a manner comparable to former Manchester United captain Roy Keane and ex-Arsenal skipper Patrick Vieira.
Likewise, Gerrard had plenty of iconic captains before he became England skipper, including Alan Shearer, Tony Adams and David Beckham. Each had their own inimitable style, whether it be the chest-thumping of Shearer and Adams or the leading by example of Beckham - the pin-up boy of England's Golden Generation, of which Gerrard was also a member.
"I have looked up to all the captains I have ever played with, or for - as I see it - because they are the leader of the dressing room and I have played with some really good captains," explained Gerrard.
"When I broke into the Liverpool team, Jamie Redknapp was the captain. Jamie was very unselfish. He used to always help all the other players. He also used to do everything right. He was always in the gym, always trained well and always used to behave himself on and off the pitch. He was a great role model for myself.
"At England level, Tony Adams was the leader and he was very vocal. He pulled me aside in one of my first two squads and gave me a lot of his time, which I respected. Paul Ince, as well, so it was top players. I have taken little bits from all of them. And not just captains who I have played for but also captains who I have watched on the TV, like Roy Keane and Patrick Vieira - all the big leaders in the game.
"There are also players who I have watched on tapes, such as Graeme Souness, Alan Hansen and even Jamie Carragher was a very good captain even though more often than not he was vice-captain. I have taken little bits from all of them and tried to put them into my role."
In his book, Gerrard: My Autobiography, Gerrard wrote: "Sometimes I stop on the drive home from Melwood [Liverpool's training ground] and tell myself, 'I'm captain of Liverpool football club'... it is an unbelievable honour."
That, along with all of the above, gives an insight into what it means to Gerrard to be Liverpool, and England, captain. But it also characterises how every captain in football should feel about leading their team. Setting the right example and prioritising the team are the vital attributes, which Gerrard embodies. There are echoes of Yeats and many other great captains and it has ensured Gerrard his own legendary status.