Mata watch
The arrival of record signing Juan Mata has brought a little of the feel-good factor back to Manchester United and a 2-0 win over Cardiff City at Old Trafford added to the good cheer. Adam Bate examines the role that Mata played in the win.
By Adam Bate
Last Updated: 30/01/14 6:39pm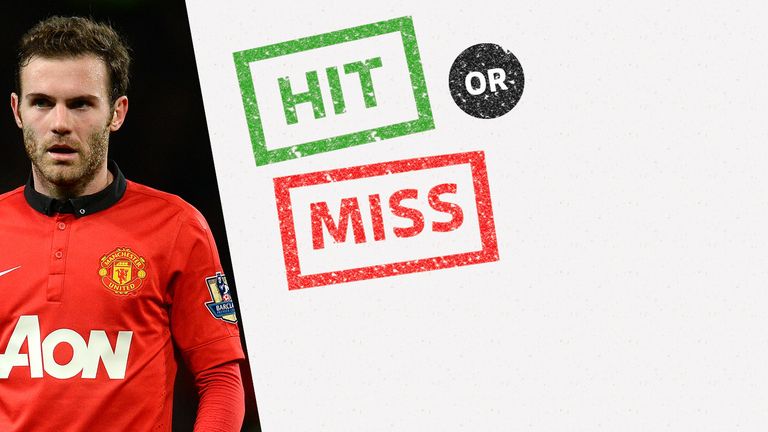 "If you asked me what I needed most, I would have said a central midfielder, I could do with a left-back, but sometimes you don't always get the pieces of the jigsaw at the time," said David Moyes this week. "I think a couple of new signings isn't all that's needed. I think there's a bigger job to be done, but you have to start somewhere."
A 2-0 win at home to bottom-club Cardiff City is not going to have the rest of Europe in a panic regarding a Manchester United revival just yet but this was that start - and the sight of Juan Mata stroking the ball around in the midfield was more than enough to cheer the Old Trafford crowd. Let the upturn begin.
Such is the speculation that surrounds United, it seemed as though there were fans ready to expect just about anything on Tuesday evening. Everything from three at the back to a complete abandonment of the club's tradition of wing play appeared to be on the agenda following the acquisition of the Chelsea man.
However, there was nothing particularly exotic about the reality. "I tried to make him play in a position where he was not comfortable," Jose Mourinho admitted upon Mata's exit. Moyes wasn't about to take that kind of £37million risk as Mata settled into his favoured No 10 role behind returning striker Robin van Persie, with Ashley Young and Antonio Valencia in the wide positions.
Against opponents who had taken just a solitary point from their previous six Premier League games, that almost guaranteed Mata the sort of freedom that he craves. The defensive responsibilities that Mourinho had sought to thrust upon him were of little concern here - it was only a lunge seconds before his substitution that ensured Mata missed out on the stat of being the only outfield starter on either team to fail to make a tackle, interception or clearance.
Moyes may well share Mata's view that this does not fall within his primary remit. Having not played since New Year's Day, the Spaniard was keen to showcase his hunger to impress in other ways. Free to drift around and look for space, it was intriguing how often he was prepared to come deep in search of the ball. In fact, in keeping with the mood of the night, it was he who provided the catalyst for the game's opening goal by doing so.
Mata was involved numerous times in the build-up for Van Persie's sixth-minute header - most notably with his long crossfield pass that found Patrice Evra - and it was a hint at how the 25-year-old new signing might be able to make things happen for the Dutchman. "I will try to find the gaps between midfield and defence because that is something I was used to doing last season," Mata had said upon his arrival. "That is the best position for me to play - to try to assist the strikers."
As it happened, the supporters were not treated to much interplay between the star men - Mata found Van Persie with just two passes all night. But the striker got his goal and it would be no surprise if he ups his performances in the knowledge that he is now playing alongside someone of such creativity. Indeed, if the performance of Ashley Young is a guide, he will not be the only one.
It was the England international winger who supplied the cross for the first goal and he might have added a second soon after if he'd been able to convert a wonderful angled pass over the top from Mata. But Young did double the lead when cutting in from the left wing during the second half to fire beyond goalkeeper David Marshall from distance.
Mata will be credited with an assist for Young's superb strike to add to his tally of 27 from 82 Premier League games going into his United debut. Only Eric Cantona and Cesc Fabregas can better that creativity rate, and despite not having the monopoly on set-pieces against Cardiff, nobody on the pitch fashioned more openings than the Spain international.
Man Utd v Cardiff
Player
Team
Chances Created
Juan Mata
Man Utd
4
Patrice Evra
Man Utd
4
Ashley Young
Man Utd
2
Kevin McNaughton
Cardiff
2
Phil Jones
Man Utd
2
However, this was not an impeccable debut. Mata's over-eagerness to impress reflected in his distribution early on, losing possession more times than any United player in the opening 30 minutes. But that was largely a result of the kind of ambitious passing that's been missing from the team so far this season and it is telling that Mata enjoyed more touches of the ball than anyone in the home team during his 85 minutes on the pitch. At the heart of things so soon after stepping off the helicopter.
Of course, the fact that there were four Cardiff players who had more touches of the ball than anyone in a United shirt is indicative of the fact that Mata is no panacea. As the manager himself has suggested, the team's frailties remain. For periods in the second half, the home side once again retreated and invited pressure by allowing the visitors to dominate. It took Young's intervention to ensure there would be no nervy ending this time.
The hope will be that more firepower will hold the key to implementing a more positive approach and it was interesting to get a brief look at how Mata might dovetail with Wayne Rooney when the latter replaced Van Persie in the second half. "He is unbelievable," Mata had said of his new team-mate on the eve of the game. "He can score, he can assist and he can take the ball in midfield. I will enjoy playing alongside him a lot. I will try to connect with him as much as I can."
It was noticeable that Mata reverted to what at times resembled a false nine position once Rooney arrived with the substitute frequently dropping into deeper positions himself. With the game all but won, it was easier to impress but the interaction between the duo hinted at the possibility of synergy benefits rather than two men fighting for the same spot in the starting line-up.
Indeed, Moyes has already expressed a desire to play all three together. How the Scot plans to do so is not yet clear but that's exactly the sort of problem that Manchester United and their manager want to have. The jigsaw is far from complete. But as far as everyone at Old Trafford is concerned, it seems obvious that Juan Mata is not the sort of jigsaw piece you chuck back in the box.
Mata's view
"It was amazing, the atmosphere. The most important thing is that we won, we got the three points. This is hopefully the beginning of a good run of results. It's been an amazing game for me - I tried my best, my team-mates are very good and the atmosphere has been incredible. It's been a while since the last game I played, it was 1st January. Last week I didn't train very much because I was waiting. I am very happy to have played in the line-up and I'm looking forward to playing more. When I went off all of the stands were cheering me and it is something that I will never forget. It's special for me, three points, victory and I'm looking forward to playing at the weekend."
Moyes' view
"I thought he did very well. He helped make the goal, he did some really good moments for us and I think he should be pleased tonight how he played, we were. He looked as though he wasn't too far away. He still needs some match practice, he's not played as much as he might have liked recently. We tried to keep him on as long as we could, hopefully that will benefit him. It's massive to get them (Van Persie and Rooney) back, it's so important to us. They are still missing a bit of match practice, but we'll keep building them up - Robin and Wayne, and Juan as well. I'm looking forward to getting them all on the pitch together."