What next?
After more than 20 years covering Leeds United, Sky Sports News' Bryn Law thought he had seen it all. But the events of the last few days prove there are all sorts of new and bizarre twists and turns in the never-dull story at Elland Road..
By Bryn Law
Last Updated: 04/02/14 4:56pm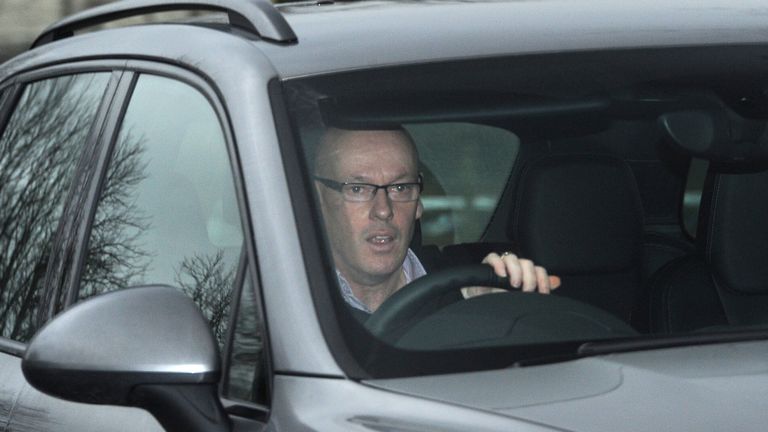 Last Friday started for me in Hull, early, for transfer deadline day news from the Premier League club. It finished, 17 hours later, at Elland Road amidst a crowd of angry Leeds United fans shouting abuse at a long-haired Italian multimillionaire. In between those two events, I had been up to Leeds' training ground, where a stressed-looking Brian McDermott had done his best to avoid awkward questions about his future and to convince everyone that his sole focus was on a local derby with Huddersfield Town.
Having sent that material down to HQ, I had sat down in the office to wait for news of any transfers. Instead my eye kept being drawn to reports that the Italian multimillionaire in question, Massimo Cellino, was on the point of securing a deal to buy 75 per cent of Leeds off current owners, GFH Capital.
The Italian was in the box seat to do a deal after another consortium, Sport Capital, had seen their own hopes dashed earlier in the week. So far, so normal for the game in this country these days. Foreign ownership is far from a foreign concept to fans of the English game.
This was a bit different perhaps. Cellino has tried on numerous previous occasions to buy clubs in this country. Much was made of his reputation for sacking coaches at the club he owns in Italy, Cagliari. Many reports also referred to a chequered past and convictions for fraud, not the sort of stories to provide reassurance to Leeds fans still embittered by seeing their club in the hands of a succession of unpopular owners.
Keen to see if we could get a shot of the prospective new owner, I left transfer watch to head down to the ground. Cellino was still inside, I was told. We waited. I saw Neil Redfearn emerge from the bright lights of the East Stand reception. He did not look happy - an old friend but he passed with barely a nod of acknowledgement. Something was up. Then the phone rang. Had I heard reports of Brian McDermott's sacking? It tallied with what I had just seen. News was travelling fast and fans soon joined our vigil. Anger levels rose.
Eventually, hours later, the evening ended with fans chasing the Italian delegation around the stadium, blocking in their taxi for a time. Transfer deadline day's big story was not a move, it was a dismissal.
Saturday was every bit as mad. As I left home for Elland Road, I got a call to ask if I had heard McDermott was back? As I arrived at the ground, every fan seemed to have only one question, 'what is going on?'. Confusion upon confusion.
Nigel Gibbs was taking the team, although, as I found out later, it was originally going to be Gianluca Festa. The team was changed and changed back. And, somehow, Leeds won against Huddersfield. The crowd roared them to victory, the manager's name was chanted often and loud - with the Italians watching and listening in the East Stand.
It seems they got the message. Before the game was over, there was a statement to say McDermott was not sacked. After the match, reporters huddled in the tunnel, scratching heads and waiting for the next twist.
We had to wait until Monday morning and the sight of McDermott's car pulling into the training ground. Business as usual? Of course not. A takeover was still in the offing and the uncertainty was still remaining against McDermott's future under Italian ownership.
The club needs a deal quick if reports of financial hardships are to be believed. The Football League now has a key part to play in what happens next. After two decades of reporting on Elland Road intrigue, I have no idea how this chapter is going to finish.