Mourinho masterclass
Manchester City may have squandered chances against Chelsea, but they were repeatedly ripped open on the break as Jose Mourinho's counter-attacking system claimed another victim. Matt Stanger has only the highest praise for the Portuguese tactician...
By Matt Stanger - @MatthewStanger
Last Updated: 04/02/14 9:36am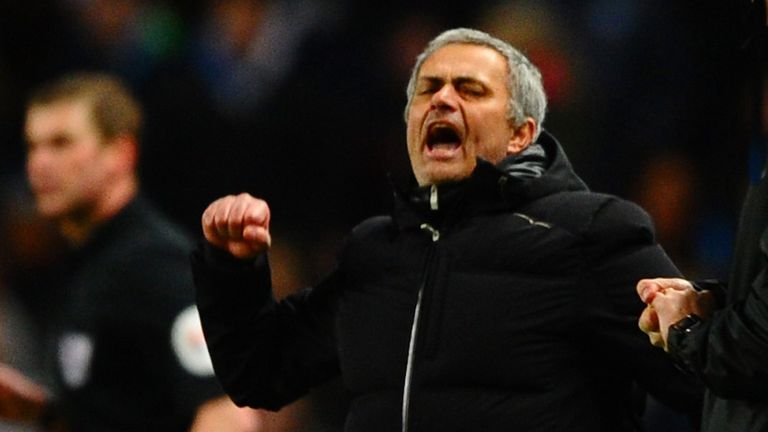 Jose Mourinho smelled blood. The loss of Fernandinho was a huge blow to Manchester City and by moving the indefatigable Willian into the centre of his three-pronged attack, the Chelsea manager took full advantage. Martin Demichelis was ruthlessly exposed. City were in part responsible for their own downfall in a match that was billed as a premature title decider, but Mourinho thrives on these occasions and provided another masterclass to record his seventh victory in nine meetings with Manuel Pellegrini.
Arsene Wenger understands the Chilean's pain. He has never won in ten matches against Mourinho, while the Portuguese also sussed out how to break Barcelona's domination in Spain. Real Madrid lost only one of their last eight El Clasicos under Mourinho's reign, before he returned to Stamford Bridge amid speculation that he was overlooked by Manchester United. How the champions must rue that decision.
Chelsea were accused of parking the bus in 0-0 draws at Old Trafford and the Emirates earlier in the season and the same approach was expected in a match that pitted the Premier League's best away defence against the best home attack. However, that perspective is perhaps out-dated, skewed by the manager's previous spell in England. Chelsea might be willing to cede possession in Mourinho's second coming, but they have honed a breath-taking counter-attacking system that the rest of the top four have struggled to restrain.
Chelsea started slowly, and a nervy first quarter of an hour was reminiscent of the opening stages in clashes against Arsenal, Liverpool and United. But there was a feeling that City had to score as they surged forward to create numerous chances. Instead, they allowed their opponents to grow into the game and, once the visitors began to swarm into the final third, City completely lost their shape, epitomised by the mismatch between Willian and the hapless Demichelis.
As the wheels fell off, Pellegrini the Engineer had little idea how to fix his team's performance. That City were dispossessed or lost the ball through poor control on 16 occasions in the first half compared to seven for Chelsea highlights the visitors' relentless pressing as they imposed themselves on the game. Mourinho has spoken repeatedly about his players being "humble" - meaning they understand their defensive duties - but there is nothing meek about this team. They are assertive and possess the killer instinct that is the hallmark of all great Mourinho sides.
But this is a new-look Chelsea team who, according to the manager in his post-match interview, are being "prepared" in order to be favourites for the title next season. There is no figurehead in the style of Didier Drogba or Cristiano Ronaldo, Mourinho's muse in Madrid. Eden Hazard is perhaps becoming that player - with the balletic Belgian again hugely influential at the Etihad - but while he continues to learn and develop his game, the Blues remain a compelling collective. It is Mourinho in essence, without the star to gloss over the core principles of his philosophy.
City had chances, as Mourinho conceded after the game, but they were at sixes and sevens on Monday rather than scoring sixes and sevens. Demichelis was a poor deputy for Fernandinho, Alvaro Negredo didn't appear to be fully fit before he was replaced, while Yaya Toure was a shell of his usual self without his partner in the middle. Nemanja Matic was worthy of his man of the match award after dominating the midfield battle and almost crowned a fine first Premier League start with a 30-yard drive that clanged off the post.
City will recover, of course, and they remain favourites to clinch the title ahead of Chelsea and Arsenal. But this result will sting, with the pain potentially lingering until Sergio Aguero's return at the end of the month. Pellegrini will know he was out-thought and his team out-fought; to lose twice to a rival is galling, especially following another week of Mourinho mind games.
"The best team in the Premier League, we beat them twice," said the Chelsea manager at full-time. He also reiterated that his project is far from completion, although it looked way ahead of schedule on Monday. Mourinho the winning machine simply doesn't know how to wait for success, and it would be no surprise if his plans are fulfilled a year in advance.