Selfless Suarez
Reputations die hard, but Adam Bate believes the perception of Luis Suarez as a selfish player is as unjust as they come. The statistic show that he is not only the Premier League top goalscorer but also the best creator of quality chances too...
By Adam Bate
Last Updated: 11/02/14 9:11am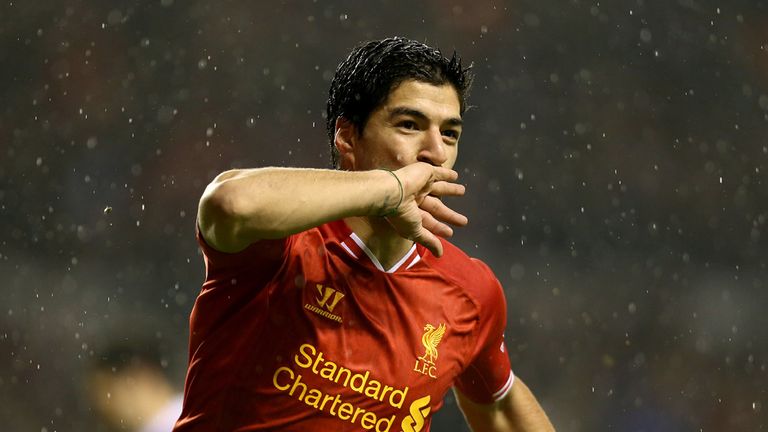 It isn't just developments in Environmental Health laws that make a mockery of the old adage about today's newspapers being tomorrow's chip paper. In the new digital age, more than ever before, reputations stick. Type into a well-known internet search engine the words 'selfish' and 'Suarez' and you can get more than 292,000 results.
Many of those articles are in reference to his off-the-field actions. In particular, the machinations of the summer in which the Uruguayan appeared to agitate for a move away from Anfield after Liverpool had waded into murky waters in endeavouring to support the striker. But his playing style came under scrutiny too. One high-profile website asked the question: 'Is Suarez too selfish to fit in at Real Madrid?'
The popular theory was rooted in the view that he frequently eschewed the opportunity to play in Liverpool team-mates, instead opting to go for personal glory himself. Some of the statistics backed up that opinion. In the 2011/12 season, only two players averaged more shots per game than the Reds forward. They were Robin van Persie, who scored 30 goals, and Wayne Rooney, who netted 27 times. By way of comparison, Suarez found the goal on just 11 occasions.
Of course, that says little for the quality of chances Suarez was working with. Ambitious efforts from distance and unlikely attempts from tight angles had become something of a calling card. Moreover, it also ignores the fact that many of these opportunities were fashioned by his own unique efforts - an instep turn here, a wriggle in the box there.
Even so, it is no huge leap to suggest his performances reflected a lack of complete trust in his Liverpool colleagues. This looked an awful lot like a player who'd come to the inevitable conclusion that an off-balance shot on the half-turn was nevertheless preferable to setting up Stewart Downing for a one-on-one with the goalkeeper.
Conversion
And so, there is a certain irony in the fact that the perceived selfishness of the summer preceded the completion of his conversion into a wholly selfless player. The goals have continued to flow. Indeed, there have been more of them than ever - an amazing 23 in just 20 Premier League appearances so far this season. But that barely scratches the surface of his contribution.
"What's been brilliant this season has been the maturity of the man," said Liverpool boss Brendan Rodgers in January. The casual observer might raise an eyebrow at such claims, recalling instead the theatrical reaction to Daniel Sturridge's refusal to pass during the Merseyside derby win earlier this month. In fact, Suarez's frustration is merely evidence of the high quality decision-making he expects from others.
"I don't blame him," admitted Sturridge afterwards. "I was fuming with myself too." It's understandable that the England international should have adopted a conciliatory attitude once he'd calmed down. After all, his strike partner Suarez is not only the Premier League top scorer but also the division's star creator of opportunities for his team.
Opta defines a big chance as follows: 'A situation where a player should reasonably be expected to score usually in a one-on-one scenario or from very close range.' Suarez has created 16 such opportunities in the current Premier League campaign. That's as many as Chelsea's Eden Hazard and Manchester City's David Silva have managed between them. In fact, nobody else has created more than 10 big chances.
Saturday's spectacular 5-1 thrashing of Arsenal was an obvious example of Suarez's importance in this regard. Ostensibly, the four-goal first-half blitz that saw off the visitors had little to do with Liverpool's star man as Martin Skrtel headed home two Steven Gerrard corners before Raheem Sterling and Daniel Sturridge grabbed a goal apiece.
But there was the measured pass for Sterling's goal that left it trickier for the youngster to fend off the advancing Sturridge for the tap-in than miss the target. Sturridge himself should've been on the scoresheet by then anyway if he'd beaten Wojciech Szczesny with a clearcut chance after being sent through courtesy of a delicious first-time volleyed pass from that man Suarez.
It was the fifth match this season in which the 27-year-old has created two or more big chances - nobody else has done that more than twice - and it's characteristic of the new Suarez. Notably, there was the lay-off to Sterling when clean through against Cardiff in December too. "He's through on goal and you don't see too many strikers do that," said Rodgers. "It shows you the team player that he is."
With 13 matches remaining and only 10 goals required to break the Premier League record for a 38-game season, there is ample time for the individual awards to come his way. The search matches for 'selfish Suarez' might even hit 300,000 before the campaign has concluded. But don't be fooled. It's selfless Suarez leading the way for this Liverpool team.