Top 10 PL hat-tricks
After Eden Hazard's sumptuous treble for Chelsea against Newcasle, it's time for you to put on your reminiscing hats as we count down the greatest hat-tricks in the Premier League era...
By Daniel Storey - Follow me
Last Updated: 14/02/14 4:43pm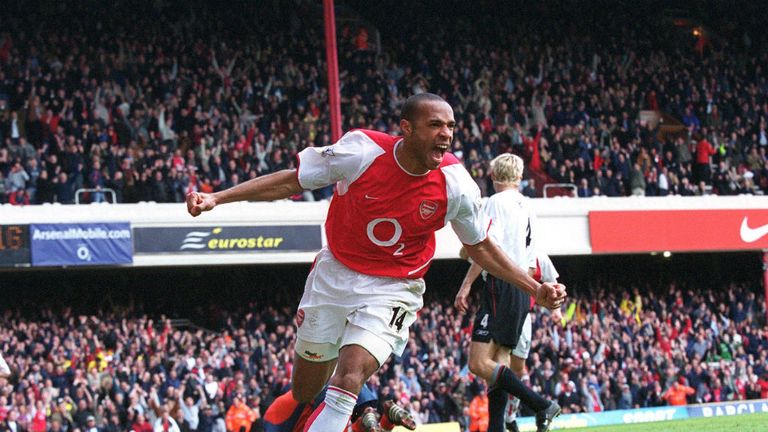 The Russian had only been in England three months when he scored all four goals in Arsenal's trip to Anfield, the first away player to score more than three at Anfield since 1946. The second and last were the best of the four, celebrated with a look of surprise like a kitten startled by a car horn. The highlight of an otherwise dreary career in north London.
9) Robbie Fowler (Liverpool v Arsenal)
Not the best, but definitely the quickest, and a hat-trick to perfectly highlight Robbie Fowler's status as potentially the greatest poacher of the Premier League era.
On 26 minutes, Fowler stabbed home past David Seaman following an Ian Rush knockdown, and a minute later he rolled the ball past the England goalkeeper and in off the far post. The third was scrappy, bundling the ball past Seaman before prodding in from a tight angle, but it mattered not. At just 21 years of age and in the space of four minutes and 33 seconds, Fowler had set a Premier League record that remains nearly 20 years on.
8) Nwankwo Kanu (Arsenal v Chelsea)
'Kanu believe it?' screamed Martin Tyler and every single newspaper headline in the land after the Nigerian scored a second-half hat-trick, turning a 2-0 defeat at Stamford Bridge into a 3-2 victory. The first goal was a toe poke into the far corner whilst under pressure, the second a wonderful touch and sweeping finish, but it was the third that acted as the crowning glory.
Charging down a clearance, Kanu was faced with goalkeeper Ed De Goey out near the corner flag. He danced past the Dutchman before curling in a shot from a frankly outrageous angle, the dictionary definition of 'he has no right to score from there'.
In other news, Kanu claims to still be 37. Let's just say that he doesn't look over a year younger than Jussi Jaaskelainen.
7) Tony Yeboah (Leeds v Wimbledon)
If we were to allow one nomination simply through the quality of one of the three goals, then this was the only possible contender.
The Ghanaian had already scored hat-tricks for Leeds against Ipswich and Monaco when he further enhanced his cult hero status with a thunderous goal against Wimbledon that would be chosen as the Goal of the Season for 1995/6.
After an interchange of scrappy head tennis, Yeboah controlled the ball on chest and knee before touching the ball away from an onrushing defender. The strike that followed would have killed a small child, such was its power. Paul Heald in the Dons goal can at least tell his grandchildren that he got to pick it out of the net.
6) Jimmy Floyd Hasselbaink (Chelsea v Spurs)
We had to include a perfect hat-trick, and Hasselbaink's triple against Spurs in 2002 was a beautiful example of the breed.
The first was a Hasselbaink special, a curling shot that still managed to contain enough power to leave the goalkeeper helpless. The second was the header, a wonderful cross from Jesper Gronkjaer finding the Dutchman's head six yards from goal where there was only one likely outcome.
Another curler, this time on his left foot and again from outside the area, sealed the deal.
I'll end with an admission - I really miss Jimmy Floyd. More than 20 goals in every season for six years in three different countries, it's ludicrous that he only gained 23 Dutch caps, half as many as Pierre Van Hooijdonk.
5) Dimitar Berbatov (Manchester United v Liverpool)
If one individual display can justify a £30million fee, then Berbatov's derby-winning hat-trick on September 19th 2010 might just do it. Had United lost, they would have been seven points behind Chelsea after just five matches, but the Bulgarian single-handedly won the match with two headers and an absolutely outrageous overhead kick.
It was to be the Berb's vintage year, top Premier League scorer as United won the title by nine points from Chelsea. Wayne Rooney won Goal of the Season for his scissor kick against Manchester City in February, but it would be nice to assume that he was simply following the example set by one of the most mercurial talents the Premier League has ever known.
4) Mark Viduka (Leeds v Liverpool)
The second of three hauls (that being the correct terminology for the scoring of four goals) in our list, each one of Mark Viduka's finishes were fantastic in different ways, dragging his Leeds side from 2-0 down to eventually beat Liverpool 4-3.
The first goal was a neat chip after Christian Ziege had erred (and not just with his outrageous bleached blonde hairdo), whilst the second was a powerful header from in front of the near post, an incredibly difficult skill. With Leeds then 3-2 down, the Australian turned in the box and squirmed a shot into the far corner, and he added the cherry atop the cake with a delightful touch and chip.
Leeds would go on to finish fourth. Those were the days...
3) Thierry Henry (Arsenal v Liverpool)
Thierry Henry in full flow has to be the sexiest footballing sight of the last 15 years, and his second goal against Liverpool at Highbury was va va voom in sixth gear. Gliding past defenders after picking up the ball on halfway, the Frenchman actually knocked over Jamie Carragher with a turn, so confused was the England international.
That goal was the fine filling in a wonderful sandwich, the first a delicate left foot finish off the far post and the last a one-on-one with Jerzy Dudek. It was the closest Arsenal had come to losing throughout their 'Invincibles' league season after Champions League and FA Cup exits, but the majesty of a world-class talent had shut the door in the most handsome of manners.
2) Luis Suarez (Liverpool v Norwich City)
An astonishing footballer at the height of his powers, each and every one of Suarez's four goals against Norwich were of the finest quality, and took his tally against the Canaries to 11 in four games.
The first was a dipping half volley from over 40 yards that flew past John Ruddy, the second a left-footed snapshot from a Steven Gerrard corner. His third was my personal favourite, casually flicking the ball away from a defender before drilling it on the half volley into the far corner as if it was the simplest task imaginable. There was even time for a majestic free-kick steeped in pace and curl during the second half. Wonderful.
1) Dennis Bergkamp (Arsenal v Leicester City)
The hat-trick by which all other hat-tricks must be judged, a recital of such beauty from the Dutchman that it makes you realise just how delightful life can be.
Bergkamp's first was a sublime curling shot after a corner routine involving Mark Overmars, hit with such power that Kasey Keller in the Leicester goal didn't even dive. The second had a touch of fortune to it, but the touch to get through on goal earnt the luck in his chip touching Keller and looping into the goal.
And the third? Well, it's hard to convey with words alone the ability, vision and outlandish skill required to pull off such a goal. Bergkamp only took four touches, but each was as precise, graceful and delicate as anything you are ever likely to see on a football pitch. After plucking David Platt's cross-field pass out of the air with his right foot the next with his left, took a bemused Matty Elliot completely out of the game. Another with his left cushioned the ball back into the path of his right and the coup de grace was an angled shot high past Keller that left Elliott holding his head in his hands.
We'll give the last word to Bergkamp himself: "In football you have certain things in your mind which you want to achieve. In my mind I knew I wanted to do it like that and it worked exactly as I had planned it just two seconds before. With these sorts of goals there is a lot of skill involved and it has to come together."
This article first appeared on Football365