Best bad idea?
The appointment of Felix Magath means that bottom-club Fulham are onto their third manager of the season and widely considered to be in crisis. But desperate times calls for desperate measures and Adam Bate believes the experienced German coach might just be the best bad idea going...
By Adam Bate
Last Updated: 19/02/14 11:25pm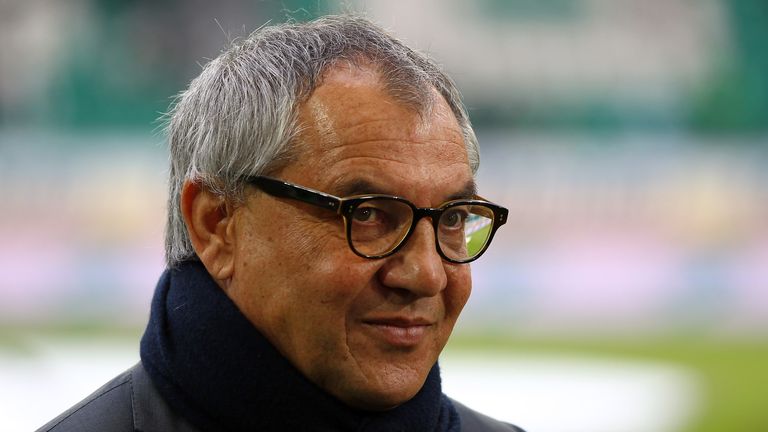 There is a pivotal scene in the 2012 Oscar-winning political thriller Argo in which the key figures discuss their plans to rescue hostages from Iran. "There are only bad options," says Ben Affleck's character. "It's about finding the best one." His superior then asks: "You don't have a better bad idea than this?" The reply comes from Affleck's co-star Bryan Cranston: "This is the best bad idea we have, sir. By far."
The tale comes to mind following the news that Premier League bottom-club Fulham have sacked Rene Meulensteen after just three months in charge and replaced him with Felix Magath. There have certainly been a fair few people queuing up to add weight to the notion that the appointment is a bad idea. By now, you'll have heard most of the headline quotes that characterise Magath as a man somewhere on the scale between sergeant and sadist.
"Whether Felix Magath would have saved the Titanic, I do not know," said Jan Age Fjortoft this week, having played under him at Eintracht Frankfurt. "However, the survivors would have been in top shape." Then there are the familiar old lines. "The last dictator in Europe," as he was once called. The nickname "Qualix" - a hybrid of Magath's forename and the German verb 'to torture' - or the rather more blunt description: "Saddam."
The reputation has been hard earned over a career stalking the training fields and hills of the Bundesliga. The cross-country runs that saw players collapse. The water-deprivation techniques that might feel morally questionable in a democracy let alone at a major football club. Beyond the cutting quips, as Bayern Munich president Uli Hoeness noted this week, it is these methods that must raise concerns over Magath's suitability as a coach.
"He goes well beyond the limits of physical challenges with players," said Hoeness, quoted in the Sunday Mirror. "He is pushing players to a ridiculous stage. Well over the edge. For him it is natural to squeeze the body of a professional player like a lemon to the final drop. It goes well beyond the stage where it gets unhealthy for the body of a player. I would never want to treat human beings like he does. I would never want to hurt a player as much as he does."
And yet, there remains a sense in which it feels Hoeness is being disingenuous here. There is an obvious question raised by his damning verdict: If Magath was so bad then why was he allowed to coach Bayern Munich for over two years? After all, Hoeness had been the club's general manager for almost three decades at the point Magath was in charge of the team. The answer, of course, is that the team were winning. Bayern did the double in both Magath's full seasons at the helm.
Those triumphs form just part of a larger story of regular success. It was Magath's second-place finish at VFB Stuttgart that earned him the chance to lead the Bavarian giants. He then went on to guide Wolfsburg to their first ever - and to date only - Bundesliga title. That was as recently as 2009. He's finished runner-up with Schalke since then and it was only on his return to Wolfsburg that, for the first time in a decade, his win rate in a job dipped significantly under 50 per cent. However many enemies are out there willing to argue differently, the CV stands up to scrutiny.
That failure to recreate his initial success at Wolfsburg has led credence to the belief that the law of diminishing returns can be applied to Magath's approach. The tough-guy routine, the punishment of players and the ever-changing staff can only work for so long. Of potentially more significance, there is an argument to suggest the game has simply moved on. And even if it hasn't, any fear factor must be predicated on the belief that Magath holds players' careers in his hands. The evidence of this season at Fulham is that managers' futures are somewhat more precarious.
Short-term impact
As a result, the impact will have to be swift. "Magath is the master of short-termism," pointed out German football expert Raphael Honigstein. "He puts huge psychological pressure on players to perform. It tends to go pear-shaped after a while." Perhaps that succinct assessment holds the key to explaining Fulham's reasoning behind the decision to appoint Magath. A long-term vision is not part of Fulham's thinking right now. How could it possibly be?
Relegation is the spectre that currently haunts the corridors of Craven Cottage. It is a clear and present danger for a side whose wage bill could lead to disaster once stripped of Premier League riches. For all the talk of short-termism as though it is a dirty word, that surely has to be their only focus now. Vague references to strategy and philosophy feel absurdly irrelevant to their plight. As Mike Tyson put it: "Everybody has a plan until they get punched in the face." And the thought of a knockout blow feels apposite. That's precisely what relegation could be for Fulham.
As a result, the only question that owner Shahid Khan had to ask himself this week was a remarkably simple one: Do Fulham have more of a chance of staying in the Premier League with Felix Magath in charge of the team for the remaining 12 games of the season? It's perfectly plausible that the answer to that question is that they do. It might well be a bad idea. But it's the best bad idea they have.