Ray Houghton: Another monumental win for Arsenal who keep proving the doubters wrong
Arsenal keep proving doubters wrong but must focus on one competition, says Ray Houghton.
Last Updated: 23/02/14 12:30pm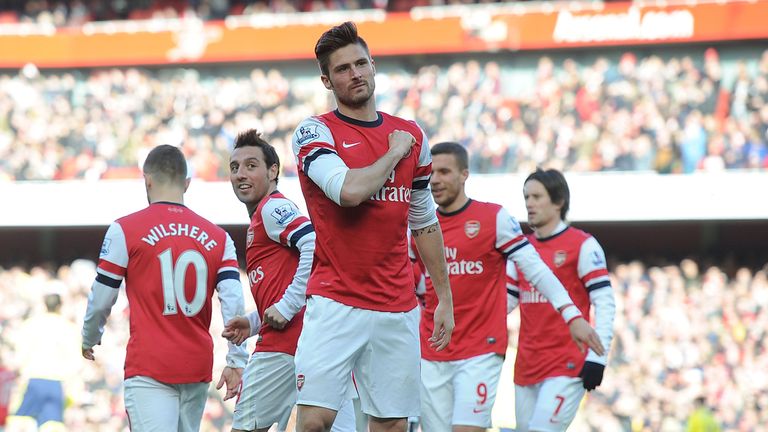 After a disappointing run of results and a demoralising defeat to Bayern Munich on Wednesday night, the Gunners got back on track on Saturday to continue their chase for the Premier League title with a stylish 4-1 victory over Sunderland at the Emirates Stadium.
The North London club are now just a point behind league leaders Chelsea and fighting on two other fronts - the Champions League and the FA Cup - and former Liverpool midfielder Ray Houghton told SNF Match Choice that manager Arsene Wenger must now focus on which competition he wants to win.
Houghton said: "I think what Arsenal needed today was a performance because over the last couple of matches they haven't been particularly good, whereas you can look at Chelsea and Man City and they've had some very good performances of late.
"Arsenal, they really needed to go out and prove to themselves they're in with a chance of winning the Barclays Premier League within the next few months.
"You can see that the games in March and the first week of April are going to be the defining matches as far as Arsenal are concerned.
"We've seen in previous seasons that they've filtered away and haven't been as good and I think a lot of people are waiting for the same reaction but they keep coming up with big results to prove the doubters wrong.
"There's no doubt that when we look at the fixture list coming up for Arsenal in the different competitions of the Champions League, FA Cup and huge games in the Premier League as well including the two derby matches they've got against Tottenham and Chelsea in quick succession.
"It's down to Arsene Wenger working out what he wants to try and win because I don't think his squad is strong enough to try and win on all three fronts.
"I think he's going to have to pick one out where he wants to try and put out his strongest team and it could be the Premier League.
I think today's game was monumental in that respect for them, not only the three points but the way that they performed and I think that will bode well for the remaining fixtures they've got."
Focus
Arsenal's Olivier Giroud returned to the starting line-up after a two game absence and added a brace to his ten goals this season and Houghton was impressed with the French striker's focus, after some turbulent issues off the pitch which have been made public in recent weeks.
"I thought Giroud was excellent," added Houghton.
"He led the line well, he was always a threat and picked up some fantastic positions. He never looked like he was going to miss, he was excellent all game and with all the off the field problems that he's had his focus was on playing for Arsenal today and he showed the reasons why, I think, he should have been in the Arsenal starting XI against Bayern Munich last Wednesday.
"They've scored plenty of good goals before but when they're in this free flowing movement and passing, they've got runners off the ball they're very hard to pick up."
Midfielder Thomas Rosicky finished a sublime team goal for Arsenal's third before centre-back Laurent Koscienly headed home the fourth from a corner and Houghton reiterated how much the France international had improved this season.
"Laurent Koscielny is having an absolutely outstanding season. I wasn't his greatest fan and I thought far too often he'd try and win the ball in front of defenders and give the opposition a chance by doing it.
"This season, he's really learnt and has been a real leader at the back for Arsenal."