Euro 2016: David Garrido reports on Gibraltar's qualifying preparation
Gibraltar have a tough road ahead during Euro 2016 qualification, says Sky Sports News presenter David Garrido.
Last Updated: 02/03/14 2:43pm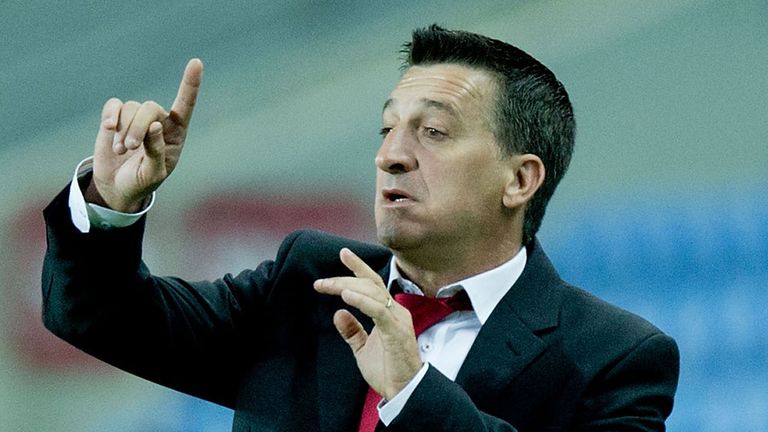 The Gibraltar national football team have been given a sharp and early indication of what challenges await in their Euro 2016 qualifying campaign, but not by one of the continent's top sides.
Instead, traditional whipping boys of Europe, the Faroe Islands were for once the team to prosper, defeating Gibraltar 4-1 at the Victoria Stadium.
After the celebrations that had accompanied Gibraltar's entry into UEFA as full members last May and then their first appearance in their confederation's draw last month, the result on Saturday night could not have put out a clearer message that there is still a very long way to go for Allen Bula's team.
The manager himself was unequivocal in his assessment of their performance: "We just weren't good enough, we weren't fit enough. People were expecting us to beat the Faroes 3-0 but we have to be realistic."
Captain Roy Chipolina, whose header gave the hosts a first-half lead, was also impressively candid.
"We were poor, we didn't want it enough," he said, although Chipolina himself led by example as one of three centre-backs and Farsley forward Adam Priestley also put in a shift, chasing down possession for the full 90 minutes.
The Faroes were technically more competent and confident, though, and could have won even more convincingly, had it not been for a missed penalty.
They looked dangerous at every opportunity, and penetrated Gibraltar's defensive third at will, even though they had set out in a 5-4-1 formation.
Gibraltar start their Euro qualifiers with a home game against Poland in September, by which point they should have rediscovered their verve and spirit.
The level of fitness is a real concern, however, given the amount of ball-chasing they are likely to be doing against pretty much all their group opponents.
Admittedly, having a squad made up of mainly amateur and semi-professional players who all have other professions makes that even more of a challenge.
Getting enough time with his players is one frustration for Bula, and having a smaller pool to pick from is another; hence the call-ups for Wycombe striker Reece Styche who started the game and Wrexham defender David Artell who came on as a substitute in the last 10 minutes.
With a few new faces, the camaraderie in the squad has been growing all week, so Bula's immediate task is not to let this defeat affect the atmosphere too much.
It's a brutal coming down to earth for UEFA's newest and smallest nation, but it's best that it happens now rather than in six months' time.
The best possible response would be to give their next visitors, Estonia, a run for their money on Wednesday night.
The return of ex-Portsmouth midfielder Liam Walker and Preston defender Scott Wiseman will help not only in terms of experience but increased professionalism, which, in time, will hopefully rub off on the rest of the squad.