Turning tide at Villa
There was a dramatic first-half turnaround at Villa Park as Aston Villa came from behind to beat Norwich City 4-1 with all the goals coming in an extraordinary 45 minutes. Adam Bate was there to witness what could be a pivotal moment in Paul Lambert's reign...
By Adam Bate at Villa Park
Last Updated: 03/03/14 9:44am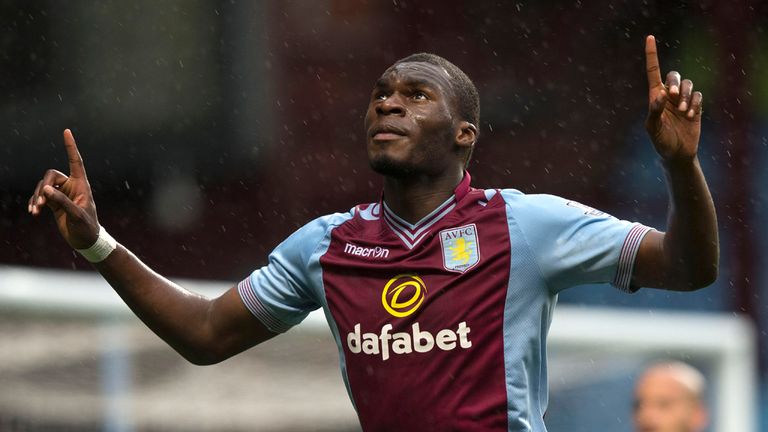 "This is Aston Villa, one of the biggest clubs in the country. They should be qualifying for Europe and they're just drifting." For the first 25 minutes of Sunday's game against Norwich City, Jamie Carragher's pre-match assessment on Sky Sports would have struck a particular chord with the disgruntled home support at Villa Park.
Fans assembled in the famous Holte End need only cast their eyes towards the banner that adorns the North Stand opposite for an evocative reminder of past glories. Brian Moore's commentary from their 1982 European Cup triumph is immortalised in a banner. "Shaw, Williams prepared to venture down the left. There's a good ball played in for Tony Morley. Oh, it must be! And it is!! Peter Withe!!"
Starting the match just four points above the Premier League relegation places, Villa's performance in the opening stages on Sunday offered a marked contrast to the success of such teams. It was abject stuff of which the crowd were only too keenly aware. There were agitated boos early on as Nathan Baker - in an ostensibly innocuous decision - elected to pass the ball back to goalkeeper Brad Guzan when there was space ahead of him.
By that point, Villa were already a goal down. Wes Hoolahan played a neat one-two with lone striker Gary Hooper to outwit the defence and prod home. While it was the Irishman's first start since New Year's Day and his first goal of the season, it was also a pertinent reminder of the sort of creative spark so often lacking in Paul Lambert's current outfit. The fact that Lambert had come close to bringing Hoolahan to Villa Park in January only seemed to sour the mood.
If not quite yet poisonous, the atmosphere was certainly not one to be recommended at this point and the Villa players cut nervy and unconvincing figures. Alex Tettey had opposition fans on their feet in anger as he strolled through the home defence with ease in the hope of forcing a second goal. Then Ashley Westwood gave the ball away twice in quick succession in acts of uncharacteristic sloppiness. When he and Fabian Delph left a loose ball for each other in the centre of the pitch, it served to highlight the fact they were on the back foot.
Villa were conspicuously vulnerable and events appeared to take on a greater significance. There was a sense in which this felt like the tipping point - all the long-harboured doubts over Lambert's direct tactics and the direction in which the club was heading came to the fore. Some supporters even took to shouting 'Hoof!' as another projectile was launched from the back in the general direction of the powerful presence of Christian Benteke. "We had a terrible start," admitted Lambert in his post-match interview with Sky Sports.
With the full-backs pinned back by Norwich wingers Nathan Redmond and Robert Snodgrass, there was no width in this Villa system. When captain Ron Vlaar stepped up with the ball in the 25th minute, his options were limited and he appeared to be bereft of ideas in search of a pass. Typically, he lofted the ball forwards for Benteke and you half-expected to hear more yells of derision from the crowd. Instead, the Belgian controlled it with his chest and hooked the ball over his own shoulder to beat John Ruddy in emphatic style. An equaliser. And everything changed.
Within two minutes, Villa were ahead and it felt as though the ineptitude of the opening exchanges had all been part of the plan - a performance so poor in order to emphasise the magnificence of what was to come. There was certainly an incongruous feel to the goal that put Villa ahead. Prior to kick-off, no Premier League team had scored fewer from corners this season. But Benteke rose above Sebastien Bassong to head home Westwood's corner with such ease as to leave you confused why it doesn't happen half a dozen times a match.
Ten minutes later it was 3-1. A swift counter-attack saw Gabriel Agbonlahor turn his man superbly, then show impressive awareness to feed Andreas Weimann with a reverse pass. The Austrian found the marauding Leandro Bacuna outside him and the right-back cut back inside before stroking past Ruddy into the far corner. It was a goal to justify Lambert's focus on pace and power. "The counter attack and the quickness of it, it was fantastic," he enthused afterwards. "It was a brilliant team goal." Suddenly everyone seemed to get it. A mass epiphany.
And the confidence oozed from the team. Benteke, in particular, looked a man transformed from the lethargic character who had gone 12 games without a goal earlier this season. Long balls started to find his chest rather than his head as he came deep to link the play. Meanwhile, the full-backs began to get forward to good effect and midfielders were running beyond forwards. Ryan Bertrand's threaded pass found Delph and a dangerous cross was turned into his own net by the hapless Bassong. Four Villa goals before the break for the first time in 19 years.
With the job done, the second half was anti-climactic but the point had been made and only goal difference denies Villa their customary place among the top half. Crisis averted. "All credit to the team," said Lambert. "We rode back really, really well.The lads never really show that they are down and they keep on going. We're a group that tries to look forward not down, we try and get the next team above us. If we do that, then great. It's important to keep that belief. They're a young group and they need a bit of help sometimes. For effort and energy, they were excellent."
Of course, this was only Norwich, a team with plenty of problems of their own and the fact that this was also just the ninth win in 33 home games under Lambert hints at the underlying stylistic concerns about his team. Pessimistics might argue that things won't be solved overnight. But if the events of Sunday proved anything it's that things can change quicker than you think in this game. Drifting? Paul Lambert and the Aston Villa fans who stare longingly at that North Stand banner will hope this was the moment the tide began to turn.