Talking points
England ended a two-game losing streak at Wembley by beating Denmark 1-0 on Wednesday evening thanks to Daniel Sturridge's late header. Adam Bate looks at some of key discussion points from the final friendly before Roy Hodgson names his squad for this summer's World Cup in Brazil...
By Adam Bate
Last Updated: 05/03/14 11:31pm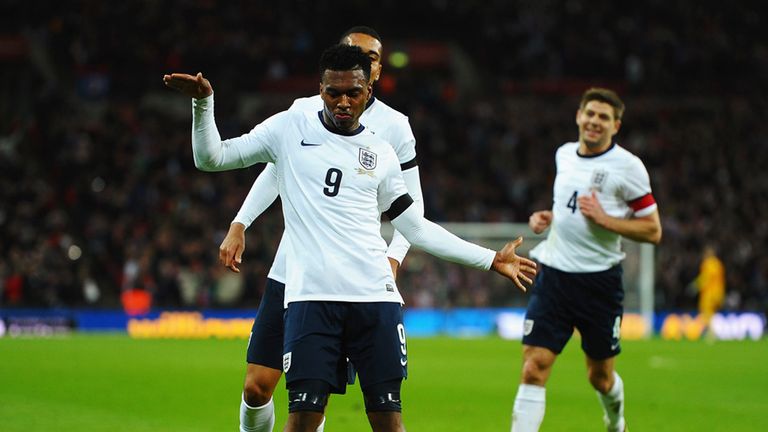 Too much caution?
Roy Hodgson himself admitted that his England team circulated the ball too slowly in the first half against Denmark and it was worrying to imagine what insipid fare might lie ahead in the heat of Brazil if this was the offering on a crisp March evening at Wembley. With players unwilling to go past a defender and midfielders reluctant to make runs beyond the forwards, most of the passes lacked penetration as England eschewed genuine positive intent in favour of safety-first possession play.
Of course, ball retention has been a problem for this team for as long as anyone cares to remember so 57 per cent possession deserves more than a cursory dismissal. Here was a concerted effort to keep the ball from their opponent. The frustration was that with five Liverpool players in the line-up - for the first time since 1977 - supporters might have expected the sort of combination play that results from an understanding forged at club level.
Instead England played in fits and starts with individuals impressing rather more than the collective. Liverpool supporters might point to the rigidity of approach shown by Hodgson, their former manager, in contrast to the fluidity of movement encouraged by current boss Brendan Rodgers. Whatever the reason, England hit the four-and-a-half-hour mark without a goal before Daniel Sturridge finally opened the scoring late on. It seems there is plenty of pattern of play work required before these players are able to recreate the freedom of movement seen in their Premier League performances.
But Sturridge gets his goal
Given the struggles for rhythm, it was something of a relief that Sturridge was able to provide the game's denouement with the winning goal. The Reds striker was asked to fill a slightly different role with the national team and he appeared a little uncomfortable when tracking back with Lars Jacobsen in the early stages. But his headed effort highlighted the fact that Sturridge retains that knack of getting into good positions.
Indeed, Sturridge could have found himself on the scoresheet in the first half after showing clever movement from a corner only to see Kasper Schmeichel smother well at close range. Sturridge's scoring record at club level speaks for itself - this was goal number 20 so far this season - so it is pleasing that he had his reward in the end. Perhaps it will encourage Hodgson to provide the Premier League's top scoring Englishman with opportunities through the middle as he continues to seek the right balance from his forward players.
Flexibility needed from Rooney?
In his post-match interview, Rooney discussed this role alongside Sturridge and Raheem Sterling and claimed the aim was to "interchange positions" in those forward berths. However, Rooney will need to ape the efforts of Luis Suarez rather more successfully if the trio are to work effectively together. The United man missed the target with all five of his shots and failed to directly create a chance for a team-mate in his hour-long outing. There is a growing case for Rooney to be the player shifted out to the left if Hodgson is to continue with this experiment.
And Sterling shows promise
If anything, Sturridge and Rooney were both outshone by Sterling. The teenager was bright and busy with his movement and caused problems with his impressive use of the ball - creating four chances, more than anyone on either side. The threaded pass to Wilshere was a rare moment of ambition in the first half, while he could have scored himself if he'd been able to force home Ashley Cole's cross on the brink of half-time. If Sterling maintains his club form for the remainder of the season, Hodgson should have little to fear in calling on the youngster again.
Cole v Shaw
"Leighton has been playing regularly for us. The two I need to look at in an England shirt are Ashley and Luke." Those were Hodgson's words in the build-up to this game and he gave the two players a half each to show what they could do. There had been plenty of speculation that this was a shootout to join Leighton Baines in Brazil and if that was the case then Cole responded well after not featuring for Chelsea in five weeks.
He didn't misplace a pass until the 34th minute and almost set up the opener just before the break with an inviting cross that Peter Ankersen turned onto his own post. There was a sense that Luke Shaw needed a special performance to oust Cole from the squad and he got forward well on his international debut. Even so, one of them will surely be omitted from the World Cup squad - on this evidence, whoever that player turns out to be, he has every right to feel a little hard done by.
Elsewhere in defence
Whatever your thoughts on Sol Campbell's comments this week, the column inches devoted to the former England international also served as a reminder that there were times when the country was blessed at the heart of defence. Not just the double winning defender who was part of Arsenal's Invincibles, but also Rio Ferdinand, John Terry and Jamie Carragher - players with leadership qualities and Champions League pedigree.
In 2014, the absence of Phil Jagielka pressed an out-of-form Chris Smalling into action at centre-back so it was something of a relief to emerge with a clean sheet - albeit against a Denmark team whose own paucity of ambition was alarming. It was not without its difficulties. Jakob Poulsen squandered a good chance when Gary Cahill got sucked in and Smalling failed to get across, while Joe Hart was required to pull off a neat save after the interval. But the centre-back duo got the shut-out and that might make Hodgson sleep a little easier about his back-up options.
Boos for Cleverley
Sympathy for millionaire footballers isn't exactly a vote winner for politicians and it doesn't sell newspapers either, but it's hard not to feel sorry for England midfielder Tom Cleverley. The 24-year-old Manchester United player was only named among the substitutes for this game - and didn't make it onto the pitch - but still endured the ignominy of a smattering of boos accompanying the reading out of his name prior to kick-off.
There are plenty of off-field reasons why certain players might be held in contempt by supporters. And yet, Cleverley's crime appears to be that he's not quite as good as various United and England managers believe him to be. As we look ahead to a summer in which fans will expect England's players to do them proud, it didn't really feel like one of the squad was being met halfway by some of the crowd at Wembley on Wednesday evening.
But Lallana is the darling
One man who enjoyed the full support of the spectators and was anything but crippled by caution was Adam Lallana. The Southampton midfielder arrived with a swagger and produced a Cruyff Turn within moments of his second-half arrival. Lallana played with a swagger and confidence that suggests he won't be overawed in an England shirt and the breakthrough goal itself was all about the 25-year-old's invention.
Crowds can be notoriously ill at ease with the short corner and the easy option would have been to swing the ball into the danger area. Instead he played a quick pass to Sterling and utilised his two-footed talents to engineer space for himself before looping in a cross that left Sturridge with the simplest of tasks to nod past Schmeichel. If Hodgson learnt anything from this contest it is surely that Lallana must be in his World Cup squad this summer.