Falling for Football
Bringing together 44 writers to discuss the team that inspired them, Falling for Football gets to the heart of a love affair. Here's Musa Okwonga on the legendary AC Milan of 1990.
By Musa Okwonga
Last Updated: 11/03/14 5:00pm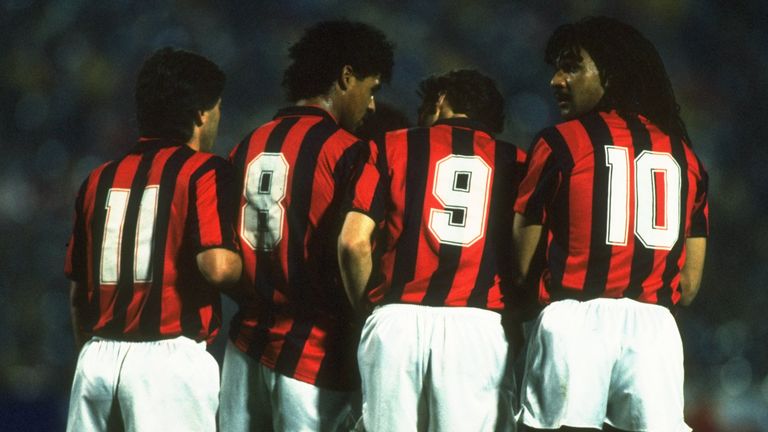 Although my lifelong love is Manchester United, the team that will forever turn my head is the AC Milan side of 1990. Milan's squad was so good that season that, it was said, their second XI could have won Serie A and their first XI could have won the World Cup. This was a special year. A year when Luciano Pavarotti made sobbing at an opera acceptable to the masses; and a year when Adidas released the Etrusco Unico match ball, 20 panels of majesty, which remains the best of its kind that I have ever seen or sidefooted.
A special year then, 1990. I was 11 years old, a time when, due to Roberto Baggio, everyone was about to fall in love with Diadora boots. But, before Diadora, there was the Lotto. Not just anyone could wear the Lotto, for two reasons. First, they were narrow as stilettos, which immediately ruled out the flat-footed among us. Secondly, they were worn by Marco van Basten, the greatest pure centre forward I have ever seen.
I say "pure" for good reason. Van Basten wouldn't actually get into my all-time World XI - he would lose the lone-striker role to Brazil's Ronaldo - but if aliens stumble upon the remains of our long-departed civilisation many millennia from now, van Basten's highlight reel will be the most graceful illustration they will find of the centre-forward's art. Where Ronaldo's skill levels were bewildering, he could at least turn to the more prosaic qualities of brute force when needed. But van Basten's game was all elegance and cool intellect. He rose to greatness by touch and touch alone. To buy a pair of his Lotto boots - had they fit me - would have been an act of unparalleled arrogance. They weren't the most expensive range, but I still saw few boys who dared even attempt to emulate him.
Alongside van Basten in that 1990 team, completing the famous trio of Dutchmen, were Ruud Gullit and Frank Rijkaard. Gullit, of course, was the one you noticed first, and that's probably how he wanted it. His dreadlocks swayed out at you from the pages of Match magazine, and at the start of each game he strolled onto the pitch with the swagger of a rapper. Gullit was the Carl Lewis of football: a man of overwhelming aura, which was largely the result of his exceptional athletic ability. For a man of such imposing physique, he carried himself with a surprising lightness, not so much sprinting as skipping carefree over the turf.
Behind him, Rijkaard did the dirty work. If it was Gullit who feasted on helpless defences, then it was Rijkaard who set the table. While he did so in unfussy fashion, there was elegance in the economy with which he used the ball; and though he often played the humble role of waiter, he could also be the chef when called upon. It was, after all, his strike which won the European Cup at the end of that season, his goal giving AC Milan a 1-0 victory over Sven-Goran Eriksson's Benfica.
There's something about the manner of his goal that was typically Rijkaard; the way in which he ran on through midfield late in the game, finally tired of deferring to the attackers who had toiled fruitlessly up ahead of him, moving gracefully through the gears and beyond the offside trap. His laconic flick into the bottom corner was a finish that van Basten would have been happy to add to his catalogue.
Of course, these three Dutchmen were the foreign icing on a quintessentially Italian cake, a team built upon the exceptional central defensive axis of Franco Baresi and Alessandro Costacurta. If it is forgivable here to draw an analogy with The Godfather, then while Baresi was the Michael Corleone of calcio, Costacurta was Sonny. "Billy", as Costacurta was often known, was vigorous and impetuous, his temper eventually costing him suspensions for both the European Cup and World Cup Finals in 1994.
Costacurta was the instigator, the first to stir up hostilities with the opposition's forwards, while Baresi proceeded in a state of calm that was often somewhat menacing. If a striker found that either the ball or his balance had gone missing, robbed from him by a well-placed toe- poke or trip, it was rare for Baresi's fingerprints to be found at the scene. At a time when English defenders were typified by their execution of endless sliding tackles, Baresi made it the fashion to end the game with a clean pair of knees. His was defence not as thunder, but theft.
To either side of Baresi and Costacurta were full-backs from two very different stylistic schools. Mauro Tassotti, on the right, was all brash tenacity and blue-collar bustle, while on the left Paolo Maldini looked more like someone who'd been kidnapped from his final year of fashion college. Tassotti's appearance was reassuringly brutish, with the kind of features you might expect to find at the bottom of a bar-fight, whereas you could imagine Maldini playing the game with a silk scarf flailing over both shoulders.
Maldini, as it would turn out, was deceptively dandyish. He was no figure of fragile beauty, and would last eight seasons longer in the Milan first team squad than Tassotti - 25 to 17. What's more, his trademark, ironically enough, was very English: the immaculately-timed sliding tackle, with which he would whiplash many a stray ball safely into the stands.
The team was completed by three artisans: Giovanni Galli in goal; and Alberigo Evani and Carlo Ancelotti in midfield. Dependability was their watchword; and, in Evani and Ancelotti, Sacchi found the perfect practitioners of the pressing system which would see AC Milan retain the European Cup, the only team to do so in the modern era. Ancelotti's apprenticeship in a team with such gifted players, it seems, was fine training for his career in management, which would see him take Milan to the final of the UEFA Champions League on three occasions in five years, winning it twice (in 2003 and 2007).
The 1990 team was an easy one to love. They showed that you could have your cake and eat it: they proved that you didn't have to sacrifice grace for graft. As much as anything, they had not one but two of the best kits in sport: their all-white away strip channelled the angelic air of Real Madrid, whilst their home shirt was an arrogant banner of broad black and red stripes, with "MEDIOLANUM" emblazoned across the breast in emphatic white capitals. By the time I reached university, I had long since done away with the humility of my pre-teen years: and, finding that our college fortuitously had the same kit as the 1990 Milan team, I made sure to snatch the number 9 shirt, my own small homage to van Basten and his successor George Weah.
It is a mark of the greatness of the class of 1990 that they are the only team in the modern era who could conceivably have given Pep Guardiola's Barcelona a run for their money. The 2011 side which Guardiola managed to victory over Sir Alex Ferguson's Manchester United - a 3-1 scoreline not doing full justice to their dominance - featured the core of Spain's World Cup-winning side at their formidable best, and in the end might just have trumped Sacchi's magnificent orchestra.
Of the two, though, it is the three Dutchmen and their band of brilliant brothers who will linger first, if not longer, in my affection. I have had other footballing loves since they glided into view, but they will remain the first truly great team that I had the privilege to witness: and, as an introduction to this sport's unique beauty, I could not have had a finer one.
Falling for Football is compiled and edited by Adam Bushby and Rob MacDonald. It is available for order via Ockley Books in hard copy and across all eBook formats from March 10th.