Complacent City
Manchester City were punished for failing to turn up against Wigan in Sunday's shock FA Cup exit. They improved in the final half-hour, but complacency is becoming a recurring problem for Manuel Pellegrini's side
By Matt Stanger - @MatthewStanger
Last Updated: 10/03/14 8:49am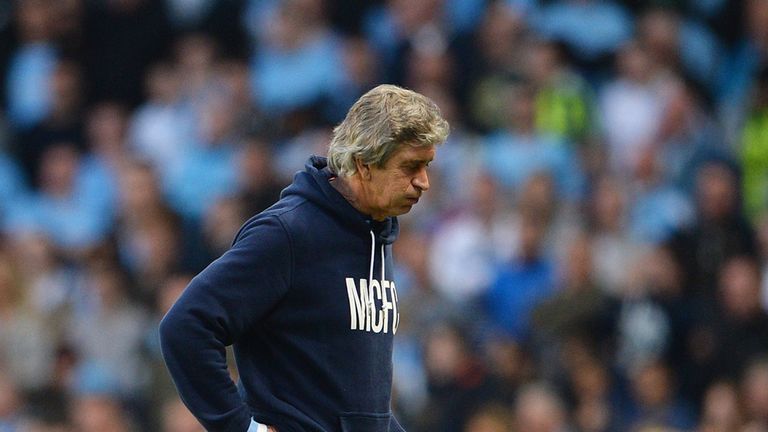 It's perhaps an antiquated view that managers who wear suits mean business - the Premier League has endured Phil Brown, after all - but it feels inappropriate not to mention Manuel Pellegrini sporting a hoody on Sunday. Surely that is more incongruous itself than any recognition of the fact.
How football managers choose to dress shouldn't be an issue, and nor do I ever wish to debate the subject. But Pellegrini's wardrobe miscalculation set the tone for a dismal afternoon for Manchester City. Javier Garcia paraded his newborn baby on the pitch before kick-off and Martin Demichelis continued committing costly errors as though nothing he does really matters. Pellegrini wore a suit for Barcelona, so why not Wigan?
As City succumbed to a 1-0 defeat to the Latics, it was impossible not to think that their three games in hand in the Premier League could count for very little. Jose Mourinho maintained his view that Pellegrini's side are still favourites for the title on Saturday, despite Chelsea stretching seven points clear, but suddenly matches against Sunderland, Aston Villa and Manchester United seem a lot trickier for City.
Pellegrini may defend himself by pointing to a strong starting line-up on Sunday that included Yaya Toure, Samir Nasri and Sergio Aguero, but the complacency that followed is not necessarily a surprise. City required a replay against Blackburn and trailed 2-0 at home to Watford earlier in their FA Cup run, while they have won only three of seven matches since the 5-1 thrashing of Spurs in January, averaging just a goal a game. When the going got tough, City started to stall.
Wednesday's clash against Barcelona will provide a true test of their mettle, something Wigan possessed in spades as they set up a semi-final against Arsenal. Barcelona's shock 1-0 defeat to lowly Valladolid on Saturday may have had City fans dreaming 'what if?', but their own season has somewhat mirrored the La Liga champions'. After such ruthless starts to the campaign, both are simply not clicking at the stage when it really matters.
That will also be a concern to Arsenal, of course. The decision to hold the draw for the next round of the FA Cup before all matches have taken place continues to perplex, but it threw up its most enjoyable twist on Sunday. Whereas Gooners were wailing at their misfortune on Twitter as Garcia strolled around the Etihad with his newborn, Wigan's brilliant victory was met with just as much celebration in north London at it was in the away end.
But to think this is a foregone conclusion would be hugely disrespectful to the Latics, and rather odd in the afterglow of their second successive cup win over City. Arsenal were similarly confident ahead of the League Cup semi-finals in 2011, when only Ipswich, West Ham and Birmingham stood between them and the end of their six-year trophy drought. And we all remember how that story ended.
This article first appeared on Football365