The Great Pretender
Although not all the teams were in action, it was a still a big weekend of Premier League action as Chelsea moved seven points clear at the top of the table, Tim Sherwood slammed his Tottenham players and there was plenty of movement at the bottom. Matt Stanger takes us through it...
By Matt Stanger
Last Updated: 10/03/14 12:28pm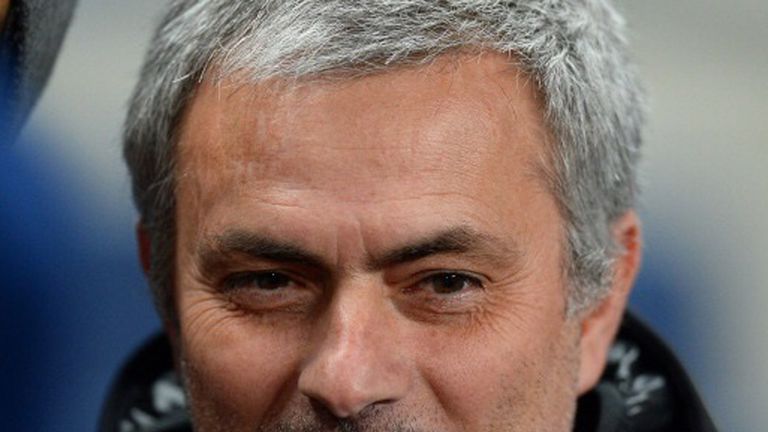 "Our next objective is top three, as that gives us direct qualification (to the Champions League group stage) and, if at a certain point our distance to fourth is big, I will say we will think a bit more - but objective now is top three. If Man City win three games in hand, which they can - they are top."
This is getting boring now. Were it not Jose Mourinho, the press would insist on the Chelsea manager confessing his team have a great chance of winning the title. Instead, the Portuguese has been given a steady ride along with his team, as the Blues continue to clock up points while Manchester City clock up games in hand. It is a far better position to have points on the table and much less pressure to play first while your rivals are otherwise engaged.
Regardless of Mourinho's evasion, Chelsea should now win their first title in four years. The team is playing well (although they were perhaps a little fortunate against Tottenham) while the fixture list also favours them. A home clash against Arsenal and a trip to Liverpool are the only matches against top-half opposition that remain. Every other opponent has fewer than half of Chelsea's number of points.
On top of that, City are stalling, despite Mourinho's claim that they are still favourites. Manuel Pellegrini's side are far from a sure bet to win their games in hand - one of which is away to Manchester United - having dropped points at Norwich and lost at home to Wigan in the FA Cup in recent weeks. City have won just three of their last seven matches, averaging a goal a game over that period. They are not the juggernaut many believed when fanciful talk of the quadruple filled every Pellegrini press conference. There is an interesting contrast between his and Mourinho's treatment in terms of pressure.
The only thing that could perhaps pose a problem for Chelsea is their Champions League fate. The Blues are expected to progress against Galatasaray, setting up a potentially draining quarter-final. If they also get through that stage, they will have an extra four games to play in April, including two semi-final legs just three or four days either side of the trip to Anfield. We have seen Chelsea struggle before with fatigue this season and, despite possessing a strong first team, it can be argued that they lack the squad depth to cope with such challenges.
Click here to read about how Manchester City's complacency is becoming a problem
Ticking Tim bomb
This is not a good situation. Seemingly taking the lead from Alan Sugar in everything he does, Daniel Levy is running an excruciating alternative to The Apprentice, in which everyone knows the chap publicly begging for the job is doomed to fail.
This has led to Sherwood becoming a ticking Tim bomb, unfamiliar with the enormous pressure of his role and how to respond to setbacks. Castigating the players following the defeat to Chelsea may have seemed a good idea at the time, but there is a reason managers usually keep a firm lid on their emotions.
Not that the press will notice the difference between Sherwood's quotes and Andre Villas-Boas' innocent reaction to the 6-0 humbling at Manchester City earlier in the campaign. While Villas-Boas included himself in the collective blame that was due after that defeat, Sherwood turned both barrels on the team. There was nothing ambiguous about this response:
"(We have) a lack of characters. Too many of them are too nice to each other. We need to show a bit more guts and not want to be someone's mate all the time. It can't always be me. They need to drag it out of each other. There's a few I'd count on. There's a few I wouldn't."
With nine games remaining and currently a six-point gap to make up in the race for fourth, it's becoming apparent that this will end another 'not quite' season for Spurs. But, perhaps rather perversely, despite the many concerns over Sherwood and the players, there is still room for hope. The nature of the fixture list presents Spurs with an agonising chance to close the gap to their rivals, as long as Sherwood can keep his cool. It's a big 'if'.
As stated above, it's better to have points on the board than games in hand, which allows Spurs to twist the knife on Arsenal in the next two weeks. They have to beat the Gunners on Sunday, which would move them within three points, before the following week sees Spurs host Southampton and Arsenal travel to Chelsea. It requires much more convincing performances than we have seen in recent weeks, but there is not an unlikely chance that Spurs could be level on points with Arsenal before the Gunners play their game in hand at home to Swansea.
The aim for Spurs is to pile on as much pressure as possible, and the fixture list affords them a great opportunity in this challenge. Following a trip to Liverpool at the end of March, Tottenham's last six matches are all against teams outside the top nine. Arsenal, meanwhile, must also play Manchester City at home, Everton away, and face a tricky trip to Hull in April. If Sherwood doesn't crack, there is still hope. After the last two years, perhaps that is the last thing fans want to hear.
Moyes - It's a start
A fourth match without defeat in the Premier League, a second successive victory and a performance that aids the manager's chances of holding on to his job. But it was only West Brom. United showed signs of improvement with arguably their strongest XI, but whether it is genuine progress will only be revealed in forthcoming fixtures against Liverpool and Manchester City.
That the champions could score a goal following an 18-pass move has been almost unthinkable at times under David Moyes (the Fulham draw springs to mind), but Danny Welbeck's strike emphasised United's growing confidence. Marouane Fellaini offered a reminder of why Moyes chose to take the midfielder with him to Old Trafford, while the defence also looked a lot more solid. But it was only West Brom.
Fellaini's return to match fitness should provide a better platform for Wayne Rooney, Juan Mata and Adnan Januzaj to attack without restraint, and keeping a bolt on the back door will be crucial when Liverpool visit Old Trafford on Sunday. It has been such a dismal season for United that it is possible to over-state a routine win at West Brom simply for the sheer relief it brings. But should the champions lose to Liverpool and City and crash out of the Champions League to Olympiakos in the space of two weeks, it will feel almost impossible for the club to back Moyes for another season of uncertainty.
The simple fact is that failing to qualify for the Champions League is an enormous backwards step under the new manager. And yet, if United now secure a Europa League place, it will almost certainly be detrimental to their hopes of fighting for the title next season, exemplified by Liverpool's sudden revival at the top. We have seen at Spurs how a huge churn of players can disrupt a team's preparation and spirit and Moyes' plans to spend big in the summer - though necessary - could result in too much upheaval.
If this year has been a perfect storm at Old Trafford, next season could see more of the same as actual, rather than theoretical, squad renewal and Europa League distraction present themselves as new quandaries for Moyes to solve.
Click here to read how Marouane Fellaini finally showed Manchester United fans what he could do
Down at the bottom...
Good news for Cardiff
A dead cat bounce or the first step on the road to recovery? That Cardiff remain in the bottom three despite winning on a weekend when both West Brom and Crystal Palace lost says an awful lot about the task ahead of them. A goal difference of -28 is also a huge issue in such a tight relegation battle.
But still, this was a much-improved performance. Saturday's display was founded on gritty determination. They were in Fulham's faces, fought for every second ball and showed the desire that was required to hammer what should be the final nail in their opponents' coffin.
Ole Gunnar Solskjaer's decision to start Fraizer Campbell on the left ahead of Wilfried Zaha hints at a change of approach, with Cardiff now ready to scrap their way through four remaining matches against their relegation rivals. There's a good chance they'll need to win all four to stay up.
And Stoke...
Six points above the relegation zone with a relatively straightforward set of fixtures to come. The challenge now for Mark Hughes is to guide Stoke to their first top-ten finish in the Premier League, with Saturday's home match against West Ham (who currently occupy the position) crucial to that aim. It would provide a tangible sign of progress in a season where Stoke have remained rather Stokish.
But alarm bells at Palace
Back-to-back home defeats and only one win in five matches. Saturday's trip to Sunderland is huge, with Palace also having to play Chelsea, Man City and Liverpool before the end of the season.
And Norwich
Two vital points dropped by again failing to find a second goal, something Norwich have achieved only three times all season - gaining them seven points. In fact, Norwich have lost only three times in 30 matches in which they have scored more than one goal since their return to the Premier League. There's a message in there somewhere.
As for West Brom...
If three wins in 12 matches before Steve Clarke's sacking was unforgivable, what do the Baggies' board think of one win in 12 since the manager's departure? This is self-inflicted suffering, which seems set to end only one way.
West Brom have failed to win any of under-fire Pepe Mel's seven matches in charge and have now won only one of their last 19 games in all competitions. The rot has set in, the players are reportedly unhappy with the new manager's style, and it appears that the only hope of survival is to take one more roll of the dice. And yet Fulham's form under Felix Magath would argue, 'what's the point?'
Admit the mistake, bring back Clarke on a healthy contract until the end of the campaign and offer him a heavily incentivised new deal upon securing survival. West Brom are not going to stay up without drastic change.
Last and least...
Doomed to relegation in Shahid Khan's first year of ownership, Fulham have been slipping for several seasons, but their implosion is still nothing short of spectacular.
A version of this article originally appeared on Football365