American Dreams
Mark Ashenden travels Stateside to investigate how Britain is boosting Major League Soccer and inspiring a new generation of sport fans across the pond
By Mark Ashenden - @markcashenden
Last Updated: 13/03/14 5:09pm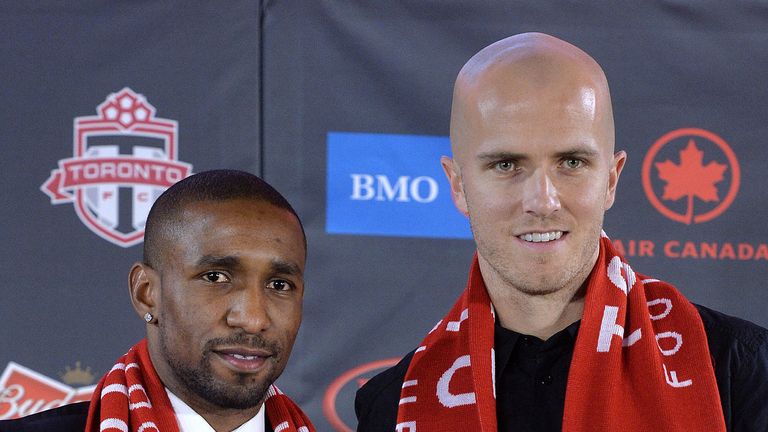 The word 'soccer' probably makes the average British football fan choke on their corn flakes but it's something they may just have to get used to.
Major League Soccer kicked off last weekend and there's a growing belief, on and off the pitch, North Americans are finally falling in love with kicking a round ball. And it seems Britain is right at the heart of its transformation.
Sky Sports explored this quiet revolution with the MLS communications chief Dan Courtemanche and visited the west coast of Canada to hear from a high-flying Englishman and Welshman hoping to inspire a new generation in Vancouver to ditch the ice hockey puck.
It's 30 years since an economic recession, player strikes and bored fans brought the North American Soccer League crashing to its knees with Pele, George Best and Johan Cruyff long gone.
Scars of crippling debt, owner mismanagement and reliance on star players still runs deep at MLS but since the explosion of Becks-mania in 2007 when the former England star signed a five-year deal worth £128m with LA Galaxy, the league's administrators have been slowly plotting world domination with a more pragmatic approach to secure long-term growth.
MLS's senior spokesman Courtemanche told me: "David Beckham is a truly cultural icon and there's no doubt he was a significant catalyst for growth of MLS and played a big part in getting where we are today.
"But our fans support their clubs. Players on the field are part of that and we will always look to secure top talent but fans support the team first. It's all about the badge and that's tremendous to see because it shows we are evolving as a true football league.
"The MLS is making tremendous progress in North America at all levels and we continue to grow in popularity with our owners, new talent and finances - some teams are even profitable. All this falls into our goal of being one of the top leagues in the world by 2022."
An average of 18,600 fans for last season's games puts MLS third behind NFL and baseball in terms of gates in US professional sport, while 10 teams in 2004 have jumped to 19, three in Canada, for the new campaign, with New York City and Orlando City set to debut next year. Beckham's Miami franchise will follow and discussions continue for an Atlanta team with hopes for a 24-team league by 2020.
While new academies, nurturing home-grown talent and careful investment are crucial for MLS, star players will ultimately drive sponsorship, broadcasting deals, supporter numbers and attract further talent from around the globe.
England striker Jermain Defoe is the latest to join a long list of British exports across the Atlantic with a £6million transfer from Tottenham to Toronto FC, who are coached by former Blackburn stalwart Ryan Nelsen. Defoe is set to make his debut at the weekend against Seattle.
Former West Ham and Aston Villa midfielder Nigel Reo-Coker is another expat about to start his second season at Vancouver Whitecaps and is thrilled with his career path.
The 29-year-old revealed he knew of many players keen on moving from England: "No one can take away what I've done in the Premier League but this is a growing league and it's fresh with a great fan base and different atmospheres.
"The Premier League has some of the best players gracing fantastic stadiums with clubs with great histories, but MLS has the potential to be a big dominant league in the world and it seems to get better every year.
"But you have to be successful on the pitch to gain more fans and interest. There was a time when there were 70,000 fans cheering the Whitecaps in the old MLS and those things are achievable and possible again."
The Whitecaps, celebrating their 40th anniversary this year, are a shining example of a club using an economic model based on spending within their means and youth development that MLS is desperate to encourage.
Since enjoying their finest moment in 1979, beating a New York Cosmos side which housed Franz Beckenbauer's talent, on the way to winning the Soccer Bowl (NASL champions), Whitecaps fans have had little to shout about. However, after joining MLS in 2009 and moving to the imperious BC Place in the city centre, it seems the Canucks (Vancouver's hockey team) face a scrap for its local fans and newspaper column inches.
Former Wales and Norwich midfielder Carl Robinson, who spent three seasons at Toronto FC and two with NY Red Bulls, starts his first full campaign with the Whitecaps as head coach and is buoyant about the challenges and prospects for his team and league.
The 37-year-old said: "I've seen many British players come over to MLS. I was one of the first in 2007 two weeks before David Beckham and I've stuck around and seen players come and go.
"I've been offered 25 players for the Whitecaps currently in the Premier League. That shows the growth of this club and league. The history of the club is frightening but we have to develop. I have 20,000 fans watching us every week so I know there is interest in soccer.
"The MLS is one of the fastest growing leagues. It's touching on an excitement where it's set to boil and go over. There are more international players coming and in 10 years it will be massive."
The European leagues remain streets ahead of MLS in terms of global popularity, TV revenue and attracting players, but the Americans are learning and learning fast by drawing on the experience of its competitors. Courtemanche calls it "discussing best practices".
Link-ups with Germany's Bundesliga, club academy directors refining teaching methods at the French Federation and greater partnerships in South America are all helping. It seems though that the Premier League is adopting a huge role by exporting more than just playing talent.
American Phil Rawlins has just left the Stoke City board to spend more time at their sister club in Orlando (managed by ex-Potter Adrian Heath), the Abu Dhabi-based owners of Manchester City have linked up with New York Yankees to form NY City, while Arsenal chief Stan Kroenke, who already owns Colorado Rapids, is reportedly keen on creating a new American sister team called the LA Gunners.
Courtemanche added: "We know we are the new kids on the block and we will learn as much as we can from the most successful leagues in the world. We are smart enough.
"We look at all of the world's leagues and meet regularly with them. We had Premier League chief executive Richard Scudamore in our offices recently. We are clearly going to find great insights to the Premier League and take away key learnings for MLS to implement.
"We are extremely fortunate to have the owners of Man City and Arsenal involved in MLS, along with Jason Kreis, NY City FC head coach. Jason's team don't play for another year and he's living in Manchester for six months, observing training sessions and the club's approach across the board to increase his ability to produce a team of high calibre.
"It's a fine example of how we are utilising some of the insights of English football. But football is the world's game. It's truly global and as we increase MLS in North America and bring in more world class talent we believe we will grow our relevance and demand through Asia, Europe and South America.
"Our league has been running for 19 seasons. We do need to see multiple players coming out of the youth academies, but we've still invested in talent with our designated player rule and we have arguably one of the most resourceful, diverse and international ownership groups in global sport.
"Our goal of being one of the world's top leagues by 2022 is still our main focus. We've made tremendous strides and we're extremely realistic. We believe we are well on our way."
While Courtemanche thinks the south east of America is key to growth, journalist Bob Mackin, who has covered Canadian sport and its politics since 1990, believes MLS fortunes lie on the west coast, from Vancouver down to Portland and Seattle. Seattle Sounders are the best supported MLS team with an average last season of 44,038 which would rank second in Major League Baseball and sixth in the Premier League just behind Liverpool.
Mackin said: "MLS needs to create more regional rivalries to lift revenues and TV audiences. It's a wildcard, but a strong showing by the American World Cup team in Brazil this year - quarter or even semi-final - would be a big boost to the game here.
"The MLS isn't going to go the way of the NASL. This time it has a chance to be more than a niche product in the North American sports spectrum because of the sheer numbers of people now playing."