Nothing to lose
Manuel Pellegrini's Manchester City side must seek an early goal that will cause panic amongst home supporters (and then hopefully players) in the Camp Nou. It may be a thankless task, writes Daniel Storey
By Daniel Storey - @danielstorey85
Last Updated: 12/03/14 8:44am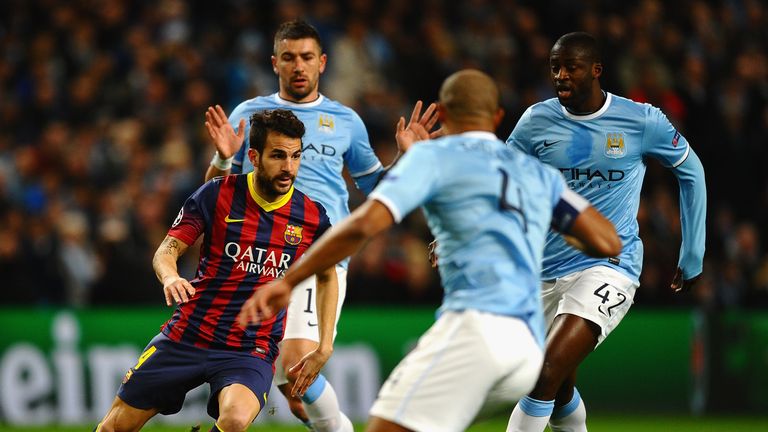 "We have nothing to lose. If you go there and you lose, it's no more, but if you get a result it will be fantastic."
It is difficult to argue with Samir Nasri's blasé view ahead of Wednesday's second leg in the Camp Nou. Manchester City's chances of overturning the defeat inflicted upon them three weeks ago realistically sit somewhere between slim and none - no club in the Champions League's 22 years has ever overturned a two-goal deficit from a home leg to qualify. Attempting to do so against a Barcelona side that has won 20 and lost just one of their last 26 home games in the Champions League only makes success all the more unlikely.
In fact, on only three occasions in the last eight years have Barcelona lost at home by a scoreline that would see City even force extra-time on Wednesday. That's 242 games, and makes anything other than Barca progression a hugely improbable scenario. Such slim possibilities mean that City have little choice but go to Spain with a 'nothing to lose' mindset. Carefree spirit has often proved to be a dangerous opposition in football.
City may have lost the first leg (and Dani Alves' late goal acted like a dagger to the heart), but there were reasons for great positivity to be taken from the match, the club's first ever in the European Cup's knock-out stages. Until the penalty incident ten minutes after half-time, Manuel Pellegrini's side soaked up Barcelona's possession without any cause for significant alarm, and actually created the better chances. Barca only had four shots on target all game, and only one of those came before the penalty was awarded and Martin Demichelis dismissed.
However, City must now play with a much-changed strategy. Had they managed to keep a clean sheet at the Etihad and drawn 0-0, it would have been logical to try and do precisely the same in Spain, looking to steal the vital goal on the counter-attack or from a set-piece - that option is now surely foolish. Instead, Barcelona must be attacked at pace in an attempt to overwhelm the Spanish champions before they have had the opportunity to settle. Without the ball, 90 minutes will tick by very quickly indeed.
The good news is that City evidently have the personnel to instigate such an attacking plan. Fit-again Sergio Aguero is ready to start the match, as confirmed by Pellegrini ("He is now in shape to play the 90 minutes"), and will surely play alongside Alvaro Negredo. Starting Jesus Navas on the right and David Silva from the left with Yaya Toure ahead of Fernandinho could well provide a platform from which City can press their opponents with high intensity in the final third of the pitch. Toure must look to stay on the heels of Sergio Busquets to stop the Spain international turning on the ball and dictating play through his passing into attacking midfield.
City's only real chance of success will surely come through an early goal, something also highlighted by Nasri in his comments before the game. "[We'll] just attack them from the start and try to score an early goal," was the Frenchman's view. Easier said than done, of course, but the only viable option left for City.
Barcelona have been on a rocky run in La Liga of late, dropping 13 points in their last nine games to fall back into third behind the two Madrid clubs. The weekend defeat to Valladolid, in the relegation zone at kick-off, was perhaps the most worrying result of Barca's season, with Lionel Messi, Neymar, Pedro, Xavi, Cesc Fabregas and Busquets forming the front six - this wasn't exactly a reserve side rolled out with midweek in mind. Being four points behind Real in La Liga constitutes something of a mini-crisis, and there is a growing sense of unease around the club that City must look to exploit.
Coach Tata Martino this week received something rather rare at Barcelona - the dreaded vote of confidence. "Martino has a contract with us until June 2015," president Josep Maria Bartomeu said. "We would like Martino to remain with us next season. We hope he will remain with us for a long time." That very much depends on the manager's ability to instigate a marked improvement in the final three months of the season. It is six years since Barca finished outside of La Liga's top two, and seven since they last failed to reach the last four of the Champions League.
I can't get on board with the tabloid frenzy of the much-reported 'death of tiki-taka', but Barcelona are quite palpably not as strong as they were two, three or four years ago, and Martino must take some responsibility for part of that.
Should City score early on Wednesday, panic will seep down from the steep stands of the Camp Nou and into the players. Such anxiety may be City's greatest chance of an unprecedented progression.
A version of this article first appeared on Football365