Star of the show
Atletico Madrid secured their place in the quarter-finals with a 4-1 win over AC Milan in the Spanish capital on Tuesday night. Diego Costa scored twice as he maintained his phenomenal form for the Primera Liga side...
Last Updated: 12/03/14 10:57am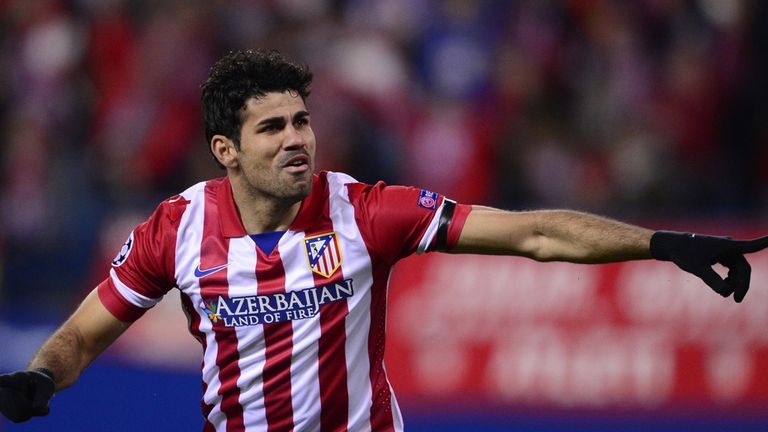 Atletico Madrid marched into the quarter-finals of the Champions League for the first time in 17 years and that man Diego Costa once again led the way.
The Brazilian-born Spain international scored twice as Atletico saw off AC Milan 4-1 in the second leg of their last 16 encounter in the Vicente Calderon Stadium to complete a 5-1 aggregate win in style.
Costa's brace took his tally to 29 for the season and the opener was typical of the 25-year-old's growing savvy in front of goal - an acrobatic outstretched limb forcing the ball beyond Christian Abbiati as he converted Koke's delicious delivery.
"I think everyone would admire the agility shown by Diego Costa," former England forward Trevor Francis told Sky Sports. "It's a brilliant finish. He just eases behind Adil Rami. Great pass too. Some people would say it's a cross but for me it's a pick out by Koke."
Although Kaka briefly gave Milan hope, a deflected Arda Turan effort restored the lead before Raul Garcia's second-half header increased the lead to three clear goals. And the identity of the man to have the final say was no surprise - Costa gathering the ball in the right channel and finishing expertly with a driven finish into the far bottom corner.
With holders Bayern Munich also taking their place in the quarter-finals and heavyweights such as Spanish capital rivals Real Madrid certain to be a factor in the latter stages of the tournament, Atletico know they are in amongst it with the big boys now. But with Costa in this form and Diego Simeone's side playing and pressing together, they are genuine contenders in this year's Champions League.
Thibaut Courtois on Diego Costa
"It's perfect (having Diego Costa up front). From one or two chances he will always score a goal and this is really important for us. He got the goal in Milan to make it 0-1 to us and that meant Milan had to come out here and play. On the counter-attack they then gave us some space because they had to attack. This gave us some space and he (Costa) scored two goals so we can be very happy."
Trevor Francis on Atletico Madrid
"It was quite evident that Diego Simeone sent his players out to get that early goal and they were very dominant and positive. Then they stopped playing and allowed Milan to come onto them. After the Milan goal, the home side became very nervous and could've conceded a second. The crowd had gone quiet and for 20 minutes, Milan really fancied themselves. But then they got the second goal and all of a sudden they started believing in themselves again and started to play."