Dare to be bold?
With three goals probably needed against Olympiakos to secure a Champions League quarter-final spot, Manchester United's attacking sluggishness needs a complete transformation. Daniel Storey has a cunning plan...
By Daniel Storey - @danielstorey85
Last Updated: 19/03/14 3:15pm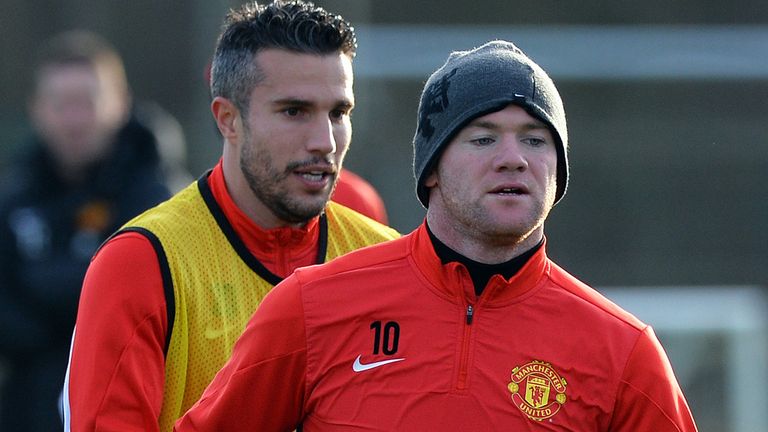 Whilst there was plenty to choose from, it would surely have been United's blunt attack that will have concerned David Moyes most during Sunday's debacle against Liverpool, with the manager admitting before the game that the performance of Wayne Rooney and Robin van Persie were key to his side's success. "I think those two players are pivotal for Manchester United, really important players," Moyes said. "I thought the two boys were outstanding against West Brom for their effort and work-rate. Hopefully that is the way forward."
Instead, as so often in this Manchester United season, it was a case of one step forward and two or three back. The strike partnership (almost unworthy of the word) had eight shots, of which one was on target, with Van Persie in particular guilty of snatching at almost everything he aimed towards goal.
It is difficult to criticise Rooney too much, although he was pertinently not at his best. With Juan Mata, Adnan Januzaj and Van Persie around him all operating at differing levels of ineffective, the forward could do little but drop deep in the vain hope of instigating some forward momentum, and there is no doubt that the result hurt him personally.
The same cannot be said of Van Persie, however, who currently looks so utterly disinterested as to make his midweek quotes of commitment to the United cause and hopes of a long-term future at Old Trafford laughable. The Dutchman had fewer touches of the ball than any other United starter (including David De Gea), and less than half those of Luis Suarez. Suarez was also not at his best, but at least looked to display some degree of determination to become involved in play.
In order to qualify without the need for penalties (and memories of the Sunderland shoot-out must rule that out as an aspiration), United must score three times against Olympiakos, requiring a dramatic improvement in their attacking display from just four days previously.
Furthermore, supporters must be persuaded early in the match that the result can be achieved. Without an early goal or at least hints of attacking fluidity missing on Sunday, a mood of (perhaps misplaced) faith will soon turn to resignation. Two doses of that in a week at Old Trafford would surely be terminal to Moyes' hopes of redemption.
The pertinent question, therefore, is how courageous David Moyes will be in altering the shape or personnel in an attempt to ignite some cohesion and penetration.
Mata being cup-tied means that the manager is forced to change at least something after the weekend's horror show. The obvious answer, given that his side need goals, would be to play Danny Welbeck on the left, switching Januzaj to the right, but one gets that awful uneasy feeling that Ashley Young or Antonio Valencia could easily be given a start - neither would inspire anything other than further disillusionment from supporters.
A slightly braver option would be to drop the misfiring Van Persie, a perfectly understandable reaction to his unresponsive demeanour and lack of sharpness of late. Moyes could start Welbeck alongside Rooney, with Januzaj on the left, Valencia or Young on the right (or even Shinji Kagawa, remember him?). Marouane Fellaini could then be pushed up into an advanced midfield role, allowing for a greater aerial presence for all those crosses that United seem intent on making (they attempted more than double the amount of Liverpool on Sunday).
Or, finally, Moyes could adopt a more left-field approach, thus breaking the conception that he is a manager thinking solely inside of conservative parameters. It would of course be unexpectedly ballsy, but is it not time to attempt a change of shape in the hope of actually surprising an opponent with your strategy, rather than simply coaching by numbers?
So David, be bold. Pick Chris Smalling, Phil Jones and Nemanja Vidic in central defence to guard against the counter-attack on which the Greeks will almost certainly rely. Olympiakos will surely only play with one up front, meaning that Patrice Evra and Rafael could then operate as attacking wing-backs, with the remit to get forward as much as possible and offer an overlapping wide option (something the Brazilian actually did brilliantly against West Brom recently). With the added protection of three central defenders, Michael Carrick or Darren Fletcher (not both) could be picked at the base of midfield, with Fellaini again pushed into an advanced midfield role where he was so effective at Everton.
Rooney and Welbeck (or Van Persie, if faith is shown) would form the strike partnership, leaving one space for either Januzaj or Kagawa to be effectively given a free role, with the instruction to roam between the lines of midfield and defence in order to pick up the ball. Could that really be any worse than Sunday, or the first leg in Athens?
Or, of course, Moyes could play it safe again. As one commenter this week surmised, 'I'm actually looking forward to the limp 1-1 draw with Olympiakos followed by claims of misfortune because it means we might see the back of Moyes'. That's quite a damning assessment from one of your own supporters.
The likelihood is that United must score three times on Wednesday, something they have done in only three of their 21 home matches this season, against West Ham, Norwich and Bayer Leverkusen. Worse still, in only one of those matches (the 4-0 Capital One Cup win over Norwich) would the scoreline actually have been enough to see United qualify. Given their lack of any attacking adventure or expansiveness in the biggest matches this season, there is little reason not to change the formation simply in an attempt to bring a much-required freshness to proceedings.
It may sound like a risky measure given the magnitude of the situation, but having scored three goals in their seven matches against the Premier League's top four this season, and also failing to register in the first leg, what is there left to lose? The alternative would appear to be a now predictable sluggishness ending in yet more disappointment.
Has Dan got the right idea with his team or is he way off the mark? Have your say and pick your own team for tonight's game by filling in the feedback form below...