More Moyes misery
A crushing defeat in the derby at Old Trafford added another disappointment to David Moyes' reign with Manchester United and again showed no sign of improvements, writes Matt Stanger...
By Matt Stanger - Follow on Twitter @MatthewStanger
Last Updated: 26/03/14 10:15am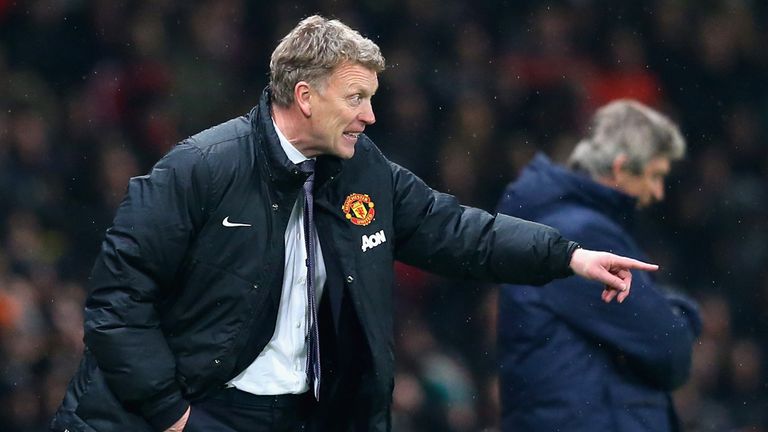 And so Manchester United's season on the Penrose stairs continues. A corner supposedly turned with victories over Olympiakos and West Ham United, only to be followed by a home defeat by Manchester City that leaves the defending champions back where they started. It was by no means as brutal as September's thrashing at the Etihad but that is cold comfort for the club's fans. It was all about the result on Tuesday, and from the first minute United faced an arduous uphill task.
Even before Edin Dzeko poked in the quickest Premier League goal United have conceded at Old Trafford after just 42 seconds, this looked a daunting test. The humbling 3-0 defeat by Liverpool nine days earlier maintained the theme of Moyes' United folding in the biggest tests, with a record of only two wins against top-half teams a far from impressive early return on the manager's six-year contract. On Monday, Manuel Pellegrini said that he expected City to add to their rivals' misery, and the Chilean was rewarded by a confident opening 20 minutes.
The regret for City was that they did not extend their lead in that period. A dominant start and four shots in the first quarter of the match yielded just one effort on target, while it took the hosts until the 20th minute to muster their first attempt. It came courtesy of Danny Welbeck, who was one bright spot on another disappointing evening at Old Trafford. The forward's early burst down the left brought a cynical block from Vincent Kompany, who was rightly awarded a yellow card, but rarely did Juan Mata or Wayne Rooney find Welbeck's runs as the telling pass remained elusive.
United's best chance of the first half will have encouraged Moyes. A careful passing move freed Rafael down the right and the full-back hit the touchline before pulling the ball back to Mata who blasted over the bar. After praising his team for reaching the byline "eight or nine times" in February's defeat by Stoke City, you would imagine the manager was pleased with the way his team fashioned the chance. But any satisfaction should have evaporated in the 25 minutes that followed before United's next attempt.
Moyes also admitted after that loss against Stoke that he did not know what United have to do to win. It was an alarming message to send out at a time when the team were on their knees looking for a leader. Four victories in nine matches have followed, but any positives that could be taken from those performances have been extinguished as soon as they have faced quality opposition. Perhaps the most damning observation when analysing the lack of improvement is that neither City nor Liverpool had to play at their best to cruise to 3-0 wins at Old Trafford. What was once the Theatre of Dreams has become the home of nightmares.
"They have been beaten well up to this point in both games," said Sky Sports expert Gary Neville of the damaging defeats by Liverpool and City an hour into Tuesday's derby. "There is no-one willing to play the risky pass, nowhere near enough pace." Moyes broke from his cautious starting line-up to try and get United back in the game, but moving Mata, Tom Cleverley and then Shinji Kagawa across the final third failed to have the desired, or even a different, effect. It was like an amateur game of chess, with United the pawns in City's procession.
Pellegrini's side regained their composure after the break as United continued to look vulnerable. Defensive drills are supposed to be Moyes' biggest strength, and yet two City corners brought two wonderful opportunities. Fernandinho headed the first narrowly over the crossbar, before Dzeko - delivering one of his better performances - coolly volleyed home four minutes later. Like so many times this season, the champions failed to heed the warning. Like so many times, they were incapable of mounting the fight-back that was required.
It would be wrong to say that there was a lack of desire on this occasion, but that has always been a secondary consideration to Moyes struggling to devise a convincing plan of attack. If anything, his players displayed too much fight - Rafael lunging into Gael Clichy in the early stages and Marouane Fellaini producing a moment of stupidity as he clobbered Pablo Zabaleta with his elbow. The Belgian was lucky to stay on the pitch - the last time he was so mindless was when he received a late red card away to Real Sociedad in only his eighth appearance for the club.
There have been signs in recent weeks that Fellaini can adjust to a role in United's midfield but, as with the rest of the team, his improvement simply has not been enough. Moyes will need to eek much more out of his team before the end of the season to avoid further pressure and strengthen his position.
A version of this article first appeared on Football365