Simon Veness: Orlando City's Major League Soccer preparations gather pace
Simon Veness visits Orlando City as they prepare for their MLS debut in Walt Disney World.
By Simon Veness
Last Updated: 31/03/14 6:00pm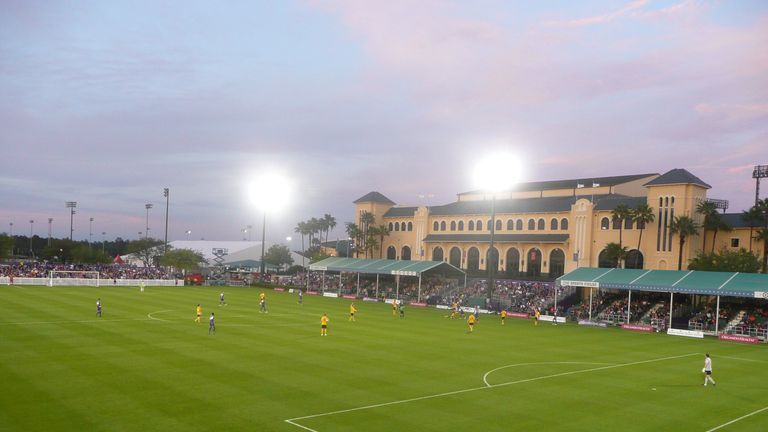 But let's just back up a touch and allow me to put a bit of context on those few bald statements. I have written about Heath and his City team several times in recent years; they are an ongoing phenomenon here in the Theme Park Capital of the World.
It is therefore kind of fitting that The Lions are playing their final season in the USL Pro League inside Walt Disney World at the ESPN Wide World of Sports, a temporary home as the Citrus Bowl - where they have played for the last three years - is being rebuilt, and their own stadium, due next year, has yet to take shape.
The upshot is a 5,500-seat semi-stadium within the House of Mouse where the playing surface is billiard-table smooth but the players spend half-time in tents and have to use Portaloos behind the makeshift media stand.
Sound odd? Add in food trucks - for all the essential snacks and drinks, from empanadas and lobster rolls to wine by the glass and craft beers; yes, seriously - an ultra-lovable lion mascot, free game programmes (The Roar) and face painting, plus several thousand completely purple-clad fans, and this isn't so much a sporting occasion as a circus.
It is a compelling mixture of British football traditions (scarves and hats but, sadly, no jumpers for goalposts), Latin American soccer passion (flags, drums and streamers) and Disney family-friendliness (although there might have been a few chants that would have turned the air around Mickey's ears blue!).
And it all builds into a unique sporting mélange of entertainment and commitment; financial savvy and growing ambition. In short, it is something of a real-life fairytale that has real-world applications both here in the US and back in the footballing heartlands of Europe and South America.
Plans
Orlando City have already been accepted into the MLS ranks for 2015 but they first have to negotiate 2014 and a farewell tour of USL Pro. They have to be competitive this year but have at least one eye on building a team for the next level. They must be financially aware of their current status (and crowds of barely 5,000), while looking to rub shoulders with New York, Los Angeles and Toronto (the latter of whom have just splashed out £60million in contracts for four new players, including Tottenham's Jermain Defoe).
Oh, and they have The David Beckham Show taking shape down the road in Miami, where the ex-England captain is trying to create the kind of new franchise that seems as much about super-model style and swagger as actual sporting achievement.
With all this in mind, I spoke to Heath - and if ever there was a contrast in styles, it is right there; David Beckham and Adrian Heath - before their home opener last weekend with the wonderfully named Pittsburgh Riverhounds as to how he is facing up to the curious challenge of 2014 - and beyond.
He told me: "The uniqueness of this season is in trying to be a team on the field this year that maintains the standard we have set, but with the extra importance of what is coming up the year after. With all due respect to what will be going on this year, we realise how important our first year in MLS will be for everybody.
"The expectations have always been that we are taking this club there. The fact we have done it in three years is no real surprise but the hard work really starts now. We can't afford to wait until next year.
"We know how difficult the first couple of years will be; there are only two new teams in MLS that have made the play-offs in that time-span. But I'm also incredibly optimistic and confident that we can buck that trend from Day One."
The big thing Heath can see on the horizon - and which the Lions are busily building towards, despite this year's circus-style surroundings - is the continuing growth of MLS and the quality of football, sorry, soccer, in the United States.
It may have raised Premier League eyebrows that the likes of Landon Donovan and Clint Dempsey have not hung around, while national skipper Michael Bradley has been lured back from AS Roma by the new regime at Toronto, but it is no surprise to Heath.
He explained: "One of the great things from Michael coming back is that he's shown that, at 26, his career is still on the up and we don't need to look at players of 34 and 35 any more, necessarily. He couldn't have done it a few years ago, but with the money players are making now and the way the league is developing, they are seeing it as a career option sooner rather than later.
"The money is being spread around more, and I think the fact the players are making so much more money earlier in Europe, they are thinking, 'Can I get out there earlier, too?' The other thing is that, at 34 or 35, you are going to have a tougher task to play in MLS at that age, as the level of talent is getting better all the time.
"One of the most interesting things, from my point of view, is that the USA under-17s recently beat both Brazil and England comfortably, and because of what's going on with things like that, it is a fair barometer of what's going on in that age group. I then look at our 12 and 13-year-olds and they're capable of going and playing against anybody in their age group. The base of the game here is stronger than it has ever been.
"Another measure of the league's success is that every time Sir Alex Ferguson comes over, he says how the standard of play continues to get better. Jose Mourinho is coming over again and that speaks volumes for what he thinks of the league and the value of playing here.
"The greatest managers in the world think it's a good place to bring their teams. It makes my decision six years ago totally vindicated. I knew there'd be a huge growth in the game here, it's just gone quicker than I thought. I remember taking Coventry to Portland for a pre-season game in '96 or '97 and we only won in the last minute and it was a great atmosphere to play in, with about 12,000 fans for this little ULS team. Amazing."
American dream
Heath arrived in 2008, originally in Austin, Texas, where Stoke City director Phil Rawlins had just created a brand new team with the express intent of getting into MLS (the Austin experiment lasted barely two years before he moved the franchise, lock, stock and barrel, to Orlando).
Even though Adrian was freshly out of a job with Coventry, it still required a fair leap of faith and imagination to make the transition. And he recalls: "I remember telling my wife, 'We're going to America, but we don't know the name of the team and I don't know where we will play.' But all my little boy wanted to ask was, 'What are the team colours, Dad?' You can't argue with that kind of logic, can you!"
The colours, as it turned out, are promising to be pure gold as Heath, Rawlins and the club's majority owner Flavio Augusto da Silva - a name that is as Brazilian as it sounds, which is big business in Central Florida, especially as Senhor Da Silva is friends with AC Milan's Brazilian ace, Kaka - set their sights on a potentially glittering future.
In fact, Kaka himself revealed on Monday he already has a verbal agreement with Orlando, and has his sights firmly set on an MLS future. He said: "At the end of the season, I will sit down with the club and hear their ideas for the future. If it turns out I need to move, I will choose MLS. Money is not the main thing for me now and I have a good relationship with Flavio."
There might still be a few hiccups along the way - the Lions struggled to a 1-1 draw against the Riverhounds on Saturday, despite dominating possession and comfortably out-shooting the visitors - but there was no doubting the non-stop passion of the purple-clad fans crammed into the tiny stadium, who maintained a raucous riot of cheers, songs, streamers, smoke and drums from first minute to last.
The chants varied from "Vamos Orlando!" to "Here we go!" almost by the minute, while the second half saw a switch, at one stage, to the fervent members of The Ruckus (behind one goal) setting up a cry of "Orlando!" to which other parts of the ground echoed back "City!" None of Everton, Stoke or Coventry were ever like this.
But, with his growing profile - three MLS teams have already tried to persuade him to jump ship in the last two years - is he tempted to look beyond Orlando to a return to Britain?
He admitted: "I was home last summer and got asked this question at Goodison: Do you ever see yourself coming home? And the simple answer is, it would have to be an incredibly good job to leave what I have now. We all know how things can change in sport, but I couldn't be happier where I am now."