Problem solver
Liverpool's 2-1 win at West Ham was their ninth in a row and took them back to the top of the table. The Reds are now just five victories away from an astonishing title triumph. Adam Bate hails a squad effort but feels much of the credit has to go to master tactician Brendan Rodgers
By Adam Bate
Last Updated: 07/04/14 10:09am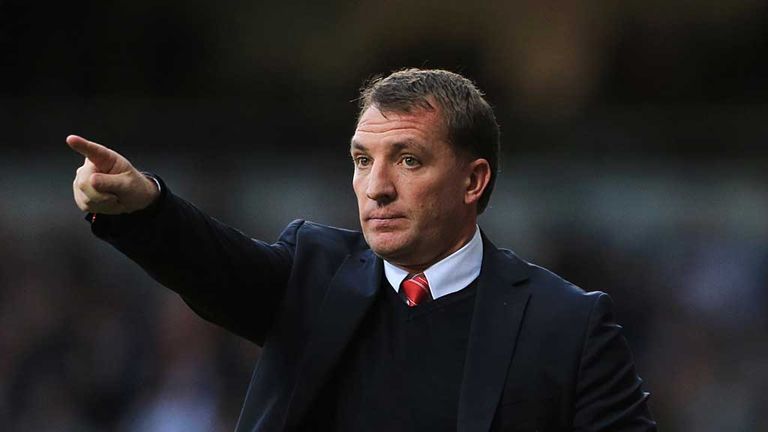 This was supposed to be Liverpool's banana skin. Of course, the whole point of the banana skin metaphor is that you're strolling along nicely and don't see the slip coming. But the trip to face Sam Allardyce's West Ham comes clearly signposted with a health and safety warning.
"We've got to muscle in on Liverpool and see if we can upset them," wrote the Hammers boss in his programme notes to remove any semblance of doubt over what to expect. Sky Sports pundit Gary Neville even called it a "scabby" game. But Brendan Rodgers and his team got through it for a 2-1 win and a ninth successive Premier League victory.
"You have to put up with a lot of direct balls to the front players and lots of pressure in terms of that physically," said the Liverpool manager afterwards. Perhaps the most pleasing aspect of this particular triumph was that the preparations had been disrupted and the team responded.
An injury to Daniel Agger forced Rodgers into breaking up a defensive partnership with Martin Skrtel that has brought success of late. Indeed, the pair have won all seven matches they've started alongside each other in 2014, with four of those game resulting in Liverpool clean sheets.
Mamadou Sakho was brought in and delivered an impressive performance, standing up well to the robust - and near unique - aerial threat of Andy Carroll. It was a display that saw the France international make two tackles, eight clearances and allow just a solitary West Ham shot on target - some effort from a player making his first Premier League start of the calendar year.
There were other potential issues to overcome too. Rodgers had explained pre-match that the intention had been for Joe Allen to start the game but that the Welshman had been only fit enough to take his place on the bench. As a result there was a feeling that the Reds were going into the contest with a more lightweight midfield than the manager might have wanted for an afternoon at Upton Park.
Philippe Coutinho took his place in midfield, creating three chances from 30 first-half passes but was withdrawn at the break in favour of Lucas Leiva. Ostensibly a defensive change, it was a switch that had the benefit of allowing Liverpool to control things more comfortably in the second half.
"I'm always finding ways to get our two strikers into the team so we were sort of 4-3-3 with two up and one wide," said Rodgers. "I just felt that we needed to dominate the ball a wee bit more. Obviously we've Raheem [Sterling] going into the '10', Lucas coming in on the other side of the diamond and we switched them so we've got four players in there. So that gave us greater control."
Lucas did the job. He had 60 touches in that second half, most notably providing the through-ball for the winning penalty. Steven Gerrard delivered the killer blow from the spot but it was the involvement of Lucas that highlighted an important and often overlooked aspect of Liverpool's success: There is squad depth at the Anfield club.
In a season that has seen Chelsea's strikers and Manchester City's defence frequently questioned, it is encouraging for Liverpool that the team continues to find noteworthy contributions from uncharacteristic sources. In fact, it is hallmark of title-winning teams.
Of course, Sakho and Lucas are seasoned internationals. But Allen has built on a low-key debut campaign to become a player of some significance with Rodgers' recent description of the £15million man as a "bargain" only accompanied by minimal eyebrow elevation from his audience. Jon Flanagan, meanwhile, has been transformed from tentative teenager to the unlikeliest of attacking left-backs able to win critical penalties for his team.
These efforts reflect well on the squad but also on the manager's ability to coax more from his players. Whether it is a diamond, a back three or a front three, Rodgers has shown the flexibility needed to solve a variety of Premier League problems.
Indeed, it was something of a feature of the day with Everton's Roberto Martinez also impressing in using Romelu Lukaku in a wide role to expose Arsenal's shortcomings. Allardyce and Arsene Wenger have very different philosophies but each seem so entrenched in their outlook that opponents know what to expect. By contrast, Rodgers, like Martinez, continues to grow as a manager. Can his team actually win it is the question that remains now.
Such a triumph would be rich in narrative for the neutrals. Liverpool back on their perch in the wake of Sir Alex Ferguson's retirement, Luis Suarez providing the headline performances and Steven Gerrard earning the glorious career denouement... But in truth, Rodgers is the real story.
Rarely has a Premier League manager shown such tactical ingenuity in team selection to guide his team through a season this successfully. And he continues to find the solutions to the challenges posed. Amazingly, there are now just five more problems for Brendan Rodgers to solve and take Liverpool to their first title in 24 years.