Too late?
Comment: Norwich's home defeat to relegation rivals West Brom at the weekend saw the club finally lose patience with manager Chris Hughton. Adam Bate examines the decision and argues that is was long overdue after a season of underwhelming disappointment at Carrow Road.
By Adam Bate
Last Updated: 07/04/14 11:32am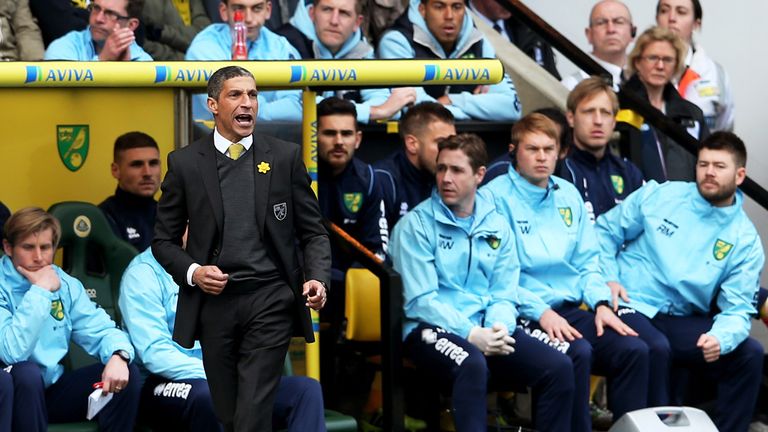 Liverpool. Manchester United. Chelsea. Arsenal. It's a four-game finale that's haunted supporters of Norwich City almost since the Premier League fixtures were announced in the summer.
It's partly as a consequence of those remaining tests that, despite chief executive David McNally's unconvincing claims earlier this season that Hughton's "brief is to keep out of the bottom three and that is what we are doing", the Norwich manager was sacked on Sunday with five games remaining and the club still one place above the relegation zone.
Nationally, the decision has been greeted with a great deal of sadness at a good man losing his job. Some have even chosen to extrapolate greater significance from the decision, focusing on the fact that Hughton's exit means there are currently no black managers in the top four divisions.
But that's football's problem not Norwich's - a club, after all, that had given their manager every opportunity to demonstrate his ability to take them forward. Instead, after two years of the most insipid of water-treading, the trajectory was anything but encouraging and few fans at Carrow Road are sad to see Hughton depart. In fact, plenty would like for it to have happened sooner.
There is a sense in which Norwich have been sleepwalking towards this situation for some time. Optimism about the season began as early as last March when an agreement was reached to sign Holland international striker Ricky van Wolfswinkel for a club record fee. The acquisition of Leroy Fer was a positive step, while there was also talk of Toby Alderweireld and Fabio Quagliarella arriving, adding more than a frisson of excitement to the mood in Norfolk.
But that was as good as it got. It was Johan Elmander not Quagliarella who pitched up later that summer and when Alderweireld rejected Norwich in favour of Atletico Madrid, they opted for Martin Olsson. Even Van Wolfswinkel hasn't scored since the opening day - a 23-game sequence. Worse still, there's a feeling that each of these blows merely form part of the overarching theme of disappointment that has accompanied Hughton's time at the helm.
There has been an alarming lack of spark about this team with little to engage supporters. An uninspired style of play with substitutions to match, Norwich only ever seemed able to galvanise themselves into noteworthy performances when matters had reached a tipping point.
Defeat to West Ham in November might have done for Hughton on the back of a seven-goal thrashing at Manchester City. They won 3-1 after a second-half comeback. A reverse at home to Hull City would surely have seen him perish after a six-game winless streak; they edged it 1-0 with a late goal. A victory over Tottenham in February probably saved him too. Ultimately, a one-goal defeat at home to West Brom proved the end.
Of course, it now leaves Norwich looking foolish for sacking their manager in April and replacing him with Neil Adams, the youth team coach and sometime radio pundit. But there is surely a certain logic to this madness. Once the decision had been made that the club would seek a new manager in the summer regardless, the frame of discussion immediately became short-term. Indeed, with those last four games looking so daunting, it may be more straightforward than that: Norwich's season comes down to Saturday's game at Fulham.
Put simply, is there more chance of Norwich getting a positive result at Craven Cottage with or without Hughton in charge? The Canaries board has taken the view that the freedom that might come with his exit could garner a sharper response.
It may be that a disgruntled player is reintroduced or that the team plays with more expression under the 2013 FA Youth Cup winning coach. The supporters will surely be bolstered now that the boil of terrace unrest has been lanced. Perhaps even a five per cent increase in feel-good factor will be enough to beat Fulham and secure Premier League survival.
It's a gamble. But after a year of inertia under Hughton, it's about time Norwich did something - anything - to attempt to arrest their slide.