'You can't buy the passion - you can't buy the fans'. Massimo Cellino reflects on takeover of Leeds United
Sky Sports News' Lia Hervey meets new Leeds United owner Massimo Cellino as the Italian starts to outline his plans to transform the Yorkshire club's fortunes on and off the pitch.
Last Updated: 08/04/14 11:25pm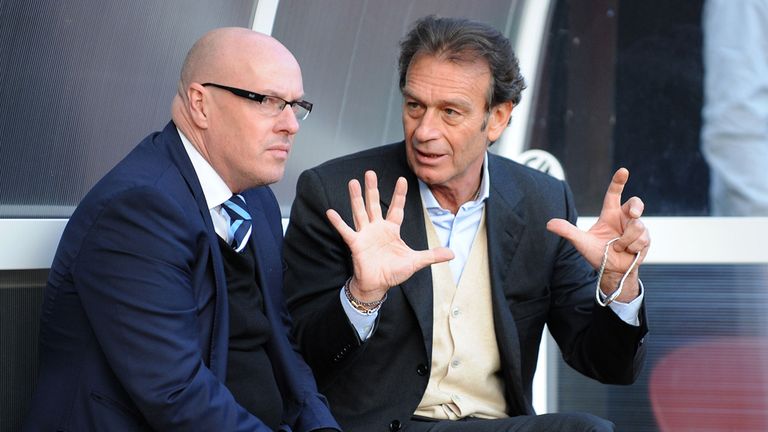 Words from the new owner of Leeds United after 75 percent of shares in the club were transferred over to his company Eleonora Sports Ltd.
Massimo Cellino now owns the majority stake, with the current owners GFH owning the remaining 25 percent - although it may not be plain sailing, with the Football League saying they will need to ratify the takeover on Thursday.
The previous owners GFH also say they haven't yet received the money - a point Cellino disputes.
But for Cellino, he considers the club his and the decision to overturn his ban on ownership by the Football League last week an open door to the club.
So why did a Sardinian attempt to buy a club in West Yorkshire - and one in such dire financial trouble at that?
"You can't buy the passion and you can't easily buy a stadium," he told me. "Leeds has all of these. It's why I've bought it.
"I've had 23 years running Cagliari and I've learnt that anything else is possible but not the fans. You can't get fans from nowhere."
No stranger to Britain, Cellino first came over from his Italian island home in 1975, washing dishes in the Regents Palace Hotel in London and then working in a nightclub.
Now he's 200 miles north. He's bought a flat in Leeds, "a very nice flat", he informs me. He's brought his sons over. "Eduardo, the youngest loves Leeds United." The older son prefers Milan. His daughter and wife are still in America.
He plans to be hands on, he told me; looking into the food, the grass, the money, the players. Everything will have his attention. That's why he plans to sell his old club back in Italy. "It's impossible to have two clubs with the attention to detail I plan to impose".
Every moment of his time he plans to dedicate to the club, he tells me, and smiles. "No my wife doesn't know this yet. I have to tell her".
And what does he plan to do, what's on his to-do list? Well the current chief executive and chairman are "not my problem". They belong to GFH and it's for them to decide.
When asked who will be chief executive, he replied: "Me, I will run the club".
And what about Brian McDermott? He issues a long sentence in Italian and turns to his translator. How do I say this? The translator replies; "He'd like to give Brian the opportunity to express himself".
Amongst the jokes and joviality of the lively Italian, our talk turned to the annual accounts of Leeds, which have revealed some staggering losses and a company struggling to stay afloat. Will he ease it on its way into administration and run?
"I will never let Leeds go into administration. None of my companies have ever gone into administration and none of them ever will," he said.
"I don't know about these accounts. I haven't looked at them yet," he tells me.
Although his business advisor admitted some losses may be more substantive than they first realised.
And what about the UEFA Financial Fair Play rules? Clubs that overspend can be disqualified from European competitions, receive penalties, have transfer bans and have prize money withheld. Surely the huge losses I saw in the annual accounts (over 10 million in 2013) will be worse when we see the 2014 accounts?
Cellino believes the losses accrued before his time won't be counted against him and the club.
"Massimo won't run the club in this way," his business advisor adds.
The Leeds fans will be hoping he holds true to this sentiment. Administration could receive 10 penalty points from the Football League and total destruction of the club.
But Cellino promises big things with his goal of getting Leeds into the Premier League by the end of the 2015/2016 season. "I don't want to rush it. If you get there too quickly you can end up right back down again".
As for money he said the staff wages should be paid in a couple of days. "When?" I asked. "We'll look at it tomorrow when I'm at the club," he said.
For Cellino, he starts as Leeds boss on Wednesday - straight after another demoralising defeat at Watford.
For fans the heat may be off temporarily but with the Football League meeting on Thursday, the full written judgement due from the Italian courts in June, an angry bank manager and increasing debts - Leeds have a long way to go.