Cup of Dreams
We return to Wigan Athletic ahead of Saturday's FA Cup semi-final with Arsenal to catch up with midfield star James McArthur. Can Uwe Rosler's side continue to produce cup miracles?
By Graeme Bailey - Tweet me: @graemebailey
Last Updated: 11/04/14 12:46pm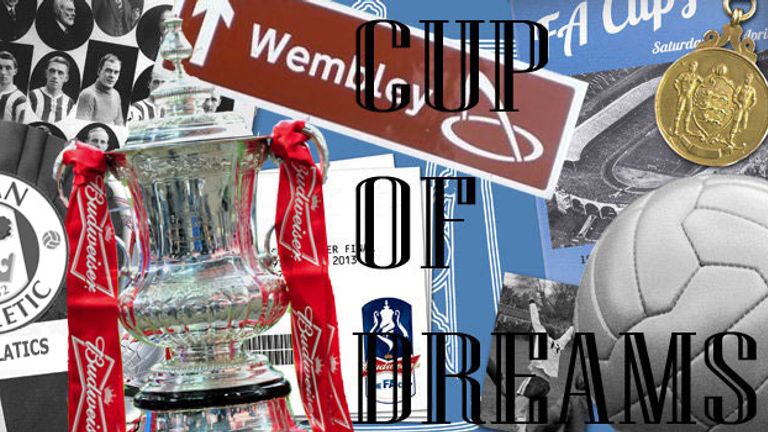 We have never previously returned to a player during our Cup of Dreams feature but have made an exception for this year as we revisit the current kings of English cup football - Wigan Athletic.
The Latics created one of the biggest shocks in FA Cup history last season when they defeated Manchester City in the final.
Few imagined that Wigan would put up such a staunch defence of their title this term; to the extent where they could become only the seventh club in the history of the competition to win back-to-back finals.
James McArthur, like last season, has played a starring role in their run to the FA Cup semi-finals, which has seen them take the scalps of no less than three Premier League sides. If Wigan do beat Arsenal on Saturday then that would match the FA Cup record of four top-flight scalps in one season, previously accomplished by Notts County (1894), Tottenham Hotspur (1901) and West Ham United (1980).
The last of those top-flight scalps was once again Manchester City, as they travelled to the Etihad and produced a wonderful performance to book their place in the last four.
"It is such an achievement to get to the semi-finals, and especially as we beat one of the best teams in the land. Not many teams beat Manchester City," McArthur told Sky Sports.
"But we need to make sure we get promoted to make it a successful season as that is the main aim. We want to do well in the cup, but the main point is to go up."
McArthur admits that when Wigan began their defence against Milton Keynes Dons back in January they could not imagine they would be returning to Wembley this weekend.
"It was a long way away. When you look at the early stages you obviously don't think about getting here," said McArthur.
"We have beaten three Premier League teams to get here, which was a bit different to last year when we played a few lower league teams, so we have taken a rougher road but hopefully we can continue and knock out Arsenal."
McArthur admits that Wigan have relished their role as underdogs throughout the run.
"Everyone likes being an underdog as there is no pressure," he said.
"Arsenal will have all the pressure on them to get into the final and nobody will expect anything from us again. We have the chance to do something that nobody thought would ever happen and we keep proving people wrong. We can beat these big sides, we have done it before.
"Perhaps the expectation will be a wee bit higher, people thinking we could do it again. We believe as a team we can do it and we will be going into the game ready to give our all.
"It is going to be a different test again; we know Arsenal will be all guns blazing trying to get to the final and the pressure will be on them not having won a trophy for so long. Hopefully we can do the unthinkable again."
It is over two-years since Wigan tasted defeat in the FA Cup, when they were on the end of a giant-killing themselves as they lost at Swindon Town. McArthur remembers that day at the County Ground well.
"Yeah it was horrible. It was a tough game that day when Swindon beat us, nobody expected them to win. Again it's one of those David and Goliath moments and when you lose in the FA Cup, it is not nice - it is not just a special cup, it is the cup.
"Some people write off the cups and think the FA Cup feeling is not there anymore but I could not disagree more. It is such a great competition."
Wigan's FA Cup defence has been taken on by Uwe Rosler. The German was only appointed in December - taking over from Owen Coyle, who was Roberto Martinez's successor.
Rosler has taken the defence as seriously as anyone and McArthur insists that the German's attitude means he was always going to do just that.
"It is the type of manager he is, he wants to win every match and that is I think why we are doing so well, not just in the cup but the league as well," he continued.
"He puts out the best team for every match. He has made a big impact on our team and since we have played under him we have played really well and gained a lot of victories.
"We always had the players and under Owen it was a difficult, as we were playing Sunday, Thursday, Saturday and Tuesday. It was a difficult period for us all as players. Playing in the Europa League has affected most teams in England and Owen got the brunt of that in losing his job. But the new manager has taken us onto a new level and he has that mentality. A lot of people think he has been rotating a lot, but he has had to do that and that will help us in the coming weeks."
The play-offs are now firmly Wigan's aim this season, with a view to bouncing straight back to the Premier League and McArthur admits the club are confident of returning to the top-flight.
"It is such a tough league; I have really enjoyed it this year. The standard is very high and I don't think it gets the credit it deserves," he added.
"Whoever is in the play-offs are top teams with top, top players and I am sure everyone will be fancying their team.
"I think everyone will just be grateful of being in there and having that chance of getting promoted."