Kevin Davies and Guy Branston on the Football League Play-Offs
Our Football League bloggers look ahead to their club's chances of making and winning the play-offs.
Last Updated: 17/04/14 5:04pm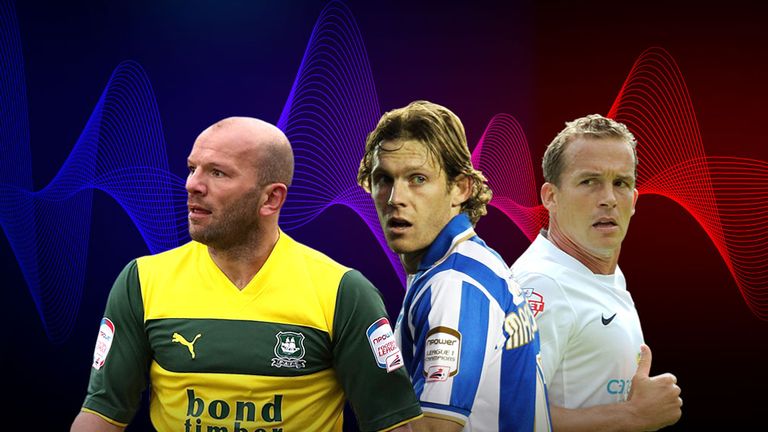 As well as a weekly blog from Leicester striker Kevin Phillips, we have been speaking to some other seasoned campaigners in the Football League.
Preston frontman Kevin Davies and former Plymouth defender Guy Branston - who all appear on Sky Sports News Radio's new show FL72 Weekly - have been giving us their insight on all manner of footballing issues.
As the season draws to a close, clubs up and down the Football League are desperately fighting for points to avoid the drop, or push for promotion.
With just a few games to go, places are still up for grabs in the play-off spots in each of the three leagues.
Those who make it through the semi-finals will take the trip to Wembley, where the promoted side will be decided on the close of the domestic football season.
Each of our Football League bloggers have some involvement in this year's race for a play-off place.
Preston have confirmed they're in the semi-finals and Plymouth, despite needing results to go in their favour, are well in the mix in League Two.
This week we hear our duo's views on their chances in the play-offs; whether they agree with the English style of deciding promotion and relegation; and which team they'd rather meet when the Football League comes to the crunch in May...
KEVIN DAVIES
We're still not 100 per cent discussing who we'd rather play in the semi-finals because we're up against Brentford on Friday, and if we win that we can put more pressure on them for the second automatic spot.
It's a big game on Good Friday and after that we can really assess where we are in terms of the play-offs. If Brentford beat us, I do think it will be the four teams in there now - Leyton Orient, Rotherham, Peterborough and us - that complete the semi-final.
There's not an easy game in amongst them and each of those teams has done pretty well in their own right. If anything, Peterborough are the team who have been a bit inconsistent - we've drawn against Rotherham and Orient recently, but we're hard to beat and just need to take our chance against whoever we play.
The play-off structure gives teams a lot more to play for in the season. Often two teams run away with the league and if the top three were to be automatically promoted there would be a massive scramble for that one spot.
Orient are 13 points clear of sixth-place Peterborough and in that regard, the O's could feel a bit hard-done-by, but everyone knows what the goals are at the start of the season and that's to win all 46 games.
I've only been a part of the play-offs once before and that was back in 1995 so my memory is not to sharp, but for Preston it's important we kick-on, go in there in good form and finish strongly so we can get to Wembley and win.
That would be amazing and it's why I signed for the club.
GUY BRANSTON
Unfortunately a play-off spot has slipped out of Plymouth's own hands but they've still got an opportunity of getting there if results go their way because they've got four games they're capable of winning. They've got to have the confidence to think, 'why can't we get there?'
It's a fantastic opportunity for a club which should be in and around League One. Whatever happens, it shows they are going in the right direction and that's all that you can't ask for from a season - anything else would be a bonus.
If Plymouth did get that bonus, any of their potential rivals would be a tough game; we've been beaten by them all this year!
For me, if I had the choice, I'd want to play one of the bigger teams because you raise your game and you are probably going to get a better atmosphere in the game. You want to go out there and it feel like a cup final because then anything can happen, no matter who you're playing.
The English play-off structure works for me; I think we've got the best leagues in the world but I'd like to see the Conference be more open to teams coming up.
The teams down there are sustainable clubs these days and should be involved in the Football League with an extra space given for automatic promotion so you have two automatically promoted teams and one other through the play-offs).
It would be fantastic if Plymouth did make it to Wembley.
Don't forget download FL72 Weekly every THURSDAY morning from skysports.com