Welcome back?
Whether or not David Moyes is still welcome through Goodison's front door with Manchester United this weekend, Everton have moved on and they are now happy to have done so - writes Sky Sports News reporter Vinny O'Connor
Last Updated: 18/04/14 9:39am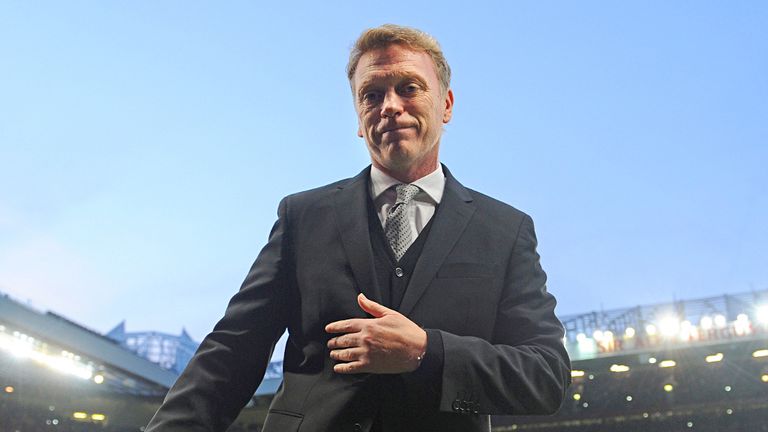 Sunday 12th May 2013, David Moyes said goodbye to Goodison Park for the last time as Everton manager. It was a thunderous send off, the kind that ideally you would reserve only for your most successful of managers.
But Everton was a very different club when Bill Kenwright gave David Moyes an opportunity in March 2002. Relegation strugglers were turned into European hopefuls. In 2005 came the greatest achievement, taking Everton to a top-four finish in the Premier League.
In 2009, an FA Cup final appearance. A sense of pride was restored across 11 years by new heroes who were more in tune with the club's rich history; Tim Cahill, Mikel Arteta, Tim Howard, Leighton Baines, Phil Jagielka, Seamus Coleman and Kevin Mirallas, to name just a few.
So, on that emotional day last May, a Goodison ovation for the outgoing Moyes was a heartfelt thank you mixed with a feeling of uncertainty. If Everton had been punching above their weight under Moyes, what was to come next?
Not every Evertonian felt like this, of course. Moyes had his critics, too, citing his failure to deliver a trophy or a single away league victory at Liverpool, Manchester United, Arsenal or Chelsea during his time in charge. Criticism that has arguably become more widespread among Everton fans since Moyes' departure and the subsequent impressive season under the guidance of Roberto Martinez.
So what can Moyes expect on his first return to Goodison Park, almost a year after he took the decision to accept Sir Alex Ferguson's invitation to succeed him at Manchester United?
"Everybody will say David Moyes left the football club in better shape than when he took over," is the view of former Everton striker Graeme Sharp, who believes Moyes deserves a good reception from the fans who once sang of their former manager "he's got red hair but we don't care."
As Sharp acknowledges, though, the feeling of goodwill changed somewhat last summer when it became clear Moyes wanted to take Leighton Baines and Marouane Fellaini with him.
"Some of the comments regarding Fellaini and Baines and the transfer situation antagonised a lot of supporters," says Sharp.
The comments Sharp refers to came in August of last year after Everton rejected a bid for Fellaini and Baines that the club described as derisory and insulting.
"If I had been Everton manager and Sir Alex Ferguson had come asking for Leighton Baines and Marouane Fellaini," Moyes said at the time. "I'd have found it very difficult to keep them, because I always felt the right thing was to do what was right for the players."
The situation led to Neville Southall, like Sharp, a key figure in Everton's glory years of the mid 1980s, accusing Moyes of a lack of respect.
"The way David Moyes has gone about it stinks," said Southall last August. "The world knows Marouane Fellaini and Leighton Baines are worth a lot more than the £28m offered and Moyes is disrespecting Everton."
With that in mind, I sought out Evertonians this week to ask how they will welcome David Moyes to Goodison Park on Sunday.
One of the first responses I received was, "I'm going to boo him."
However, from the fans I spoke to, those sentiments were in the minority. Feelings ranged from sympathy for what has been a difficult first season at Old Trafford, to recognition of the calibre of player he left behind, giving way to gratitude for the part Moyes played in getting Everton to where they currently are.
And among the varied opinions, a piece of common ground; irrespective of whether or not Moyes is still welcome through Goodison's front door, Everton have moved on and they are now happy to have done so.
Watch David Moyes' return to Goodison live on Sky Sports 1HD from 4pm on Sunday