Raheem Sterling deserves huge praise for his impact in Liverpool's march towards the Premier League title
Liverpool took another huge step towards the Premier League title with a 3-2 win over Norwich at Carrow Road on Easter Sunday. Raheem Sterling scored two and set up another in a brilliant performance. Adam Bate argues that the teenager's impact can hardly be overstated...
Last Updated: 20/04/14 3:02pm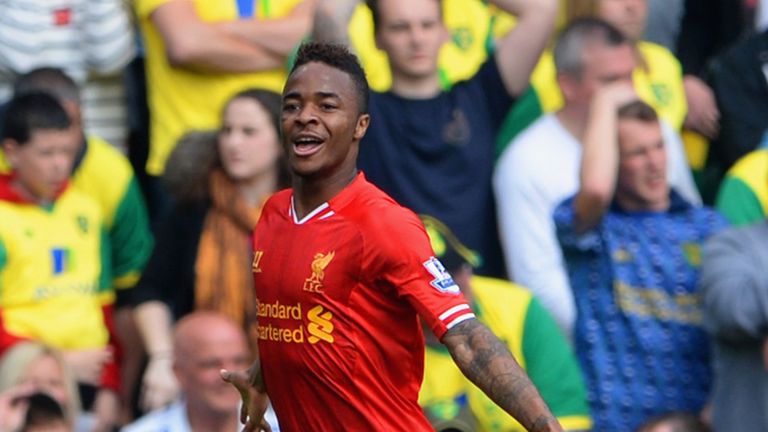 Norwich were fighting for their lives at the foot of the table. Jordan Henderson, the lungs of this Liverpool team, was unavailable for the first time in this Premier League season. Even 20-goal striker Daniel Sturridge was injured, breaking up the lethal partnership with Luis Suarez.
No matter. Raheem Sterling eased any nerves with two moments of high quality inside the first 11 minutes of the game. The first was a perhaps untypical long-distance strike that said much for his confidence. The second was a sublime pass to find Suarez in the centre. When needed to make good on Steven Gerrard's demand that 'this does not slip', Sterling stepped up.
In truth, goals had been a largely unheralded feature of his game - until last week. Sterling had added the fifth in wins over Norwich and Tottenham back in December. He'd also doubled leads over Cardiff and Southampton. There was a brace in the 5-1 thrashing of Arsenal too.
Different
He's maturing very well. We've seen we have options with him because of his tactical intelligence.
Brendan Rodgers
But recent efforts have showcased something different. The opener against Manchester City – with accompanying sashay to elude Vincent Kompany and Joe Hart - was the first time Sterling had scored the first goal in a Premier League game this season. Fast starts have been a feature of this Liverpool side – and here Sterling seemed to make it his personal mission.
The strike came as a consequence of his presence in a central area, something we've seen lots more of in recent times. After making his initial breakthrough as a winger, Sterling has shown that he has far more to his game. Indeed, his flexibility has allowed Brendan Rodgers to tweak his formations with minimal disruption to the team's rhythm. Sterling is a savvy player.
"He's maturing very well. We've seen we have options with him because of his tactical intelligence," Rodgers told the Liverpool Echo last month after Sterling's brilliant performance in the 3-0 win at United. "That's what we are trying to do, develop footballers, and it gives me more options. I think he could even play on the side of a diamond.
"When he starts in the centre he offers us penetration with his speed. Raheem is intricate in tight spaces. We encourage players to play under pressure with players tight on them, and he can play with bodies around him." That was shown time and again in how he looked to receive the ball in the space between Norwich's defence and midfield. Always on the half-turn. Always available.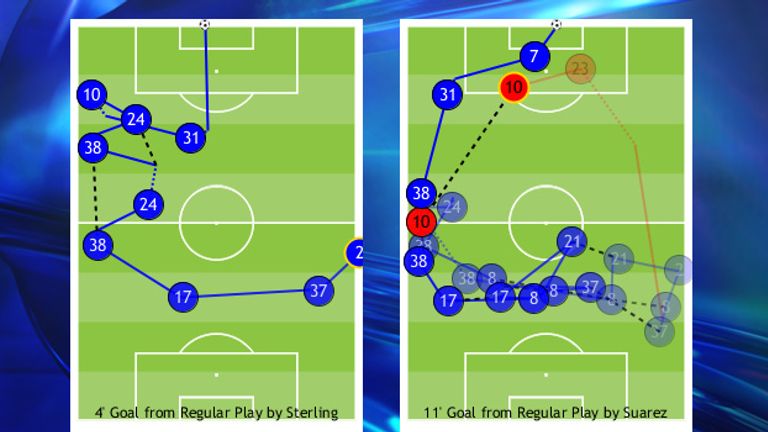 That's exactly what he did in the fourth minute for the goal that set Liverpool on their way to consecutive win number 11. Sterling's effort took the Reds to 57 first-half goals this season – more than the overall totals of rivals Manchester United and Everton. And number 58 wasn't far away.
If it was a slight disappointment to discover that a deflection off Michael Turner played its part in the first goal, the assist for the second just oozed quality. Firstly, there was the awareness – the delay on the pass. Then there was the fact that it was perfectly timed and weighted – and with his weaker foot too.
Surprisingly, it was only Sterling's fourth direct assist of the campaign. But nobody is underestimating his overall contribution. His pace and directness have added verve to Liverpool's game and Suarez is clearly relishing playing with him - as shown by the point to his teenage team-mate when celebrating his crucial role in that second goal.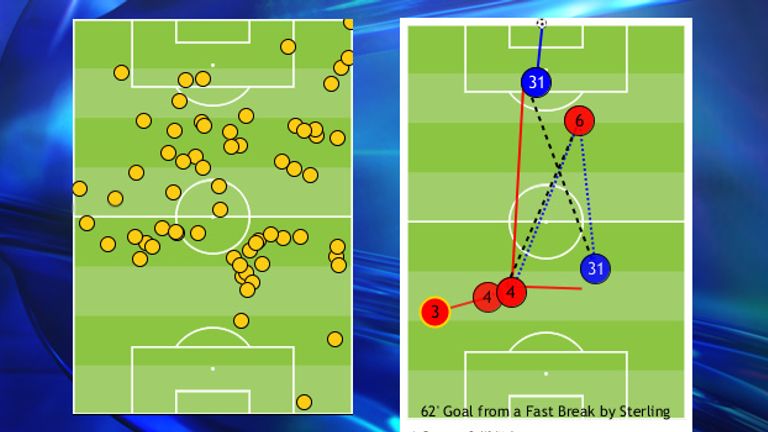 Even when Norwich pulled a goal back through Gary Hooper and the Carrow Road crowd began to sense the prospect of an unlikely revival, it was Sterling who intervened. Intercepting a loose pass from Bradley Johnson, he shimmied away from one defender and then dropped the shoulder on another before enjoying the luck his performance deserved to see his shot deflect over John Ruddy.
There have been plenty of heroes in Liverpool's march to the top that has now taken them five points clear of second-place Chelsea. Rodgers is fancied for any manager of the year awards going, while Gerrard, Suarez and Sturridge will fight it out for the player of the year gongs. But the significance of the 19-year-old Sterling should not be forgotten in this most remarkable of seasons.