How Diego Simeone has taken Atletico Madrid to the brink of emulating the Champions League impossible
As Chelsea prepare to take on Atletico Madrid in the Champions League semi-final, Adam Bate looks at how Diego Simeone has transformed the Spanish club's fortunes and why the Argentine is hoping to emulate Jose Mourinho a decade on...
Last Updated: 22/04/14 9:10am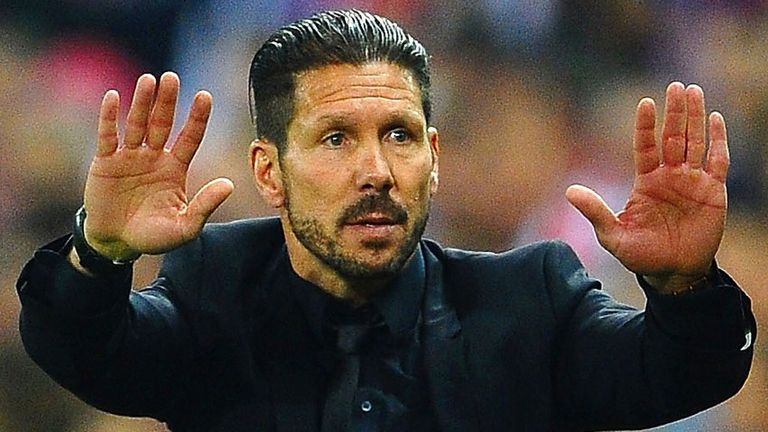 It's 10 years since Jose Mourinho took Porto to Champions League glory. It remains an incredible achievement, given added emphasis by the fact that the Portuguese club have only reached the quarter-finals once in the decade since.
Of course, Porto boasted quality players within their ranks. But it would not be too unkind to suggest that some of the key names from that triumph will now escape the casual football fan. Lone striker Derlei never earned a cap for Brazil, while compatriot Carlos Alberto – who scored the opening goal in the final – appeared just five times for his country.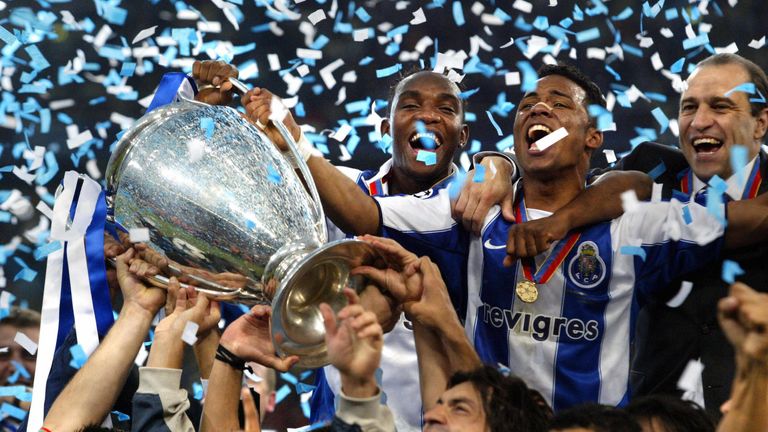 The third and final goal that saw off Monaco was scored by Russian midfielder Dmitri Alenichev – a gifted player but one who was the wrong side of 30 at the time and had flopped in Italy with AS Roma. No, this success was testament to Mourinho's powers of alchemy. In more ways than one, he'd turned a Europa League winning team into a Champions League winning one.
Repeat
Mourinho is now seeking to repeat that trick by taking Chelsea, last season's Europe League winners, to the big prize. But as the man himself was quick to point out, Chelsea's presence in the secondary competition did not reflect their current status. It is their semi-final opponents Atletico Madrid that have really made the leap to be ranked among Europe's finest.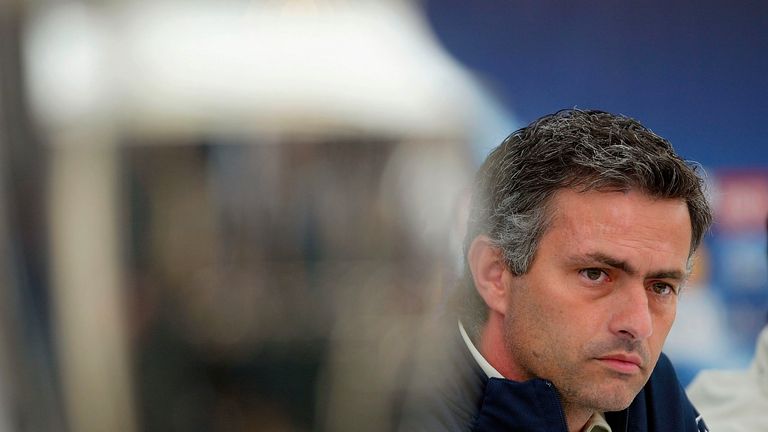 There can surely be no debating who is responsible. Diego Simeone's impact in the Spanish capital has been truly transformative. Indeed, it's important not to lose sight of how remarkable Atletico's journey under the Argentine coach has been. After all, while the club had enjoyed recent success, they were meandering in mid-table when he took over.
To get Atletico back to the top of the also-rans and turn them into Spain's best of the rest was a feat. These are difficult times for Spanish football with many teams suffering financial problems. Any hope of closing the gap on the top two seemed a forlorn one, given the unhealthy TV deal. Instead, Simeone has Atletico fans dreaming of becoming champions of Spain and Europe. This wasn't supposed to happen. So how exactly has he managed it?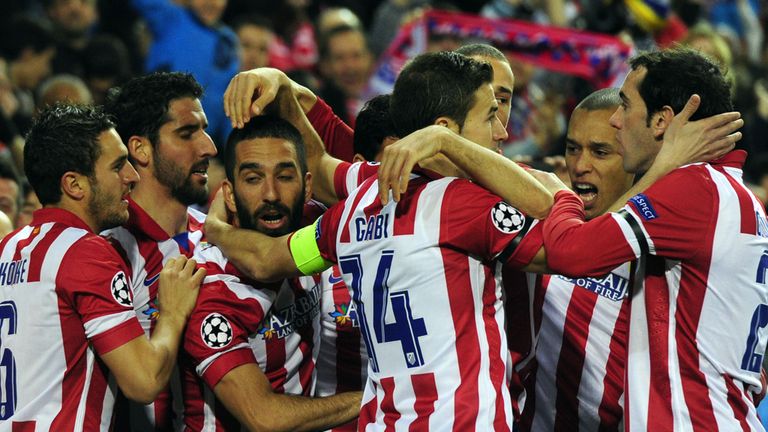 Mentality
"The head must be very strong to fight the giants of European football," said on-loan Brazilian playmaker Diego earlier this month. "A winning team has been built by Simeone, psychologically strong and ready to win, at all costs." The impact of the mentality that the coach has instilled in his team can hardly be overstated. Atletico had become the self-styled pupas – unlucky ones – of Spanish football. Simeone has sought to end the inferiority complex.
Teamwork
"We play as a team and I think that is our greatest strength, knowing our limitations and our strong points." Those were Simeone's words after dispatching seven-time champions AC Milan in the round of 16. It's not a classic Milan vintage but with Kaka and Mario Balotelli in the team, they still possessed players capable of moments of individual brilliance. That was no match for Atletico – Simeone's side crushing them 5-1 on aggregate.
Work rate
"It wasn't that we lacked intensity, but we couldn't put four or five passes together," said Barcelona head coach Gerardo Martino after seeing his side blitzed in the second leg of their quarter-final at the Vicente Calderon Stadium. "We expected to have more control of the ball to avoid their pressing, but we didn't manage to do that."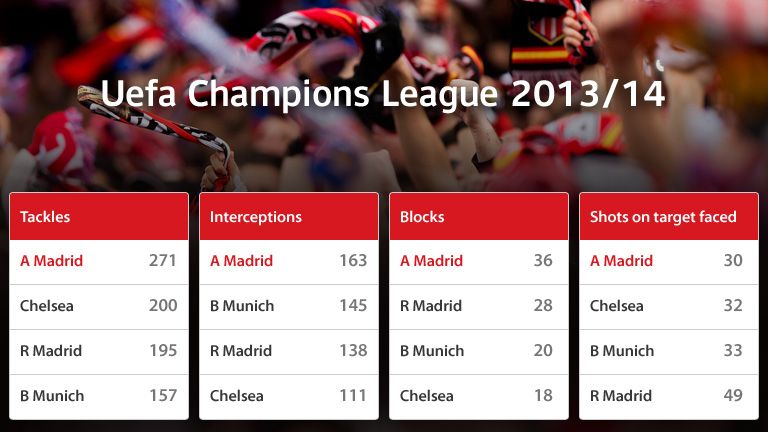 Put simply, playing football isn't easy against Atletico. They swarm over their opponents and deny them space. "We worked hard when we lost the ball, pressing Xavi or Iniesta and not letting them think," said Simeone. The statistics back him up. Atletico have made more tackles, interceptions and blocks than the other teams left in this season's Champions League.
Defensive nous
Their high pressing game coupled with an extraordinary physicality has also ensured Atletico have the best defensive record in La Liga and it's a similar story in Europe – restricting their opponents to fewer shots on target than the other semi-finalists. In this regard, Simeone's impact was instant as Atletico kept six consecutive clean sheets upon his appointment in 2011. No wonder Bayern Munich legend Paul Breitner described Real Madrid as a "less painful" draw for the champions.
Quality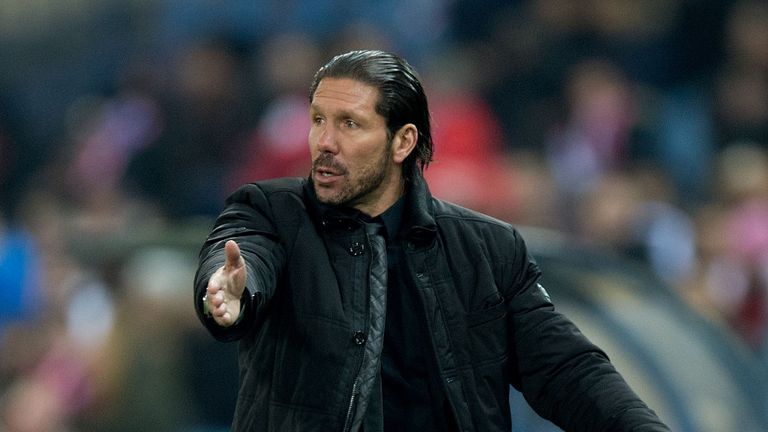 All this is not to denigrate the attacking qualities of the players at Simeone's disposal. Diego Costa has emerged as arguably the world's most formidable striker with 34 goals in 38 La Liga and Champions League appearances this season. Simeone also took a chance on David Villa when there were question marks over his physical capabilities, while the gifts of Arda Turan, Koke and the rest are significant. This team is a fusion of total commitment, impeccable organisation and real talent.
Adaptability
The focus is likely to be on Costa in the build-up to the Chelsea game, but Atletico are not dependent on any one player. The loss of Radamel Falcao was supposed to hamper them but Costa simply stepped up – and in seven games without their star striker this season, the team has won six and drawn one. Invariably, Simeone finds a way.
Logic dictates that the overall quality should dip when world-class players are missing but the aforementioned mentality has hitherto ensured that instead there are synergy benefits elsewhere. The sum of Atletico's parts is greater than any individual, so whether it's Koke finding the net in Costa's absence against Barcelona or Gabi crashing in a 35-yarder against Real Madrid, the success continues…
Conclusion
Real Madrid are in the Champions League semi-finals for the fourth successive season and for Chelsea, it's the seventh time in a decade. Bayern Munich, meanwhile, are looking to reach the final itself for the fourth time in five years. But Atletico stand alongside these regulars. Mourinho's achievement with Porto was remarkable. But if Simeone can take Atletico Madrid all the way, that would be a truly astonishing accomplishment.