Men on a mission
Goalkeeper John Ruddy tells Sky Sports how Norwich hope to cause a latest major upset for Manchester United in Ryan Giggs' managerial debut at Old Trafford...
By Peter Fraser - Follow me on Twitter @PeteFraser_
Last Updated: 25/04/14 12:49pm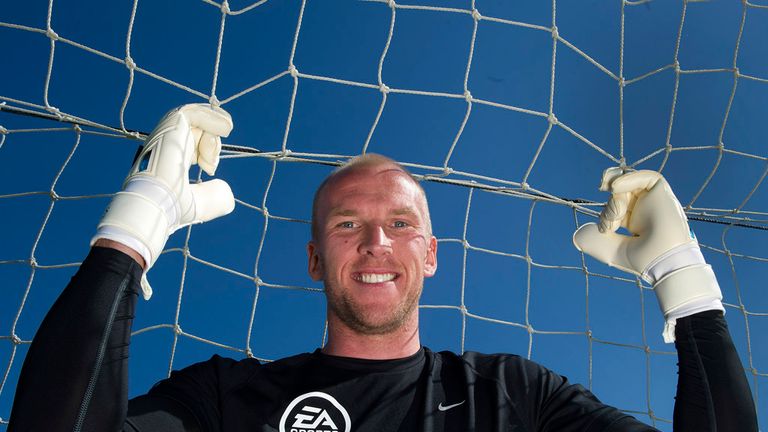 Manchester United might currently be in crisis amid the sacking of David Moyes and a worst Premier League points tally to date in their history but that does not mean they will not be a very difficult opponent for Norwich City live on Sky Sports 1 HD's Saturday Night Football from 5pm.
With club legend Ryan Giggs in interim charge, United are even likely to have renewed motivation when Norwich arrive at Old Trafford - which is the last thing the visitors will want.
With just three games remaining in their season, Norwich are in big danger of being relegated as they occupy a place in the drop zone and the decision to sack Chris Hughton and promote Neil Adams at the beginning of April has yet to result in any points.
Norwich will therefore need to be at their best this weekend if they are to add to United's problems and they will rely on well-planned tactics and strategies to cause what would be a latest major upset for their hosts.
Here, speaking to promote the launch of EA SPORTS 2014 FIFA World Cup Brazil, goalkeeper John Ruddy gives Sky Sports a sneak peak at Norwich's plans for beating United and the players they will have to overcome.
DAVID DE GEA
"He has been fantastic this season. It has obviously been a difficult season for Manchester United but he has been one of the standout players. His shot-stopping has kept them in games more often than not and his athleticism is fantastic. His dominance in the area at taking crosses is also coming. He is becoming the complete goalkeeper and, given a few years, he will be one of the best."
DANNY WELBECK
"Danny came on against us at Carrow Road and scored the winner earlier in the season. He came on and changed the game for them. He is a very lively player, very quick along the ground and he has good speed in his feet so he can manipulate the ball into positions in which defenders do not want to get sucked. He can score and he can assist."
JUAN MATA
"You do not win Player of the Year at Chelsea for two seasons in a row if you are not a very good player. He went to Manchester United with a big price tag in a difficult season but he looks like he is now coming into his own and really starting to kick on, which is good for Manchester United and it is up to us to stop him."
MICHAEL CARRICK
"Michael is very similar to the likes of Steven Gerrard in that he can pass the ball very accurately in various ranges. It is up to us to get tight to him and not allow him that time to manipulate the ball and pick out runs with his passes. We will need to get in his face, because if you give him time - he will hurt you."
Watch Man United v Norwich live on Sky Sports 1HD from 5pm on Saturday
John Ruddy was speaking at the launch of EA SPORTS 2014 World Cup Brazil, out NOW on Xbox 360 and PS3. Order your copy online from http://ea.vg/SkySportsRuddyWC14