New boss Ryan Giggs offers hope at Manchester United
Manchester United's Ryan Giggs was presented to the world's media on Friday and Sky Sports reporter James Cooper was at Old Trafford to witness the performance of the new interim boss.
Last Updated: 26/04/14 8:47am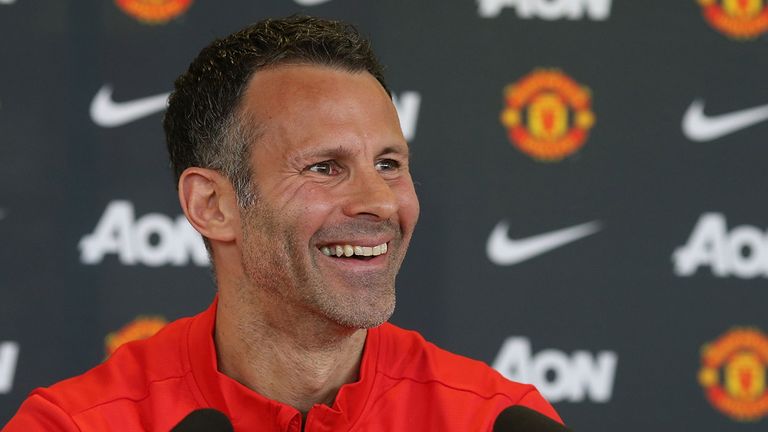 Forget the fact he's clocked up 962 appearances for United, smashing Sir Bobby Charlton's record, or amassing more honours than anyone in the British game. For Giggs, this has become his proudest achievement.
But saying "yes" to your executive vice-chairman following the departure of David Moyes and actually living out the manager's role are two very different things as Giggs has discovered this week.
The training ground has taken care of itself thanks to a coaching reunion of some of the players who paved the way for many of the club's greatest days. Paul Scholes may not have answered Moyes' call to be part of his set-up at Carrington but jumped as soon as Giggs picked up the phone. He, along with Nicky Butt and Phil Neville, who survived the first management cull since 1986, have worked to rebuild confidence and restore an atmosphere amongst a group of players who've under achieved to such an extent that they're destined to end up outside the top three for the first time in the Premier League era.
The training sessions have been a throw-back to the Ferguson era, high intensity and with more than one voice laying down the rules, the noise and enthusiasm has quickly returned along with one vital factor that was steadily eroded over the past 10 months-fun.
Less appealing to Giggs was the administration and bureaucracy that comes with the role of the modern manager, a seemingly endless array of meetings has seen his days extended even beyond the extra yoga sessions he's accustomed to.
Picking a team for his first game in charge will certainly be a challenge but this week he's had to decide his squad's training times and what will comprise each session, how they prepare for the game against Norwich, their matchday routine, even what they'll be eating and that's before he thinks about whether he might be involved or what he's going to wear if he remains on the touchline.
But there was one aspect of management that loomed like a shadow for Manchester United's interim boss, the Friday news conference that Sir Alex Ferguson regularly wielded as a weapon and left Moyes often looking like a haunted man.
For Giggs, while many of the protagonists would be familiar faces who've watched him blossom from teenage prodigy to Manchester United legend, he was well aware the questions would be difficult whatever the topic because of the season the club has had to endure.
If he was nervous, he hid any fears behind an assured disposition, adopting the location and timing of his mentor Sir Alex and his technique of confronting a topic head-on, this time David Moyes' fate, in the hope it would dispel further questions.
The mere fact he responded to a "good morning" with a cheery reply and laughed off his introduction to the assembled media as "David" marked a change in approach that lifted the mood in the room as I'm assured it's lifted the mood throughout the entire club.
Nimbly side-stepping the thorniest questions much like he evaded a full-back in his pomp, Giggs used humour and honesty in equal measure, injecting passion and heritage when he needed to and in contrast to the Scotsman before him, embracing Manchester United as "we" or "us" rather than a third-party reference that hinted at a distance.
His first news conference lasted just 15 minutes, but what an impressive quarter of an hour it was. As he strode out of the room to conduct his final training session ahead of his first match in charge the feeling amongst the gathered journalists was that they had glimpsed not a United manager but perhaps a manager in waiting.
After weeks of questions about atmosphere and the support of the fans, Giggs will be able to take one thing for granted as he strides towards the home dug-out at Old Trafford, a rapturous reception.
Yes there'll be a prevailing sense of relief at the Theatre of Dreams but there'll also be recognition for a man who's already hinting at a brighter dawn for a club preparing to hand over a Premier League trophy that has one thing in common with Giggs, United fans believe both truly belong to them.