Why Real Madrid midfielder Luka Modric is a key man for the Spanish side as they go in search of La Decima
As Real Madrid prepare to defend their 1-0 first-lead against Bayern Munich in the second leg of their Champions League semi-final against the champions, Adam Bate leads the plaudits for their midfielder Luka Modric...
Last Updated: 29/04/14 3:46pm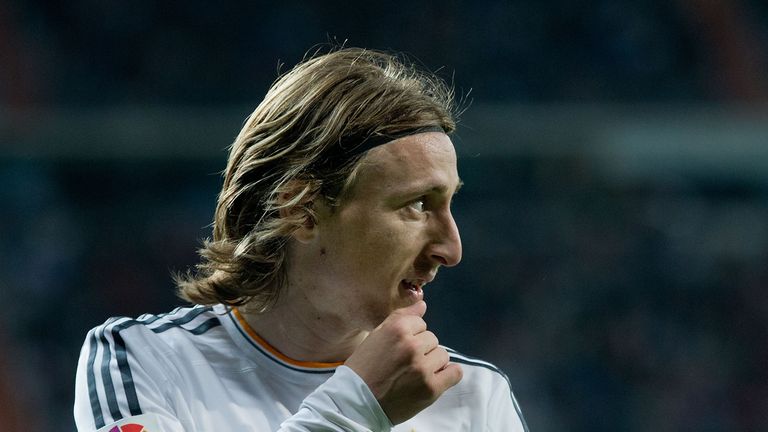 As the final whistle blew in the Bernabeu and the home crowd revelled in their 1-0 win over defending champions Bayern Munich, the figure of Luka Modric lay flat on his back in his own area.
Real Madrid coach Carlo Ancelotti spoke afterwards of the importance of "sacrifice" and nobody embodied this more than Modric. This was only the third time Bayern Munich had failed to score under Pep Guardiola and the two previous occasions had occurred domestically since winning the Bundesliga title. The Croatian midfielder had played a pivotal role in a supreme defensive effort.
Only young full-back Daniel Carvajal made more interceptions than Modric. The 28-year-old also ranked among the top five players on the pitch for clearances. This dedication to defensive duties was in stark contrast to his Bayern Munich counterparts who left their defence exposed to the Real counter-attack. Modric, meanwhile, diligently protected his back-four throughout.
What really stood out was his clever use of the ball. Despite Real having just 28 per cent of possession, and unlike Chelsea's display in the Spanish capital the previous evening, this was far more than a mere backs-to-the-wall performance – there was a real threat on the counter-attack. And Modric was the man who did much to help facilitate that threat.
Pass Master
Of the players still active in this season's Champions League, only Philipp Lahm and Toni Kroos have played more passes than Modric to a higher level of accuracy. And yet, this merely reflects Bayern's emphasis on passing. It is surely more significant to hit these numbers at Real Madrid.
Tellingly, Modric has also produced more dribbles in the tournament than the Bayern duo put together. Time and again Modric used his nimble footwork and shrewd savvy to negotiate tricky positions and find that pass out from the back. Given the high Bayern press, it was truly remarkable that he lost possession on just four occasions.
Indeed, Modric had a pass completion rate of 97.1 per cent last week with a 95.5 per cent success rate in the opposition half. Among those players on the pitch with 20 passes to their name, only the metronomic but less than penetrative efforts of Kroos could match that. Modric was the personification of calm on a frenzied night.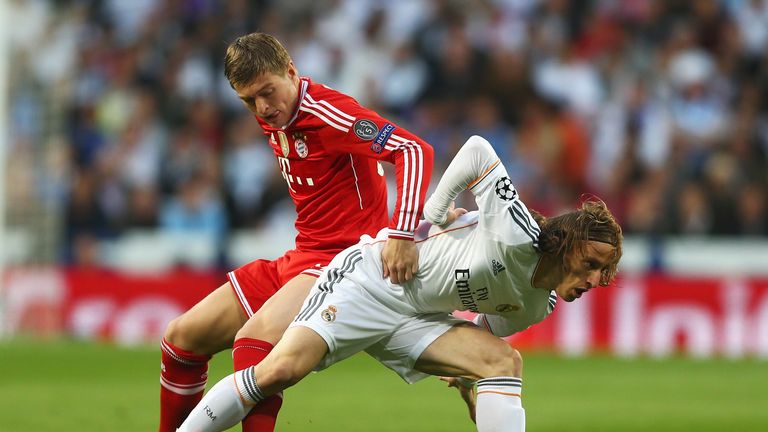 "His finest quality is getting through with the ball," said Ancelotti recently, a long-time admirer of Modric having been linked with a move for him when in charge of Paris St Germain. "He is displaying a lot of character, and it is very important to have personality. Modric is changing the rhythm of the way we play in attack."
He is displaying a lot of character, and it is very important to have personality. Modric is changing the rhythm of the way we play in attack.
Carlo Ancelotti on Luka Modric
He almost provided the catalyst for what might have been the killer blow too. It was Modric's expertly threaded pass through to Karim Benzema that allowed the French forward to cross from the left, only for Cristiano Ronaldo to uncharacteristically spurn the clear-cut opportunity.
His involvement was classic Modric –the assist to the assist. There is an unselfishness to his game that defies statistical analysis. Modric is more than the numbers – both a visceral joy to watch and the perfect partner to those around him. As Sevilla star and international team-mate Ivan Rakitic puts it: "Modric is a great player who is different from the rest and thinks before everybody else."
And he is doing it on a regular basis. "He's playing the best football of his career this season," Ronaldo recently told Croatian newspaper Sportske Novosti. "It isn't just that he plays amazing football. It's that he does so consistently, and that isn't easy in Spain or at this club. Luka plays great football and the team can see that. He's a key member of the squad."
Poll
He's playing the best football of his career this season. It isn't just that he plays amazing football. It's that he does so consistently.
Cristiano Ronaldo on Luka Modric
After a quiet start, those tough-to-please Real Madrid fans are starting to appreciate it too, chanting his name from the stands. It wasn't always that way. Around the turn of the year last season, a Marca readers' poll named Modric as the worst La Liga signing of the season with a huge 32 per cent of the vote. In a sense, they just didn't get him.
It is perhaps understandable. Modric's influence isn't always as overt as the marauding Gareth Bale or the free-scoring phenomenon that is Ronaldo. And £30million is a fee that brings with it considerable expectations. Neither a genuine holding midfielder nor at his best when creating from a No.10 position, Modric proved a difficult player to comprehend let alone pigeon hole.
In the age of specialism, Modric spoke more to universality – the perfect hybrid of a player. After growing into his role under Jose Mourinho in the latter part of last season, he has since blossomed in Ancelotti's 4-3-3, providing that vital link between defence and attack.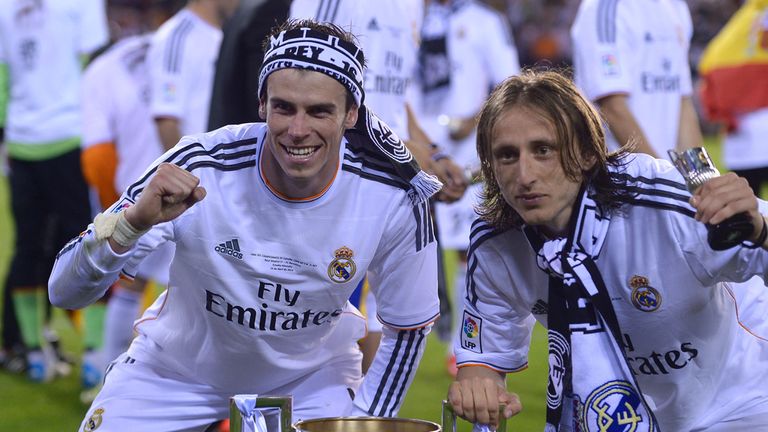 The Italian coach is so often adept at shifting systems to get the best from his stars and so it has proved at Real. The formation was implemented to allow those brilliant wide-men the freedom to work unhindered. It was done for Bale. It has worked for Modric.
If he can produce a repeat of last week's performance in the Bernabeu in the second leg of the semi-final in Munich – providing individual quality and promoting collective responsibility – it will also take Real to within a game of achieving La Decima and ending that obsessive search for a tenth European Cup win. For the little man with the big influence, that way lies football immortality.