Where it was lost: Five issues that cost Chelsea in their Champions League semi-final defeat to Atletico Madrid
Chelsea took the lead in the second leg of their Champions League semi-final against Atletico Madrid at Stamford Bridge on Wednesday night, but it all went wrong from there. Adam Bate looks at some of the factors that conspired to see the Blues fall short in their 3-1 aggregate defeat…
Last Updated: 30/04/14 11:19pm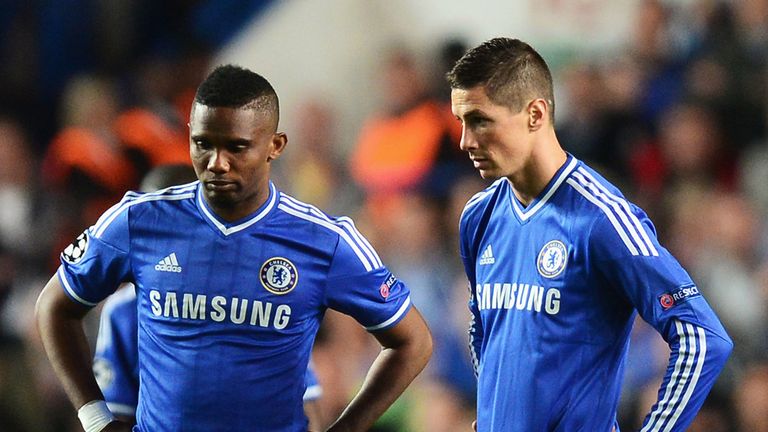 Chelsea looked on course after Fernando Torres' deflected strike opened the scoring, but Adrian's equaliser just before half-time preceded a Diego Costa penalty and an Arda Turan goal to send Atletico into the final. Here we pick out some of the talking points from Chelsea's defeat…
Too soon, Jose?
Questioning the tactical decisions of the two-time Champions League winning manager is a dangerous business. But given that the cult of Mourinho is such that his best decisions get analysed and lauded, it's only fair to point out that his first substitution on Wednesday was a curious one – Samuel Eto'o coming on for Ashley Cole with the scores level on aggregate and more than half an hour left on the clock. The veteran striker soon conceded the penalty but that wasn't the main talking point afterwards.
"I just thought it was a little bit early to go two up front," said Jamie Carragher afterwards. "It had been a tight game but as soon as they went two up front it started to open up. I just thought it was a little bit early and that Mourinho had patience in these big games. They only needed one goal and it was important not to concede another."
Gary Neville agreed. "He's usually the king," he said of Mourinho. "He's renowned for waiting. Patience. That'll be the surprise for me coming out of this evening. I thought Chelsea would wait, probably until 10 minutes to go with five minutes of extra time there. Be at 1-1 and then think that in that little period they could build some pressure, keep the crowd up into the last part of the game. It was taken away from them in that 15 minute period after the substitution."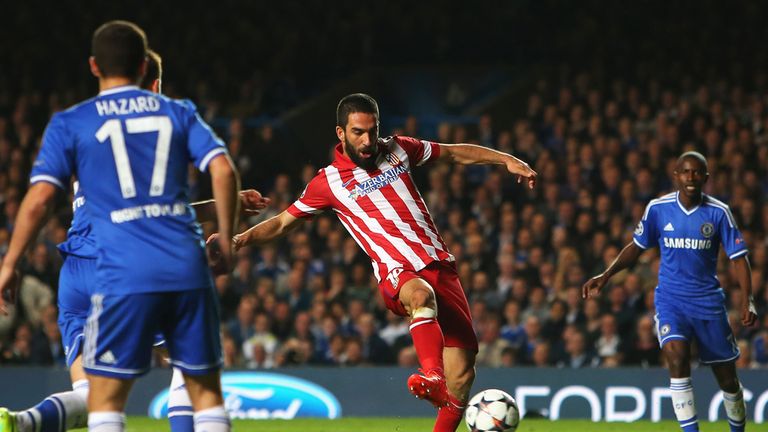 Hazard's tracking
"I cannot play this game with more than one player not at the peak of his condition," Jose Mourinho told Sky Sports in his pre-match interview. "I decided on Eden." Chelsea's brilliant winger has been one of the stars of their season with his low centre of gravity and sublime skills helping to bamboozle defenders. There were signs of that early on against Atletico as he embraced the challenge of being double-marked to provide a couple of low crosses.
However, as Mourinho stated, "important matches are made of details". With the contest balanced in Chelsea's favour just before the break, Mourinho would've been looking forward to getting his players into the dressing room and reiterating the game plan: 'A clean sheet and we're in the final. We can hit them on the counter.' But Hazard switched off when tracking Juanfran back into his own area and a series of errors allowed Adrian to score. Chelsea never recovered.
It was the third goal that really killed the contest and it was revealing that it came about in similar circumstances. Juanfran again eluded Hazard and Arda Turan finished the job at the second attempt. "He had to defend that," said Neville on commentary. "Twice he's failed tonight against Juanfran." It may seem churlish to apportion blame to arguably the most gifted player on the pitch but these defensive lapses were a factor. Could Mourinho have moved Hazard into a central role and asked Willian to do the tracking back in the wide position?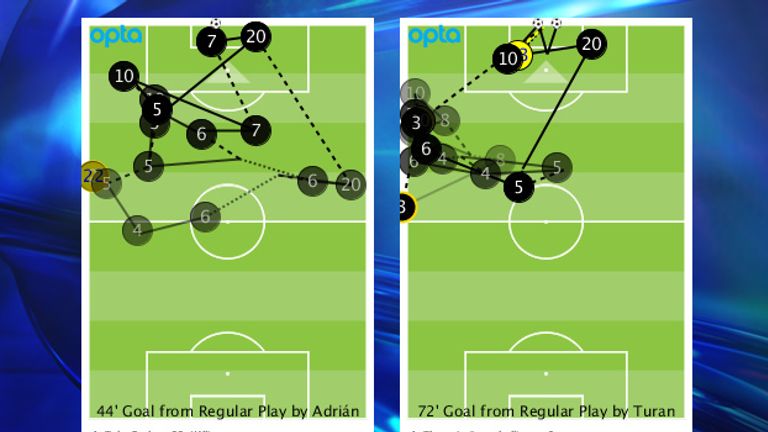 Defensive lapses
In fairness, Hazard's failure to track his man was just part of the problem. Ramires had committed an unnecessary foul in the build-up, Mark Schwarzer could have claimed a floated cross that passed just yards in front of him, while John Terry's miskick and Ashley Cole's curious decision to leave the ball all conspired to allow the equaliser. After an impeccable defensive effort at Anfield at the weekend, these were mistakes few could have expected from such experienced players.
Mourinho's sides have so often been built on defensive reliability. As a result, when unexpected errors are made, it creates the sort of problems that free-scoring Liverpool have largely been able to get away with this season – especially in a starting line-up that included six players who've spent most of their careers as defenders. "We cannot concede many goals because we cannot score many goals against a team like Atletico," said the Chelsea boss beforehand. So it proved.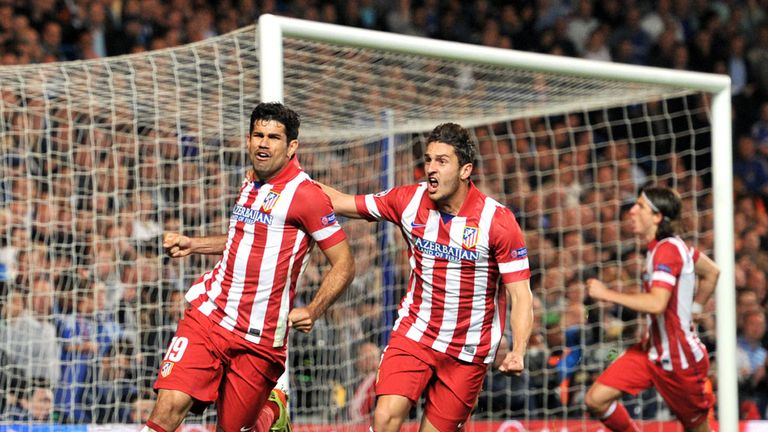 Creativity needed
Mourinho will be hoping he has more attacking options at his disposal next season and appears confident that the team will be stronger next term. The ability to break down well-drilled opponents will be a priority. "They definitely lack creativity to open teams up," said Carragher. Once Chelsea were chasing the game, their best hope seemed to be free-kicks and long throw-ins and it will take more than that if they are to find those final-third solutions on a consistent basis.
In the formidable presence of Hazard, Chelsea possess a talent to torment the best of defences, but as Michael Ballack acknowledged in the Sky Sports studio, you need more than one player with the guile to pick the lock. Oscar's struggles with form and fitness were ill-timed and if there's a player out there with the quality of Juan Mata and the legs of Andre Schurrle, it's fair to assume Mourinho would be interested.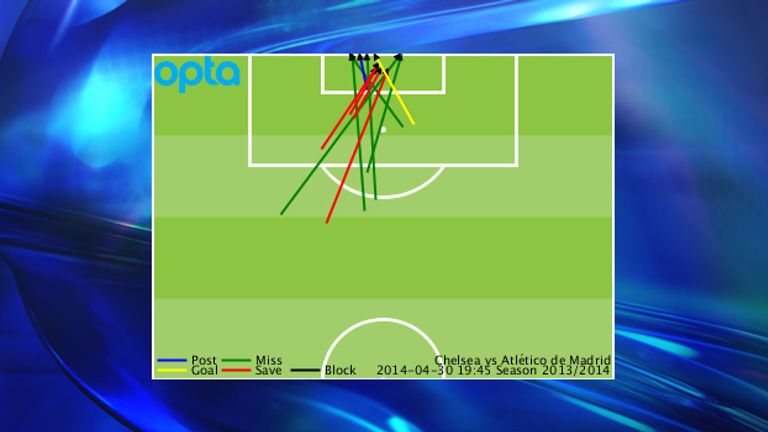 Courtois class
Before kick-off, the Sky Sports pundits speculated about the rival goalkeepers – the 41-year-old Schwarzer and Atletico's 21-year-old Thibaut Courtois - with Ballack even suggesting that he would always opt for the more experienced man on the big occasion. Schwarzer may have a couple of decades on Courtois but the Belgian showed plenty of quality and few nerves when up against his parent club at Stamford Bridge.
Courtois looked assured throughout and produced several impressive saves. Perhaps the most important came from a Terry header with the game delicately poised at 1-1, getting his hands down low to deny the Chelsea skipper. Mourinho certainly felt so. "One minute decided everything," he told Geoff Shreeves afterwards. "A minute where the Atletico goalkeeper made an impossible save and then they go up the other end and get a penalty."
There was even time for Courtois to further enjoy his evening late on when he made a brilliant save with his legs to deny compatriot Hazard in a one-on-one situation. Chelsea will not be going to the Champions League final next month but one of their own certainly will be. If Courtois can deliver in Lisbon, the goalkeeper might well be one of those new additions to the Chelsea squad that Mourinho clearly needs if they are to go all the way next season.