Ryan Giggs reflects on life as Manchester United boss
He's only had three games in charge, but Ryan Giggs is fully aware of how tough it is to manage Manchester United. Sky Sports News' Fraser Dainton reports on how the Welshman has adapted to life in the Old Trafford hot seat.
Last Updated: 19/05/14 2:41pm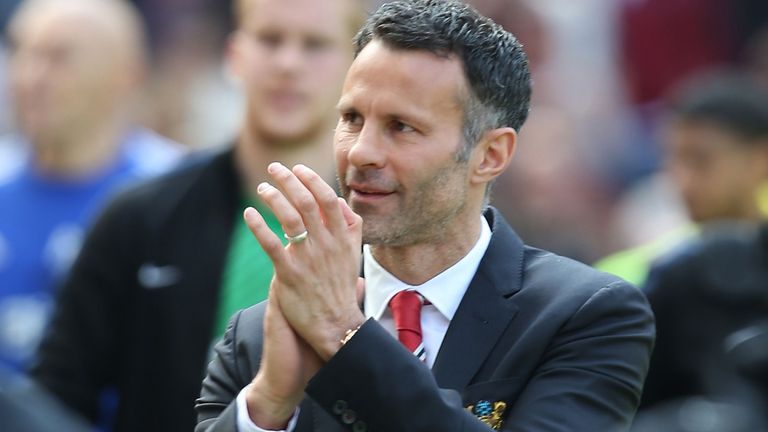 Giggs says: "It's not a lot different from being a player - the satisfaction you get from winning, the way you prepare team and then seeing them go do their stuff. Equally so when you lose a game - you're gutted, angry, disappointed - but just like a player you're eager for the next game to come so you can do something about it. Ultimately, it gives you a lot of satisfaction when it all goes right."
When asked as to whether he's enjoying it, he says: "It depends on what sort of time of the day you're asking the question! Sometimes you're thinking I could do without it, other times it gives you so much pleasure.
"After last Saturday (when United were beaten at home by Sunderland), you would probably think I could do without it, but you learn more from defeats and not doing so well, just like when you're a player. But I've enjoyed the whole experience, it's definitely helped prepare me for what will come after my playing career."
One thing Giggs has mastered very quickly is an ability to politely avoid giving an answer to a contentious question. All the evidence points to Louis Van Gaal being appointed as the new man in charge at Old Trafford, with an announcement expected some time in the coming week.
But the interim boss refuses to give anything away: "My stance isn't any different from what it was last week. Nothing's been announced yet, there's huge speculation, but my job is just to prepare the team for Southampton, so that's what I will do. I think everyone is looking forward to an appointment. It's been a disappointing season for us - when the management situation gets sorted out, we can move on."
What's still very much unclear is what future - if any - Giggs has at Old Trafford, whether as part of the new management structure, or as a player.
On the idea of hanging up his boots, he jokes: "It depends on whether the new manager wants me! But do I want to put my body through another year of eating the right things, the discipline, another pre-season? Do I want to go out still enjoying it, and not go on a years too long? These are all things I have to consider. I think it would be difficult to stop playing. It's probably easier if you've had injury problems - I've seen players that just can't go on. But I've never really had those problems."
When Van Gaal is eventually confirmed, Giggs believes there's plenty of talent still at Old Trafford for the new man to get to grips with. "You don't want to get too far ahead of yourself with the likes of James Wilson, (who scored twice on debut against Hull in midweek) he's obviously a talented player, but he's got a long way to go.
"Adnan Januzaj is the kind of player who could light up a world cup. He floats with the ball, effortlessly. He's one of those players you love watching. Then you've got the players at the other end who are coming to the end of their careers, but they still have a lot to offer. It's a good mix."
MAGIC WEEKEND: The destiny of this season's Premier League title will be decided LIVE on Sky Sports this Sunday - just one piece of drama playing out on a wonderful weekend of sport. Add in the Spanish Grand Prix, the Sky Bet Football League play-offs, the Players Championship, La Liga title race and more and Sky Sports is the only place to be. You can upgrade to Sky Sports or buy a day pass through NOW TV to watch all this fantastic live action.