Messi v Costa
As La Liga prepares itself for Saturday's title decider between Barcelona and Atletico Madrid, Sky Sports compares their star men - Lionel Messi and Diego Costa. Who will win the league?
By David Bowers
Last Updated: 16/05/14 4:48pm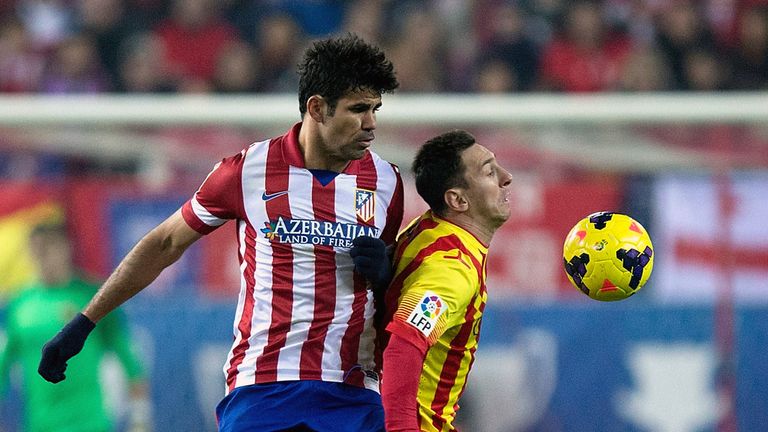 Ahead of La Liga's title decider on Saturday, we compare the talents of Lionel Messi and Diego Costa.
After Real Madrid surrendered any hope of claiming the La Liga following their 2-0 defeat to Celta Vigo last weekend, the fate of the title will be decided on Saturday when Barcelona face top-of-the-table Atletico Madrid. A monumental encounter awaits both sides at the Nou Camp, and we look at two players who have the lit up the league so far - Barca's Lionel Messi and Atleti's Diego Costa. Both players have scored invaluable goals this season, and Saturday's match will be a true test of their abilities. Here we take a look at their campaigns and see who will triumph in the Catalan capital...
Goals
Both players started the 2013/14 La Liga season in devastating fashion. Messi, rather unsurprisingly, started the season with aplomb and fired in six goals in the opening three games - including a first-half hat-trick away to Valencia. In a frighteningly quick start to the campaign, September saw Messi make it eight goals in six games at Almeria - playing a neat one-two with Pedro before curling a wonderful strike into the top left corner. He would, however, have to wait for just over four months until his next La Liga goal. In February, a penalty in their 3-2 home loss to Valencia triggered the return of Messi - which included a hat-trick in successive games in March against Osasuna and fierce rivals Real Madrid. Still trailing Cristiano Ronaldo by three goals in the scoring charts, Messi's return of 28 goals is an extraordinary feat considering his four-month drought. However, Costa is hot on the Argentine's heels in the scoring charts. The Atletico striker has been a measure of consistency throughout this season, bagging 27 goals in 33 appearances while remaining relatively injury-free. Many expected Atletico's title challenge to falter, but Costa's goals have given Diego Simeone's side the monumental opportunity of lifting their first league trophy since 1996. The Brazilian-born Spaniard scored a hugely important winner at the Bernabeu in September - a goal that began the loosening of Barca and Real's stranglehold on La Liga. During a nervy March for los Rojiblancos, Costa bagged the winner in three of their games - applying more pressure on Carlo Ancelotti and Tata Martino as Simeone's underdogs fought their way to the top. This weekend gives the 25-year-old, who has contributed to 36% of Atletico's goal tally, the opportunity to overtake Messi in the scoring charts while claiming his first La Liga title.
All-round play
Messi hasn't won three Ballon d'Ors on goals alone - it's also recognition for his overall input to his team. So far this season, the Argentine has laid on ten assists for his teammates while creating 2.5 key passes on average per game - helping the Catalans to an enormous tally of 99 goals in the league. Despite an injury-riddled campaign, Messi has showed no signs of slouching and has amassed 138 successful dribbles over the year, averaging out at 4.6 game - only bettered by Granada's Yacine Brahimi. Along with his natural goalscoring talents is a willingness to help out his teammates - the true mark of a world class footballer. Costa is unquestionably the more 'out-and-out' striker of the two, but he's still shown an unselfish side to his play. The Atletico forward filled in as an attacking midfielder on numerous occasions during his earlier days at the Vicente Calderon, where he helped to provide ammunition for star striker Radamel Falcao. Now that Costa is the main man, his playmaker-tendencies are still clear to see. On average he makes 1.3 key passes per game, most of them towards his strike partner David Villa - the recipient of two assists from Costa. His home form is formidable and has completed 2.4 dribbles at the Calderon, a record that betters Gareth Bale's. Displaying a penchant for creativity, the Spanish international has shown a selfless streak throughout this season - something that Barcelona will be extremely wary of.
Team importance
Messi's value to Barcelona is huge - with his 28 league goals contributing to 28% of their goal tally. Leading into Saturday's game, the Argentine has won 21 of his 30 league games at a win rate of 70% - with fans naming the overreliance on their striker as Messidependencia, leading Spanish journalist Ramon Besa to note in El Pais: "Let's not debate Messidependencia anymore. His mere presence is enough. One day, a cardboard cutout of Messi will win a match." Interestingly enough, in the seven games that Messi missed through injury, Barca's win rate rocketed up to 85.7% whilst their average goals scored tally boosted up to 2.9 per game. Seven games, however, is not enough to suggest Barca are better without their talisman. Unfortunately for their fans, a cardboard cutout won't be enough to outwit a clever Atletico side but as seen on many an occasion, his presence is enough to inspire his teammates to victory. Costa has been absent for three La Liga games this year, and Simeone has desperately missed the 25-year-old's goal scoring threat during that time. Notably, Atletico were screaming for a goal last weekend against Malaga - where they would have secured the title had it not been for Willy Caballero's superb late save to deny Villa at the death. Los Rojiblancos looked considerably lightweight up front - where they scraped a draw thanks to a late header from centre-back Toby Alderweireld. In those three games that Costa has missed, Simeone's side have managed just four goals whereas in the 34 games that the Spaniard has started in, they've banged in 72 at an average of 2.1 goals per game. The power, pace and skill that Costa possesses has been instrumental in guiding Atleti to the summit of the league. Simeone will be praying that his star man shows no signs of fatigue at the Nou Camp.
Opinion
"Diego Costa is spectacular. We saw this at the beginning of the season and let's hope it continues until the end." - Koke. "Nobody gifts him anything. Everything he manages is a result of his effort, and sacrifice." - Diego Simeone. "Messi never goes missing. He is always there. In just a few minutes he can change a game. He does it in nearly every game" - Andres Iniesta. "He is one of the few players in the world that you have to be careful with when you see him in a bad light because he can turn everything around in three days and put in a performance." - Tata Martino.
Verdict
Costa will be keen to sign off in sparkling fashion, with the Atleti striker set for a summer move to Chelsea. He has all the necessary match-winning qualities required to win the clash at the Nou Camp as he's consistently shown throughout the 2013/14 campaign. However, it would be unwise to underestimate the impact that Messi and his colleagues can have at any given moment. Barcelona will find it incredibly difficult to break down a combative, energetic Atletico - but Messi will be itching to improve his record of three goals in his last seven games. Expect the Argentine to light up Saturday's crucial encounter.