Cup of Dreams
Our Cup of Dreams feature, which began back in November with Boreham Wood, has reached its conclusion as we look ahead to the final with Hull City star Ahmed Elmohamady.
By Graeme Bailey - Tweet me: @graemebailey
Last Updated: 16/05/14 4:11pm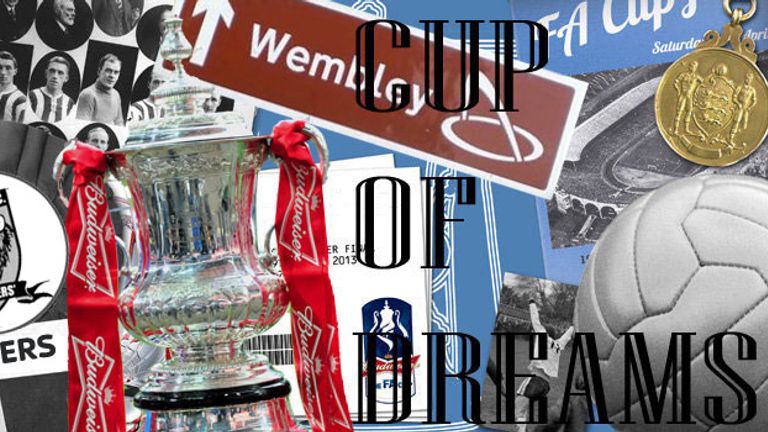 Hull City are making history this weekend when they will play in their first ever FA Cup final - their previous best being a semi-final appearance back in 1930.
The Tigers have successfully navigated their way past Middlesbrough, Southend, Brighton, Sunderland and Sheffield United to book their place in the final, whilst also securing their place in the Premier League.
Indeed the cup final is seen as a fitting end to what has been a momentous campaign for Hull - and nobody has played a bigger part than Ahmed Elmohamady.
He started every Premier League game, and has also featured in every one one of their FA Cup ties, and he admits it has been a 'dream' campaign so far.
"Things have gone so well for me and for Hull City this season, indeed it has almost been like a dream for me," he told Sky Sports.
Hull come into the game as under-dogs but Elmohamady - like most of Hull - is going into the landmark game full of confidence.
"Cup games are always tough, we know we have a good chance to win - but that is football, sometimes you don't know what will happen.
"We have an experienced manager, he has got us so we know exactly what we are doing - we have played them in the league and quite recently and although we lost, we learnt an awful lot from that game about Arsenal. How they played, how they hurt us - and I think the game plan we have for the final could be quite a bit different.
"We were desperate to win the game, as we were still thinking about our survival, but as I said we did learn from it.
"Everyone going to the game will probably expect Arsenal to win but that also means the pressure is on them - given they have gone so long without winning a trophy. We are going to make history ourselves for our clubs and fans and we will be ready for them.
"We already know we are in Europe next season. That is going to be massive for us, a huge thing - but we want to be there as cup winners!"
History makers
Whilst Hull are themselves making history in their maiden cup final appearance, Elmohamady is also setting a few landmarks himself.
As well as the first Egyptian to play in the world's most famous cup competition, he will also be the first Arab to play in the final as Wigan's Ali Al-Habsi had to watch Wigan's win from the substitutes bench last term.
"To be the first Arab is a proud thing, I know Ali Al-Habsi made the final last year but I have the chance to play so it would be a good thing for me and another fantastic thing for me personally," he continued.
"It is a huge thing for Egypt, to make history is fantastic - to be the first person from your country to play in the FA Cup is huge, it is such a massive competition and everyone in Egypt is talking about me playing at Wembley and that makes me very proud.
"A lot of African players play in Europe, but not too many from North Africa and the Middle East - there are not a lot but it is good that I can push this."
And Elmo - as he is widely known to both fans and players alike - admits that with Egyptian owners in the shape of Assem Allam, Hull are quickly becoming the adopted side of his homeland.
"Hull is becoming the English team of Egypt, with what happened on the last day of last season when we got promoted, it was so exciting and after that game a lot of fans started following Hull.
"The Premier League is the biggest league in the world and they all get the chance to see Hull now. To have an Egyptian player there is a great thing for them and the whole league is a big thing now and they will be ready to watch the final too."
After Hull's promotion to the top flight, Elmohamady became a world-wide internet hit for his post match celebrations which included some 'interesting' dance moves - and he admits that the moves will be coming out again at Wembley if they win.
"Of course, I will be dancing a lot if that happens!"
On the back of Hull's brilliant season, Elmohamady is quick to hail manager Steve Bruce, who is the man who brought him into English football whilst Sunderland boss before taking him with him to East Yorkshire.
"I have always been confident in my own ability and I knew I could make it in the Premier League, but I needed somebody like Steve Bruce to show me the confidence and help give me that platform to perform at the top level," he said.
"This season I arrived and I took a big step. It was hard for me when I first arrived at Sunderland, but Steve Bruce again threw me in from the start and he knows how to get the best out of me.
"To have played so many games for me is fantastic.
"To be back in the Premier League is great. The year I played with Hull in the Championship gave me a new experience of English football and I think that helped, and has helped me build on my own performances which I think have been consistent in the Premier League and helped contribute to what has been a great season for the club."