Tim Sherwood opens up on Goals on Sunday...
Read Tim Sherwood's views on Gareth Bale's sale, why he regrets taking the Spurs job and more...
Last Updated: 18/05/14 2:09pm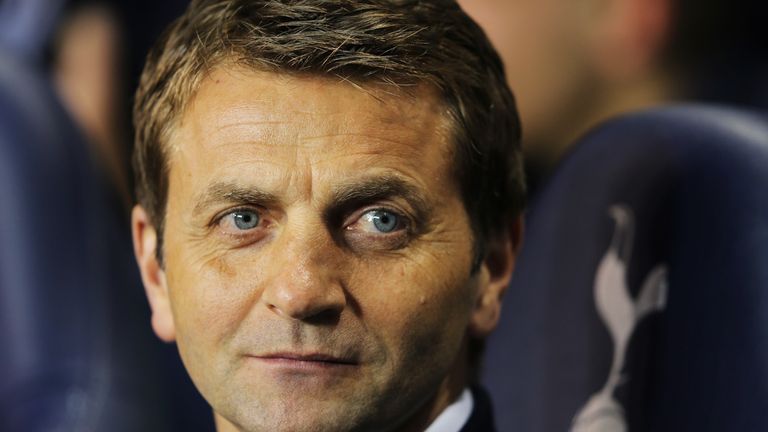 Dismissed on Tuesday after succeeding Andre Villas-Boas in December, Sherwood joined Ben and Kammy in the studio, along with his former assistant Les Ferdinand, to air his views on a range of subjects.
He suggested Tottenham should have forked out to keep Gareth Bale, backed Tottenham chairman Daniel Levy and assessed Spurs' infamous seven signings who cost £100m last summer.
After proving his pedigree by registering the highest win percentage of any Spurs boss in Premier League history, Sherwood also outlined his ambitions for the future...
Tottenham regrets
I wouldn't do it if I knew it was a five-month job. I was happy where I was, I love the development phase of football, which I think is very poor in England because there's not enough kids getting opportunities. But the club was in a difficult position and it is a club close to our hearts. We always knew if you go into the firing line as a manager your head is going to be on the block and it might be a short tenure. In the end it proved that but I didn't anticipate it would be as short as it actually was. If I had 18 months there I would definitely have taken that club forward.
Selling Gareth Bale was wrong
Gareth Bale has shown what he can do. Last night he scored his 20th goal in La Liga in his first season. He's missed a lot of games due to injury as well. He's top drawer. He's a game changer, not just a good player. We've had fantastic players in Luka Modric, who is a good linker but Bale changes games. It makes managers sleep easy with Bale in your team. He's a freak of nature. You have to resist selling players of that quality because they don't come around. Tottenham could have kept him but you'd have to pay him way and above what anyone would ever be earning at the club. But is he worth it? I think the Tottenham fans would say yes and I'd certainly say yes. I'd have loved to have a season with Gareth Bale.
His club record-breaking points-per-game and win percentage records
Stats don't lie. When we got the opportunity, which we were very proud to have, from Daniel Levy, he didn't put any pressure on us to finish in the top four. I had a frank conversation with him and told him it was going to be very, very difficult to finish in the top four. I was honest with him. He admitted that it was pretty much accurate, what I was saying, but what he did say was 'can you try to make us a little bit more attractive, score a few more goals'. In the remaining games in the Premier League we managed to score 40 goals so I certainly ticked that box. Unfortunately we couldn't break into that top four. We got into the Europa League, played well in a large number of games and brought Tottenham back to the fans, we achieved that.
Why was he sacked?
The reasons are they want to choose another manager to take them forward. Tottenham have had eight managers under Daniel Levy. Every decision he makes is in the best interests of Tottenham Football Club. It's nothing personal against me or any other previous manager that's gone. He lives and dies by those decisions. I didn't expect reasons. I'm not bitter about it. I'm sure they want a whole package. Obviously it's not only based on results because the results were there. Every club have got different ideas of what they want from their manager.
Is Daniel Levy good for Spurs?
I think he is. You want to leave the football club in a better position than when you went in and if Levy left tomorrow Tottenham is in a better position than when he went into it. One million per cent. We've got the best training facility in the league, we're in the process of building a new stadium which will be up there with the best in Europe. What he has to get right is what's happening on the field but all the infrastructure around that he gets it spot on. Every decision he makes might not be correct but it's what he perceives to be for the best at the time and you can't knock him for that.
New signings need time
All those new players will benefit and next year they'll be better. We can't write them off yet. You have to give them time. Christian Eriksen was the pick of the bunch and really did affect what happened on the pitch.
Speculation around his departure
Speculation was always there. At the press conferences they were always asking about this one and that manager. A lot of managers got mentioned. Then the managers started to take the bait and get quoted on it which I thought was a little disrespectful. Then it became more rife. There's no smoke without fire but it became an inferno in the end with the whole fire brigade from London needing to put it out. Then the players started talking about it. It was a difficult situation I was in but I just had to be professional.
Passion and ambitions
I wear my heart on my sleeve but if I felt that rant at Chelsea harmed the team I would have taken note of that and learnt from that. I'm here to learn, I'm new into management, but I think I'm good at the job and I think I've got a good team I could take to any Premiership club and do very, very well. But it's about getting the opportunity to do it. I would consider any job that's out there. I'd like an honest conversation with the chairman of any club that's interested and see what the expectations are of that club. I'd tell them what I think I could deliver, what I can actually do and not try to pretend I'm someone I'm not. It's easy to tell them what they want to hear but then they'd be scratching their heads saying 'this is an imposter'.
Franco Baldini's role in signings
We had a good relationship. I think he has a hand in picking the players but I would have to say I don't think he brings in a player who the manager does not sanction. It's a team effort. The players that are at the club at the moment were sanctioned by Andre Villas-Boas. I think possibly they weren't the first choices in every case but they worked down the list of the types which were required. The role Franco does, it would be good for the supporters to realise what they do. He comes into play when it's the transfer window, he manages a team of scouts and helps with recruitment. I think these guys work in the right way but they have to see the merits in what the manager wants otherwise everyone's pointing the finger at everyone else.