Where it was won
For so long it looked like it would be Atletico Madrid's night but Sergio Ramos cancelled out Diego Godin's opener in stoppage time and Real Madrid ran out 4-1 winners from there. Adam Bate was in the Stadium of Light to see it and picks his five reasons why Real are champions of Europe...
Last Updated: 25/05/14 4:28pm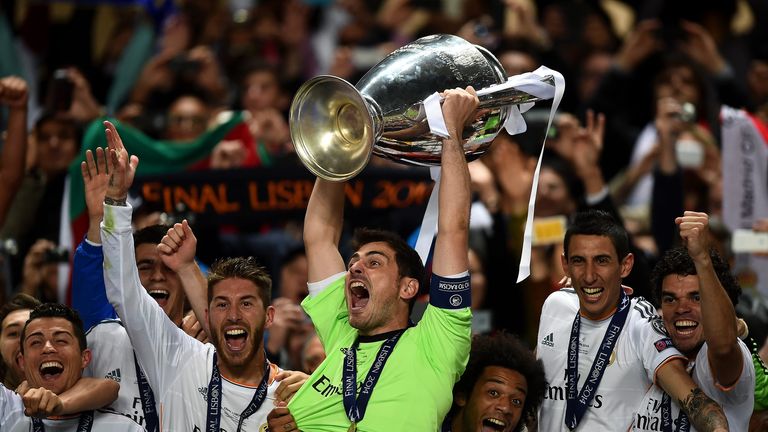 From the brilliance of Angel Di Maria to Diego Costa's early exit, Adam Bate picks five reasons why La Décima was won in Lisbon on Saturday night...
Devilish Di Maria
It's only right to start with the man of the match. There were admirable efforts among the Rojiblancos but Real Madrid's Angel Di Maria eventually emerged as the game's pivotal figure. The history books will record Gareth Bale as the scorer of what turned out to be the winning goal, while Cristiano Ronaldo provided the finale to the evening, but their performances were subdued in comparison to their Argentine team-mate.
Time and again, Bale and Ronaldo found themselves crowded out - engulfed by three or four Atletico shirts manically seeking to shut down these most obvious of threats. But the decision to opt for a low press meant there was some space in deeper areas and it was here from which Di Maria launched his assaults. He completed six dribbles - twice as many as anyone else on the pitch.
Slaloming past players and driving into the narrowest of gaps, the Real man was danger personified as he created panic in the Atletico back line. Raul Garcia and Gabi each resorted to cynical hacks from behind in order to prevent his advances. By extra-time, the tiring Atletico legs couldn't even get that close and it was from another piercing run that Real finally went in front. Bale was the hero. Di Maria was the difference.
Impact substitutes
Asked about the lessons his side could learn from the 2-2 draw against Atletico in March, when Cristiano Ronaldo snatched a late equaliser as Real finished strongly, Carlo Ancelotti offered a suggestion. "It could be to wait until they are tired and then put in Marcelo and Isco," said the Italian. Just as in the Vicente Calderon, he put the plan into action in the second half.
The duo certainly cut it fine in their bid to have any kind of impact on the result in Lisbon, but ultimately the pair did play a role in taking the game away from Diego Simeone's side. Holding midfielder Sami Khedira had been sluggish throughout his rare outing and, sensing weakness, appeared to be the primary target of the Atletico press.
The arrival of Isco before the hour mark offered fresh invention and purpose as he looked to take advantage of the increased space with Atletico dropping deeper. Meanwhile, Marcelo proved pivotal in the latter stages - romping forwards to punish Atletico's narrow midfield as Jose Sosa failed to deal with the Brazilian effectively. Marcelo's was the goal that truly killed the contest.
Atletico tiredness
The sight of Marcelo wandering unchallenged through the Atletico defence was a desperate one after all the graft and endeavour that had gone into the previous two hours of work from Simeone's side. But just as Di Maria was finally able to wriggle free, it was a reflection of the simple truth - after making more tackles and more interceptions than any team had managed in any Champions League game this season, Atletico were spent.
It was evident in the uncharacteristic manner in which they had conceded the stoppage-time equaliser from the sort of set-piece they've been gobbling up all season. It was there in Tiago's lazily outstretched leg, miscontrolling the ball in the Real half to allow their opponents to break for the winning goal.
It seems cruel to pick on such minor details in a long season of near continual success and the concentration required to adopt such an intense style must have been exhausting - made even tougher when having to raise themselves once more for extra time. Atletico were within two minutes of completing the miracle season. But in the end, their campaign went on half an hour too long.
Chief Ramos
And yet, they might have got away with it. Against other opponents they most certainly would have done. But in Real they faced a team determined to seize the moment for themselves. Diego Godin had afforded Sergio Ramos a glimmer of an opening. He took it.
It wasn't normal to see Atletico concede from a corner, but there is nothing normal about Ramos when it comes to attacking dead-ball situations. The Spaniard is just about the best in that particular business and when he switches from centre-back to centre-forward late on in games, it is always with a sense of genuine optimism rather than forlorn desperation.
Extraordinarily, this was his sixth goal in just seven matches. That's just one fewer than the Atletico team have managed in that time. None were more important. No wonder goalkeeper Iker Casillas made a bee-line for his long-time team-mate before extra time. "You're the ******** chief," he purportedly told Ramos. Big game. Big player.
Missing man
Unfortunately for Atletico, their big player and most likely goalscoring hero was long gone by that point. It seems facile to point to the significance of a player with 35 goals to his name, but in this particular set-up his importance cannot be overstated. Atletico's seven goals in those final six La Liga games came in the form of five headers and two penalties, while David Villa hasn't found the net since early March. Without him, it's tough.
When Costa gingerly exited the field in the ninth minute, it didn't disrupt the game plan - "We will do what we worked on during the week," Simeone had already explained - but it did remove their chief goal threat. Atletico needed a set-piece or a mistake. They got both when Godin capitalised on a Casillas error and that was nearly enough. But they rarely looked like getting a second.
Ultimately, the scoreline might have flattered the victors but it was nevertheless telling. The late flurry of goals for Real could be explained away as a result of Atletico chasing the game. And yet, Ancelotti's side were ruthless in punishing their rivals. When Real were chasing in the second half of normal time, Atletico failed to do anything like the same damage. It was a last-gasp win for Real Madrid, but a deserved one.