Heading for Manaus? Here's what England fans can expect ahead of Italy clash
Sky Sports News reporter Geraint Hughes reports on what England fans will find in Manaus ahead of Saturday's World Cup opener against Italy.
Last Updated: 11/06/14 10:07am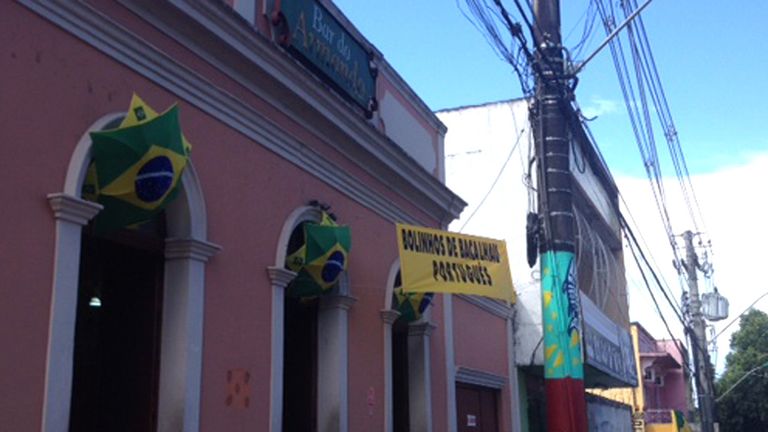 England fans always knew it would be a trek to get to Manaus. After 12 hours getting to Brazil from the UK, the majority of fans will travel north from either Rio or Sao Paulo and it's not a quick journey.
Depending on the weather it's a four to five hour flight - roughly the same as flying from London to Cairo except here it's all the same country!
When flying in to Manaus and peaking out of the window all you can see is lush greenery and water, then you land.
So once here what can England fans expect and what do they need to do?
Firstly, surely the inoculations have been done ?! Whether it be Hepatitis A/B, tetanus or the quite horrid yellow fever, don't come to Manaus without them. And of course there's Malaria. Now apparently it's not the worst time of year for that, but it's best to be taking medication for malaria while here.
The British Embassy told me they don't have too many problems with British nationals in Manaus, but when they do it's normally serious - malaria high on the list of problems. And the distance from here to anywhere causes problems. The only way in and out is by aircraft or boat. No roads link Manaus with any other city outside the Amazon!
WORLD CUP WITH SKY
The World Cup is here and Sky Sports will keep you bang up to date with all the stories and colour from Brazil. We'll have latest from the Sky Sports News team plus you can follow the tournament on skysports.com, our mobile and iPad apps as well as Sky Sports News Radio and our Twitter feeds. Click HERE to find out what we have in store.
Once here though, Manaus is so different from the rest of the country. It's a culture shock. And then of course there's the heat and humidity. I felt the humidity was what hit you the most, a wall of perspiration so it's vital to drink water otherwise you are just going to feel terrible!
Temperatures usually range from 25-34 degrees this time of year, right now it's 31 degrees so one degree more and FIFA's water marshalls can spring into action during the England v Italy game on Saturday, although that kicks off at 6pm local time by which time it's dark and the temperature is down a few degrees. However the humidity is still oppressive.
Remember the angry mayor of Manaus? Furious that Roy Hodgson wanted to avoid Manaus at all costs. Turns out Arthur Virgilio Neto never was angry. All a misunderstanding. He's met Roy Hodgson and is a firm fan, although he wants the worse side out of England and Italy to win on Saturday. Confused ? Simple really, he wants Brazil to win and he wants all the good teams to go out so the hosts' path to glory is unhindered. However deep down he's glad England fans are coming as they usually spend their money. 
Now If it's a beer you're after, then Armando's is gearing up for the arrival of England fans. A typical bar which does good tapas including local Amazon fish, the bottles of beer are cold and in plenty supply and at seven Reis - that's about two pounds it's not bad value.  It's pretty much in the centre of the city, close to the theatre where there are of course other establishments on offer!"