Brazil 3 Croatia 1: Our verdict on Brazil's players after a mixed performance in their World Cup opener in Sao Paulo
It didn't begin too well for Brazil in their World Cup opener in Sao Paulo, but the hosts managed to turn it around in the end to clinch a 3-1 win over Croatia. Adam Bate gives his assessment of Brazil's players as we give you the chance to provide your own ratings of both teams...
Last Updated: 13/06/14 12:52am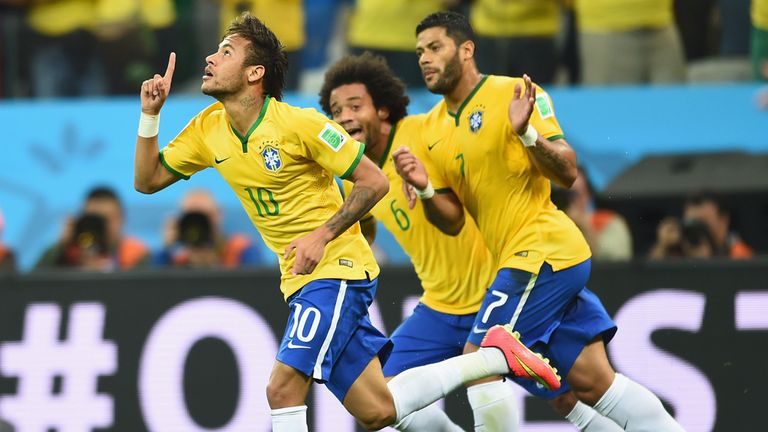 Amid all the talk of pressure on Brazil going into this game, Marcelo's own goal represented a fairly disastrous start. But Neymar's equaliser before half time settled some of the nerves and sparked a second-half turnaround.
Croatia are entitled to be furious with the penalty awarded against Dejan Lovren for a supposed tug on the shirt of Fred, although Oscar added some gloss to the scoreline with a late strike that was no more than he personally deserved.
While the performances of Oscar and Neymar offer plenty of encouragement that Brazil can justify their status as World Cup favourites, there was evidence of weakness elsewhere. Adam Bate takes us through the efforts of Luiz Felipe Scolari's starting line-up...
Julio Cesar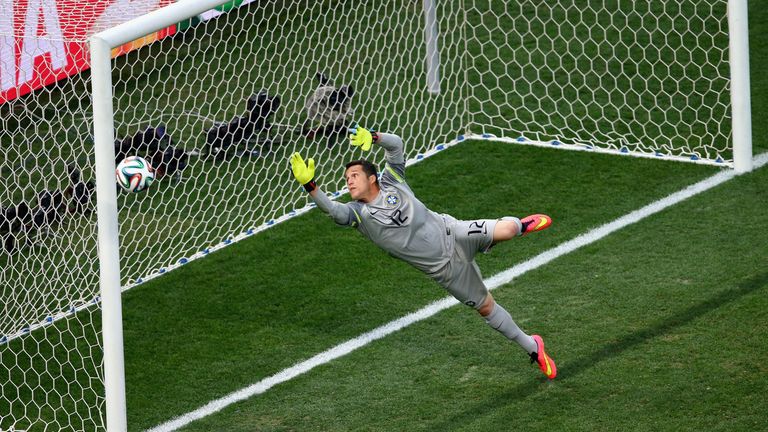 Frozen out by Queens Park Rangers, Julio Cesar's club football has been played in Toronto this past season and at times it showed. That was hardly the perfect warm-up but the goalkeeper certainly got himself into the mood during the anthems as the tears streamed from this eyes. There was little Cesar could do with the goal but he was fortunate that the referee blew for a foul after he fumbled under a challenge from Ivica Olic and he also looked unconvincing in dealing with a couple of long shots. One to keep an eye on.
Key stat: Julio Cesar had three shots on target to deal with.
Dani Alves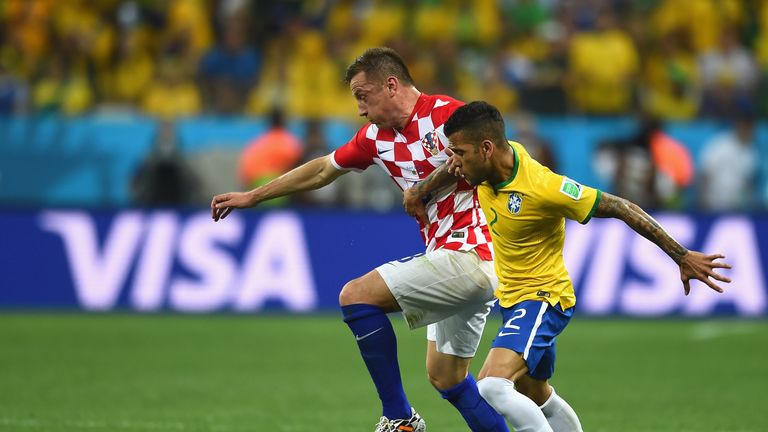 One early forward run got the crowd animated but it's at the other end that Dani Alves remains a concern. He was way up the field for the Croatia goal and even when in position he found himself caught in possession by Olic then lazily allowing Sime Vrsaljko to get in a cross. There were miscontrols when well-placed and the decision to shoot rather than put Oscar clean through on goal was lamentable. But Alves is a player of supreme confidence and he never stopped wanting to provide that vital outlet on the right. He can surely improve on this display.
Key stat: The 105 touches of the ball by Dani Alves were more than any other player on the pitch.
Thiago Silva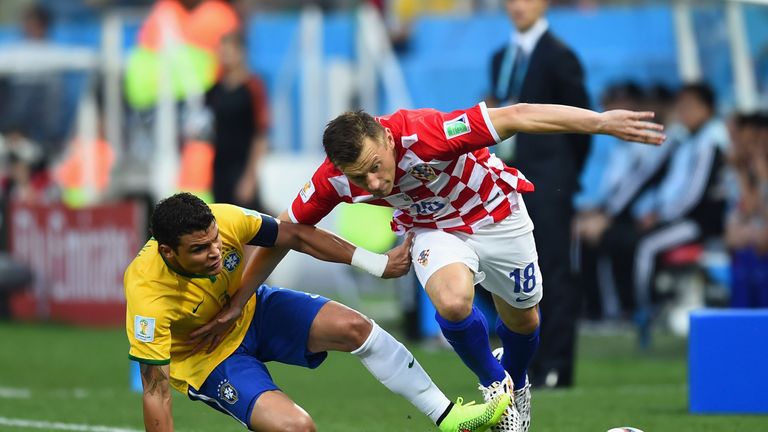 Although some detected a slipping of standards for Paris St Germain in 2013/14, Thiago Silva has deservedly retained his status as perhaps the greatest centre-back in the world. He was a little slow to get out to the ball for Croatia's opener but managed to keep a semblance of calm to proceedings with his quality use of the ball over both long and short distances. His defending was largely assured and he helped his team get through a highly-pressured experience.
Key stat: Thiago Silva's tally of completed 64 passes was more than any player on either side.
David Luiz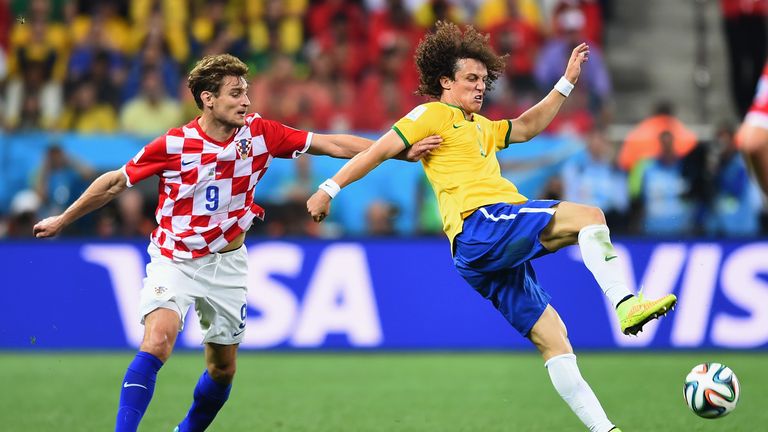 David Luiz cut an overtly aggressive figure during the anthems and an early tackle of real intent emphasises just how pumped up the defender was. He even followed up with the first effort on target of the World Cup. However, those familiar positional issues remain and he was culpable in allowing Nikica Jelavic to get in front of him for the goal. There were further fun and games at both ends as he denied Neymar his hat-trick in intercepting an Oscar cross before indulging in a risky tackle on Ivan Perisic inside his own area. Always on the front foot, the line between hero and villain continued to feel paper thin.
Key stat: David Luiz made 10 clearances for his team and that was four more than any other Brazil player
Marcelo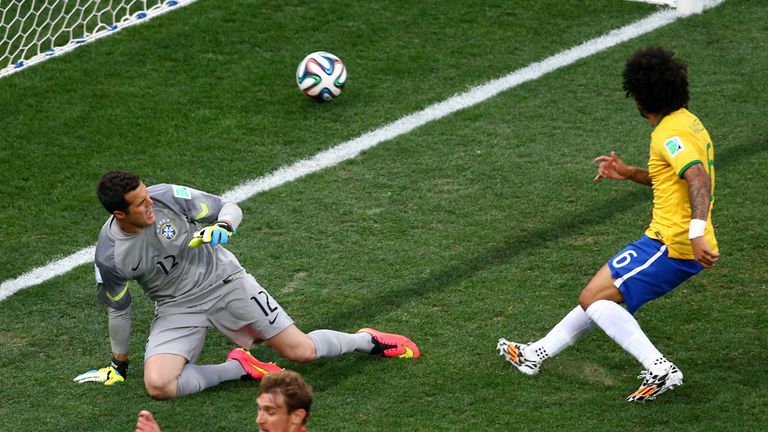 Given the oft-discussed weight of expectation on Brazil going into this match, it's difficult to conceive the emotions that must envelop a player unlucky enough to silence the Sao Paulo crowd with an own goal. As it turned out, Marcelo responded admirably by continuing to play positively and getting forward well. He almost put Oscar away down the left channel after good work but was denied by a dubious offside call and looks capable of being a dangerous outlet at this World Cup.
Key stat: Marcelo's own goal was the first by a Brazil player in the history of the World Cup.
Luiz Gustavo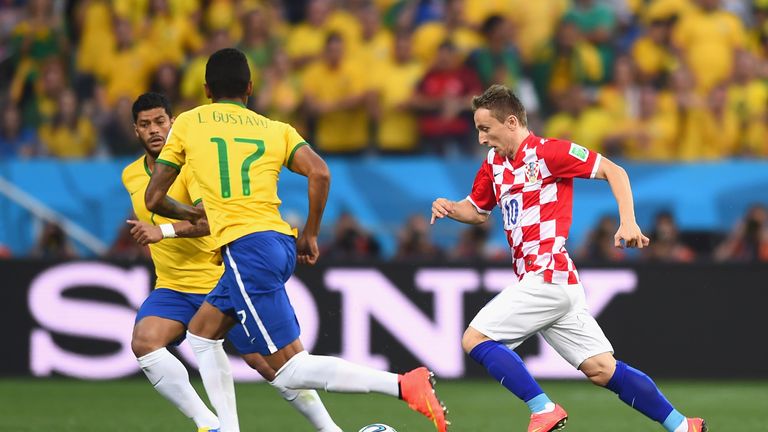 Luiz Gustavo played an important role for his team, operating in a very deep position between his centre-backs. The Wolfsburg man's simple use of the ball with his left foot rarely catches the eye but his retention of it was impeccable and it was not until after the break that he surrendered possession for the first time. Nobody made as many interceptions – five - and his late booking for a foul on Luka Modric as Croatia's star man looked to break typified his role in the side.
Key stat: Luiz Gustavo played 35 passes in the first half and completed every single one of them.
Paulinho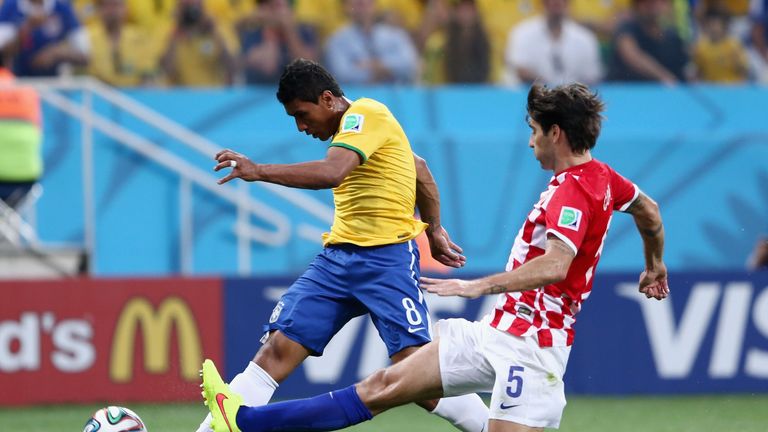 Paulinho's role in this Brazil team is to keep things tidy alongside Luiz Gustavo and then break forward into the box with his trademark late runs to provide an additional attacking option. The Tottenham midfielder gave glimpses of this ability to find space. He saw an early shot blocked and then forced a save from Stipe Pletikosa with a well-struck first half shot after receiving an Oscar pass in impressive fashion. He was withdrawn in favour of Hernanes just after the hour mark.
Key stat: Only Neymar had more shots than Paulinho during the time the Brazil midfielder was on the pitch.
Hulk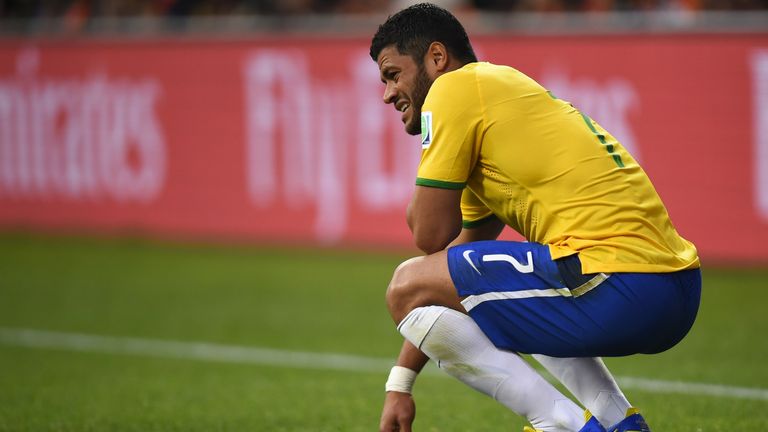 Characteristic for his ability to cut in from the right flank onto his fierce left foot, Luiz Felipe Scolari sprang a surprise by using Hulk on the left. Perhaps he didn't want to see too much of that ambitious shooting and in that respect it sort of worked – just the two shots blazed over. Hulk battled away and showed his endeavour with one defensive tackle but in truth he struggled to get into the game, looking a little one-dimensional on the left. He was withdrawn in favour of Bernard with the scores level midway through the second half.
Key stat: Hulk completed just six passes in the match with a pass completion rate of just 50 per cent – the worst of any Brazil player.
Oscar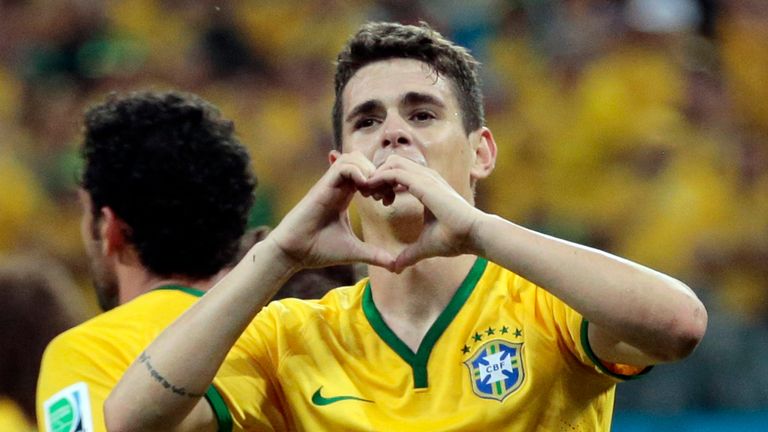 Initially tentative in his right-wing role, Oscar grew into the game in emphatic fashion. A series of teasing crosses seemed to raise his spirits before a beautifully struck left-footed effort tested Pletikosa. His involvement in all three Brazil goals summed up his all-round brilliance. There was guts to force the ball through to Neymar for the first, a drilled pass to Fred to win the penalty for the second before a driving run and improvised finish for the third. Neymar can expect the headlines but Oscar produced the best performance of the night.
Key stat: Oscar made more dribbles, created more chances and played more through-balls than any Brazil player.
Neymar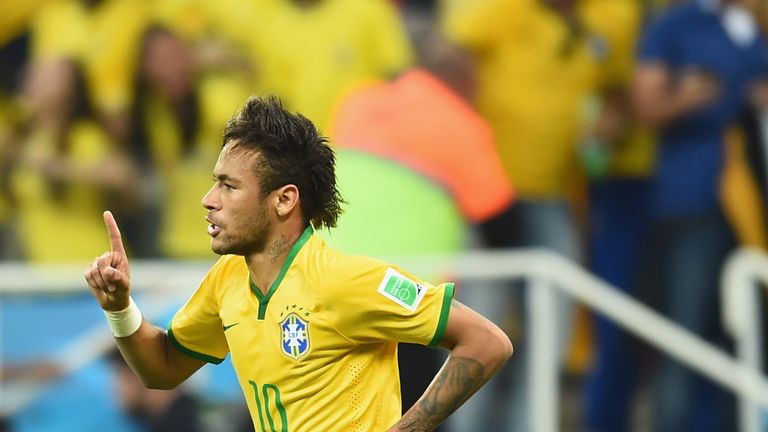 It isn't worth imagining the feeling of deflation in Brazil had Neymar's ankle injury in the warm-up robbed us of his presence. The home hero's every touch was cheered and he responded by taking a level of responsibility that belied his age. Always wanting the ball, he looked the man most likely to make things happen and achieved just that with the left-footed equaliser from distance when he came deep to collect the ball and drove at the defence. He'd been booked for connecting with Modric's face just prior to that and his penalty might have been saved too, but the script was with Neymar and the expectations only get bigger after this display.
Key stat: Neymar is the first player to score two or more goals on World Cup debut since David Villa in 2006
Fred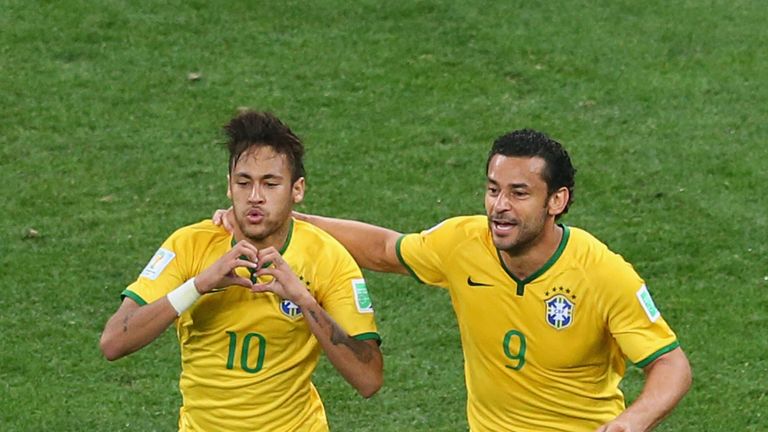 Given the romantic image of the Brazilian forward, Fred cuts a particularly underwhelming figure. A robust target man, he failed to get involved in the first half and looked a little lethargic when stretching for an Oscar cross. He did complete all his passes before the break – but there were only five of them. And yet, it was Fred who provided the catalyst for the game-changing moment as he went down under Dejan Lovren's non-challenge to win the penalty that put Brazil ahead. Whether he can get away with such fortune accompanying his insipid efforts again seems rather unlikely.
Key stat: Fred's 20 touches of the ball were fewer than any player who completed the full game
Have your say on Brazil's performance below or provide your own player ratings by clicking here