Spain 1 Holland 5: Dutch dismantle Spanish era of dominance to leave World Cup watchers in state of shock
Holland stunned holders Spain with an astonishing performance as they recovered from Xabi Alonso's early penalty to win 5-1 in Salvador. Two goals apiece from Robin van Persie and Arjen Robben plus another from Stefan de Vrij made for a memorable night. Adam Bate assesses the damage...
Last Updated: 14/06/14 12:07am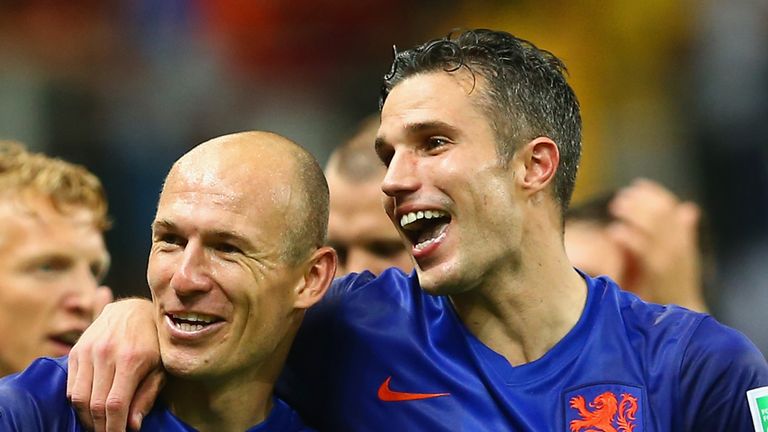 Try to make sense of it. Focus on the illusion of control in that first half an hour if you prefer. Remember the David Silva chance to double Spain's lead and the fact that the defending champions were mere minutes away from going in ahead at the interval.
Feel free to recall how an Iker Casillas error contributed to a surprise defeat at the hands of Switzerland in the opening game four years ago and Spain still recovered to win the World Cup. But make no mistake, this was something very different. Ultimately, this was a thrashing.
This was not a one-goal defeat against the run of play. It was an evisceration. It was a result to challenge every perceived wisdom about this Spain team. Even those not tipping them for glory could not have conceived of such a beating.
Time for a bit of context. Spain conceded two goals en route to winning this trophy four years ago in South Africa. They defended their European crown by letting in just one goal at Euro 2012. That's three goals conceded in over 20 hours of football. Holland promptly scored five in the space of an hour in the process of dishing out Spain's biggest competitive beating in over 60 years.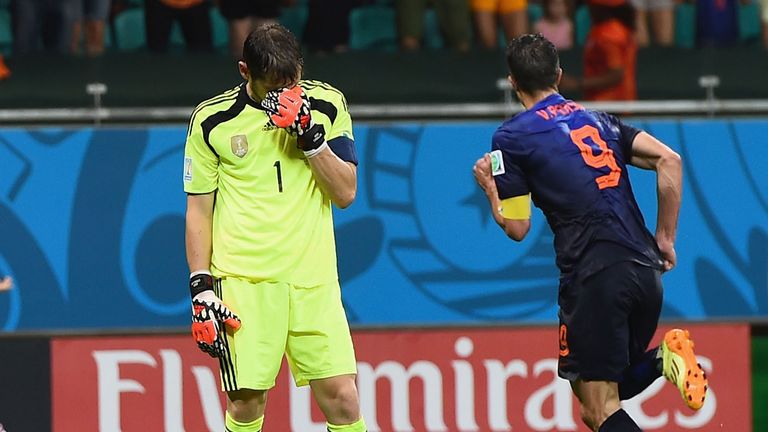 The Dutch took them apart. Much had been made of their desire to make amends for their uncharacteristically crude style in the 2010 World Cup final but that didn't mean they were in Salvador for a quiet time of it. Intense and attacking, they maintained an aggressive approach.
The cracks began to appear. The brilliantly measured delivery of Daley Blind from the left flank coupled with the impressive urgency of Robben left Spain looking fragile long before the equaliser. Wesley Sneijder spurned an early chance to beat Casillas and the space was there to exploit.
Blind's expertly lofted pass found the head of Robin van Persie for his brilliant leveller and then repeated the trick with a delicious first-time pass to find Robben after the interval. The tricky forward did the rest and this felt like something fresh. But the clues have been there.
Antidote
There was a time when the international game led the way in terms of tactical innovation but it's now club football that shows the future. Champions League managers have been working on the tiki-taka antidote for some time. This was the Spain national team's turn to take their medicine.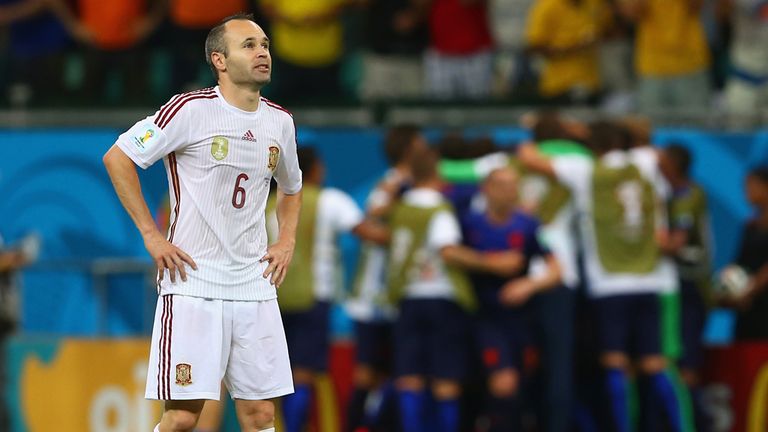 The sight of Robben twisting Gerard Pique's blood brought to mind the 2013 semi-final between Bayern Munich and Barcelona that saw the German side overpower the Catalans 7-0 on aggregate with a fast-paced brand of football that left them utterly exposed.
Slow tempo passing must be accompanied by pressing or protection. With three of the Spain midfield already having turned 30, the former never looked likely, while the latter proved beyond even Sergio Busquets as he continually found himself bypassed as Holland looked to find the front two.
Pique and Sergio Ramos had no answer to Van Persie and Robben. When they attempted to play a high line they were exposed by quality supply in behind. When they dropped off this only invited Robben to run at them. Five goals flattered the holders.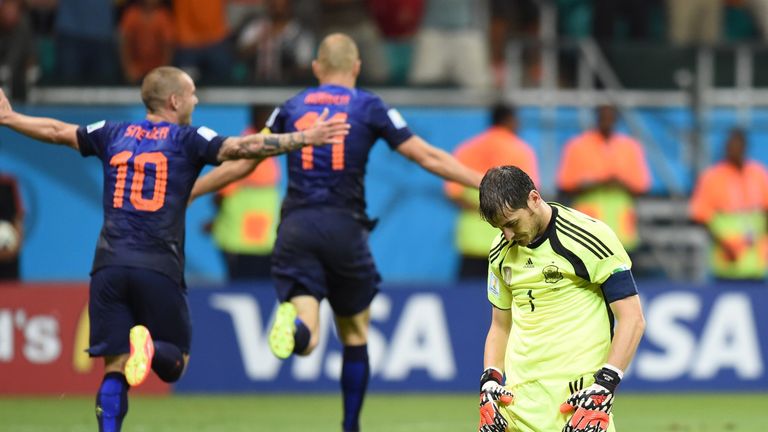 Much like Pele's moments of magic in 1970, it might be the near misses that linger. Van Persie's sumptuous right-footed strike against the crossbar. Robben's firecracker of a volley. When there was even time for a shambolic Fernando Torres miss, it almost felt like normality was restored.
So what now? Perhaps we should recall the line in Independence Day when the aliens' weakness is identified – "Spread the word, get on the wire to every squadron around the world, tell them how to bring those sons of ******* down," – but while Holland made it look easy, this was certainly special.
"This is our World Cup," declared Luiz Felipe Scolari ahead of Brazil's tournament opener. Well, the hosts may have kicked things off but it's Holland who have truly ignited the summer with a performance that few will forget – however Spain might hope to explain it away.