World Cup: Karim Benzema shows against Honduras he is ready to take the mantle of France's main man in Brazil
He's occasionally-maligned, but in the 3-0 win over Honduras Karim Benzema seemed to excel in the role of France's most important player. Franck Ribery wasn't missed, writes Daniel Storey...
Last Updated: 16/06/14 9:54am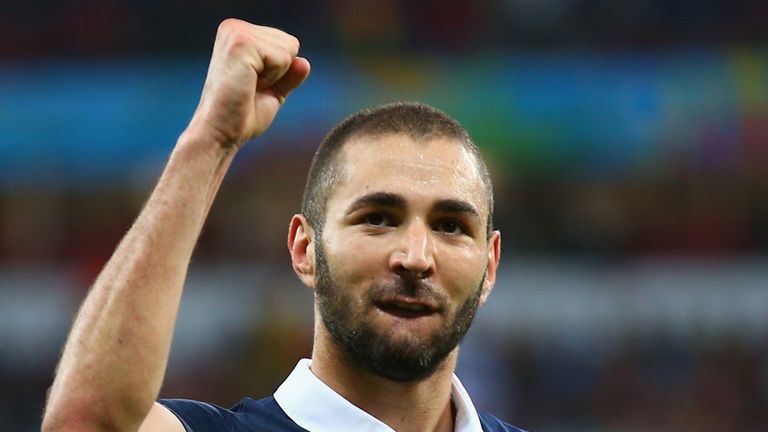 Given that it is less than 45 years since Honduras went to war with El Salvador over the result of a World Cup qualifying match, it's perhaps less than surprising that we saw the first real battle of this World Cup.
Against France, the Hondurans immediately resorted to a physical approach that very quickly crossed the line - it's nice to see that England weren't singled out for special treatment during their pre-tournament friendly. 
Wilson Palacios's brainless first-half attitude saw him sent off before half-time, and from then on France were able to stroll to victory on a chilly evening in Porto Alegre, their hardest task attempting to avoid the dangerous challenges committed by almost every single opposition player. Tougher tests (in terms of opposition quality, if not rough-housing) await for the French, and Honduras were without doubt the weakest team seen so far in Brazil.
Despite Honduras' overzealousness facilitating France's task, Didier Deschamps will still take huge positivity from his country's first World Cup victory outside Europe since 1986, and after the shambolic campaign of 2010 the coach will be content to have points on the board and squad morale high. France will be favourites to wrap up top spot in Group E, and from then on seem likely to face one of Bosnia, Nigeria or Iran in the last-16 - it's a favourable route to the quarter-finals. Given the negligent tackling of their opponents, escaping without any significant injury must also be considered a success.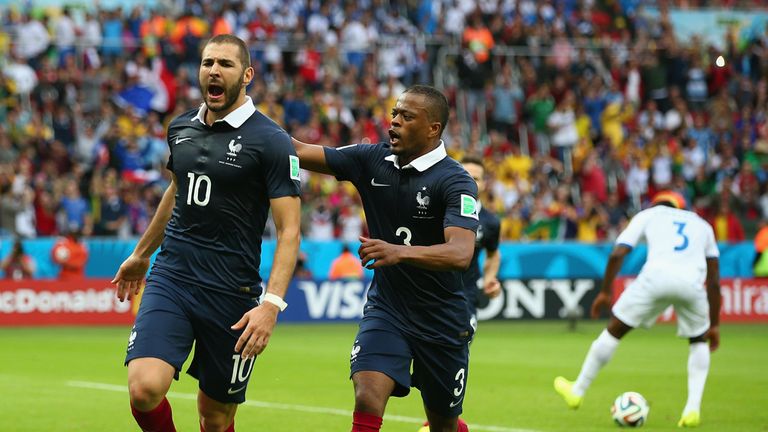 However, the greatest cause for happiness on the part of both coach and supporters will have been the continued form of Karim Benzema, who scored his eighth goal in seven internationals to instantly  make his mark on the tournament. These were Benzema's first goals in an international tournament.
Opening the scoring from the spot after Paul Pogba had been fouled by Palacios, who received his second booking, Benzema had a huge hand in his country's second, his shot rebounding off the far post before rolling over the line via the hand of Honduras goalkeeper Noel Valladaras. It marked the first time for which goal-line technology had been required to award a World Cup goal, and there was still time for the striker to rifle a shot into the roof of the net and join Neymar, Robin van Persie and Arjen Robben on two goals for the tournament. For a player occasionally and unfairly maligned, this will have tasted particularly sweet. 
Scrutinised
Although it is inevitable when starting for a club as high-profile as Real Madrid, there are few players in European football that have been so consistently scrutinised as Benzema, harshly described by then Madrid manager Jose Mourinho in 2012 as "like hunting with a cat". Continuously suffering from unfavourable comparisons with the goal record of Cristiano Ronaldo, Benzema has been forced to play such an evident second fiddle to the Portuguese that his contributions have perhaps inevitably been overlooked.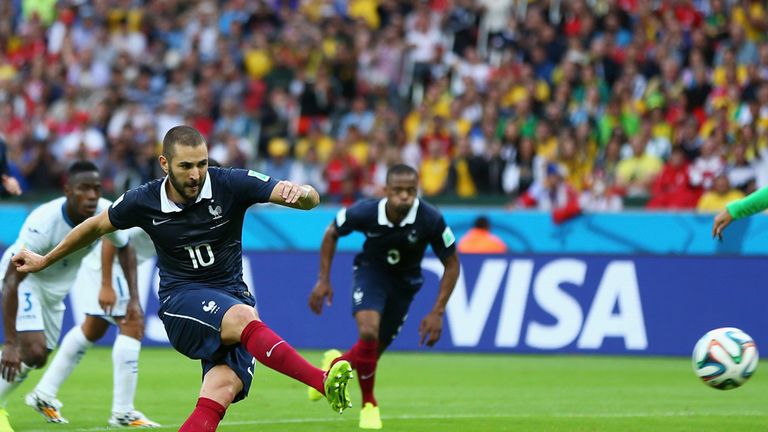 At the beginning of this season (and after a summer in which a rumoured move to Arsenal failed to materialise) the Frenchman was booed by sections of the Bernabeu support who felt that their striker lacked the hunger and passion to be trusted to lead their line alongside the greatness of Ronaldo. Benzema's often sullen appearance can often be mistaken for sulkiness, and when he went seven La Liga games without a goal until late-October, Alvaro Morata was significantly threatening his first-team place. Dropped for the Clasico in favour of, rather than alongside, Gareth Bale, it seemed as if an opportunity at the highest level had somehow been missed. 
The striker's response has been marked. Between October 30th and the end of March, Benzema scored 20 times for club and country, providing an additional seven assists. A corner had been turned and, whilst the signing of Luis Suarez or Sergio Aguero may still spell a summer departure to North London, Real Madrid supporters now seem happy with their lot. 
For France too, this is a striker forced to overcome adversity. His goal against Australia last October ended a drought of 1,222 minutes that threatened to force Benzema behind Olivier Giroud in Deschamps' pecking order. How Arsene Wenger must hope that he could pair both for Arsenal next season. Since then, he has bloomed for Les Bleus, and on Sunday evening once again reiterated his place as his country's most important weapon.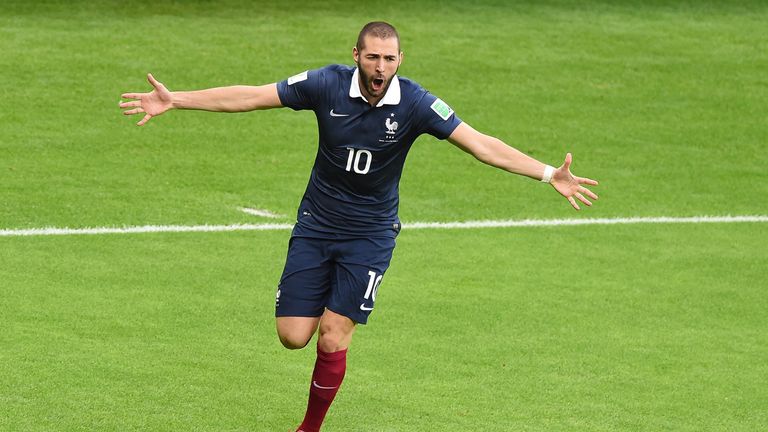 It is not just Benzema's goals on which France and Deschamps are now forced to rely. The ongoing back injury suffered by Franck Ribery leaves the Real Madrid striker as the most experienced player within a youthful squad. "It's unfortunate for both Franck and us," Benzema told the Times of India. "He was so keen to play the World Cup but he picked up this injury at a horrible time, but we are preparing ourselves in the best possible manner." 
Against Honduras that showed, as Benzema looked intent to get involved in all of France's attacking moves. With Ribery missing, Benzema was able to occasionally drift left and allow Antoine Griezmann to move infield to maintain the side's shape. He had more than double the amount of shots of any other player on the field, and touched the ball more times than Griezmann. It was little surprise when he was announced as the FIFA Man of the Match.
This is a player that still has much to do to dissuade the doubters, and goals against an aggressive but disorganised Honduras defence will do little on that front. But, as ever, all Benzema can do is continue to perform. 
In a tournament which provides a stage on which reputations of greatness can be established, Benzema's Act One was verging on pitch perfect. By the time the group stage is completed, this could be a player and team that has built up an impressive head of steam. After previous French World Cup catastrophes, an efficient and effective beginning will be greatly appreciated.