Uruguay v England: What issues are facing Roy Hodgson ahead of second 2014 World Cup game?
Should Wayne Rooney be moved centrally? How can England expose Uruguay? Will Glen Johnson keep his place? Take a look at some of the talking points before Thursday evening's kick-off
Last Updated: 19/06/14 10:54am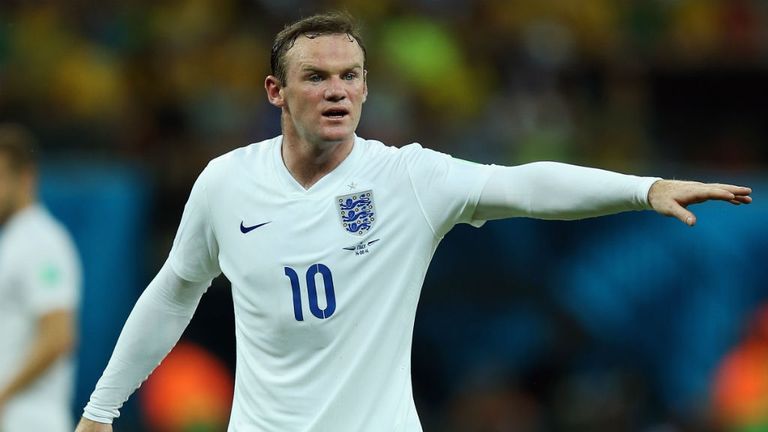 "I am excited for the next game, as I know we can do a job on Uruguay if we play like we did against Italy," said Daniel Sturridge in the aftermath of England's defeat by the latter in their World Cup opener on Saturday.
Roy Hodgson's team were credited for their exciting approach at the weekend but it was ultimately meaningless as a result of their 2-1 loss. Indeed, the reaction probably says more about the dull performances of previous England sides rather than anything else.
There were negatives among the positives in the display against Italy and, regardless of Sturridge's confidence, there are consequently issues which will need to be addressed going in to Thursday's almost make-or-break game with Uruguay at the Arena de Sao Paulo.
SWAP STERLING AND ROONEY?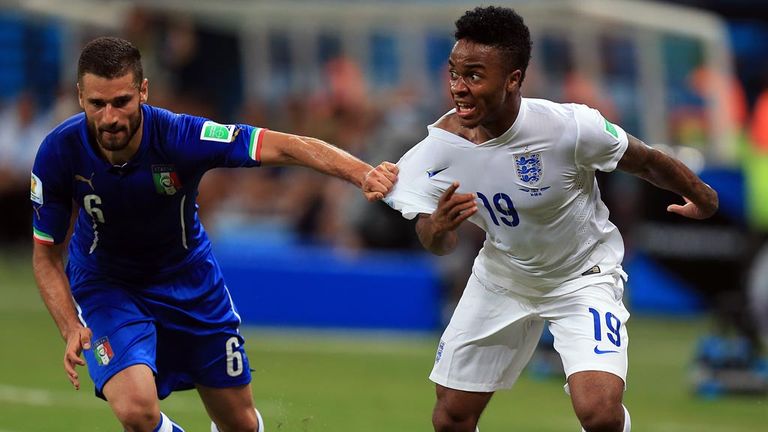 The clamour for Wayne Rooney to be dropped has been remarkable in the wake of the Italy defeat. The Manchester United man has been widely criticised for his performance and he did, at times, look out of sync with his England team-mates in Manaus.
Indeed, Rooney has admitted: "I have never said my place [in the England team] is guaranteed. I do not expect to play, I work hard. I want to play."
But Rooney's performance against Italy must also be qualified by the fact he was of course playing in a disfavoured role on the left of England's attacking three in the 4-2-3-1 formation. It is also worth remembering that, for all the pace and explosive actions of some of his team-mates, when a real moment of class was required, it was Rooney who produced the killer assist with a delightful, passed cross for Sturridge to score England's goal.
Rooney's quality, and goalscoring record, for England should not be questioned. Rooney did not have his shooting boots on against Italy, failing to hit the target from three efforts, but neither did Raheem Sterling from four shots. Rooney, meanwhile, delivered three key passes to Sterling's one.
Where Sterling, starting in the centre of the attacking three, caused excitement was in his dribbling as he completed four runs with the ball – more than any other player on the field for England or Italy.
As much as Liverpool man Sterling clearly enjoys his central position, perhaps swapping him to the left and moving Rooney into the middle against Uruguay is the obvious option. From there, Rooney could pull the strings while Sterling's dribbling, lightning speed and ability to cause panic in opposition defences would still have an impact on the left.
At the same time, Sterling would have the same defensive shortcomings as Rooney in offering a lack of protection to Leighton Baines but it seemed Hodgson was prepared to roll the dice on that consequence against Italy regardless.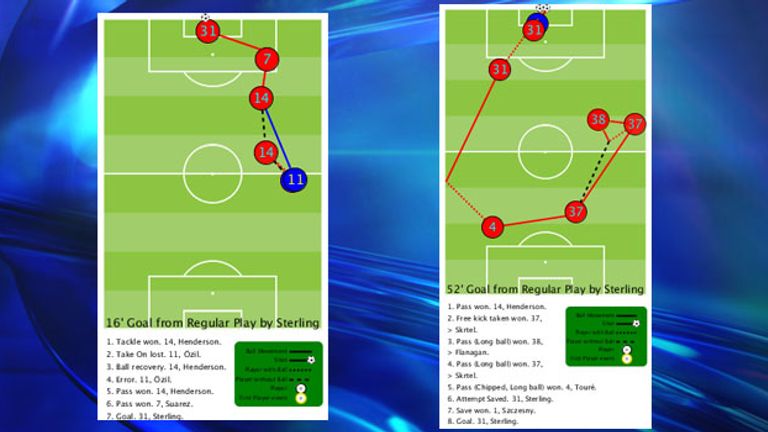 Sterling can create attacking danger anywhere across the field. In fact, he played on the left of a three-pronged attack when Liverpool played Arsenal at Anfield in February and was absolutely rampant when scoring twice in a 5-1 destruction job (see above graphic). Just think what he might be able to do up against Uruguay's second-choice right-back in the wake of Maxi Pereira's suspension.
TEST FERNANDO MUSLERA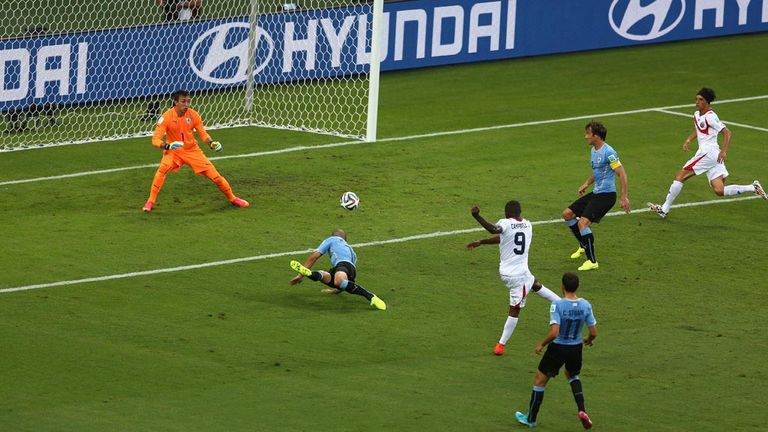 Working a goalkeeper in any football match is not exactly cutting edge insight but Uruguay's shot-stopper, Fernando Muslera, looks an especially weak link in Oscar Tabarez's first team. Against Costa Rica, the Galatasaray player conceded three goals from just four shots on target.
This is underlined by the fact that in the 2013/14 UEFA Champions League, only six goalkeepers who played six or more games had a save percentage less than Muslera's total of a disappointing 65.7%.
England must therefore test the man between Uruguay's sticks whenever possible and this means they must improve their shooting after managing just five efforts on target from 18 shots overall against Italy.
It is also essential Hodgson's team do better with their corners. Muslera, and the Uruguay defence as a unit, looked particularly susceptible at set-pieces when taking on Costa Rica. But England did not make enough of these opportunities versus Italy. In that game in Manaus, they earned nine corners to Italy's two but lacked any sort of ingenuity or creativity to cause their opponents problems.
SUAREZ V STRURRIDGE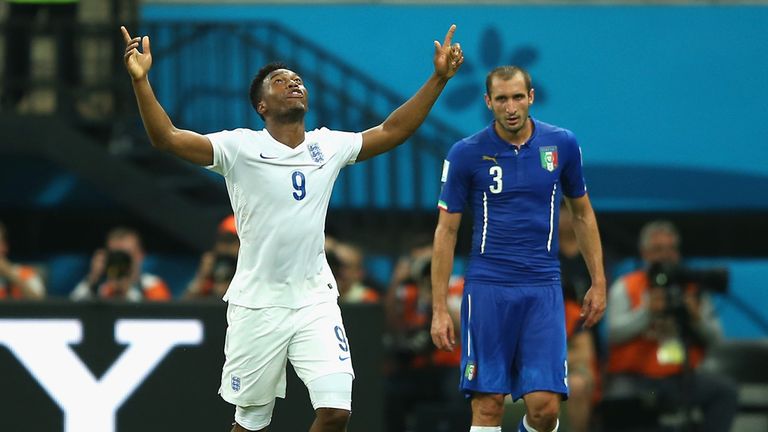 FACTS AND FIGURES
Luis Suarez (31) was the second player to reach 30 goals in a single Premier League season without netting a penalty
Daniel Sturridge became the first Liverpool player to score in eight consecutive Premier League games
Suarez equalled the record of 31 goals in a 38-game PL season, held by Alan Shearer and Cristiano Ronaldo
Cruelly, injury could deny the footballing world the sort of showdown between two superb goalscorers which sparks brilliant intrigue. Club-mates, and, indeed, gloriously successful strike partners, playing against each other at international level is always a fantastically interesting facet of football. It gives you the feeling of seeing something unique, something out of the ordinary, something that is usually only saved for behind the closed doors of the training ground.
England are hopeful Sturridge will be fit after suffering a dead leg against Italy while Uruguay's Luis Suarez, the former's team-mate at Liverpool, was an unused substitute in the upset at the hands of Costa Rica as he continues to recover from a knee operation.
It would be fantastic to see both Sturridge and Suarez in the respective starting XIs on Thursday. They broke records galore at club level in 2013/14, including becoming the first Liverpool strikers since Ian St John and Roger Hunt in 1963/64 to both score at least 20 league goals but, now, they would be going head-to-head for bragging rights. Anyone who has watched the way they bicker with each other for Liverpool when one does not pass to the other knows there is already a healthy, competitive rivalry.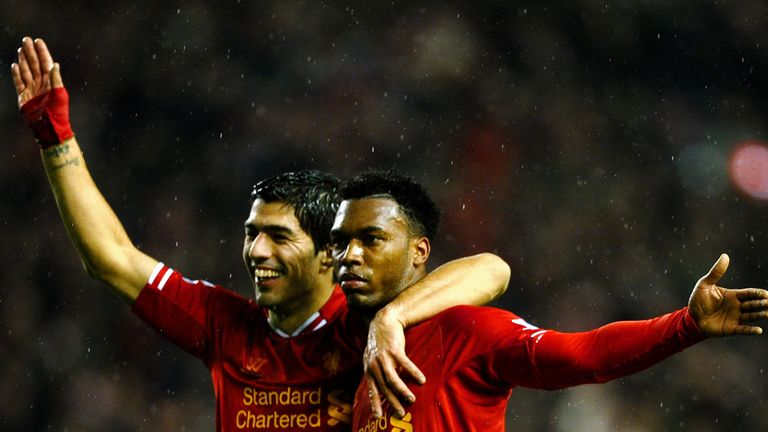 But England probably have a greater dependence on Sturridge so it is vitally important they have him back to full fitness. Having already scored against Italy, weight of expectation has eased on Sturridge – who is still questioned by some as the real deal – but he is really the only out-and-out goalscorer among England's striking options.
Uruguay, meanwhile, claim it is far from certain Suarez will feature against England but, after the shock defeat by Costa Rica, it would be a surprise if they do not risk his fitness.
England's captain, Steven Gerrard, and Jordan Henderson will then become highly important. Given their knowledge and familiarity from club level, the deep-sitting midfielders will be vital in attempting to stifle the threat of Suarez when he drops off the play and in helping to double up with their centre-backs. Henderson, in particular, has the fitness and athleticism which could frustrate Suarez.
WILL ENGLAND STICK WITH JOHNSON?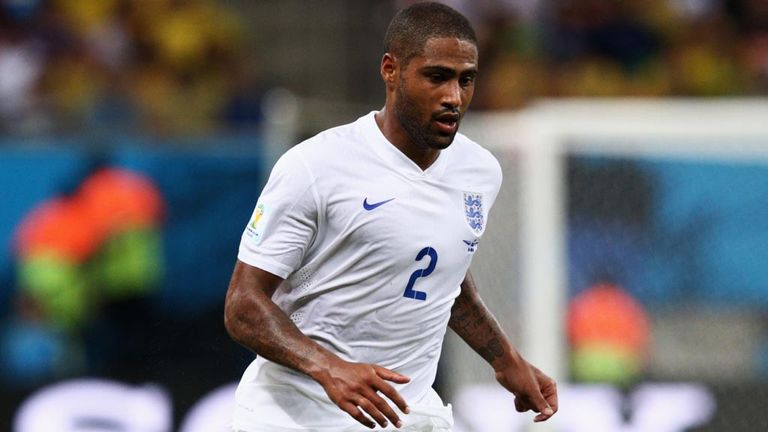 Sky Sports' Alan Smith, in his column for the Daily Telegraph, said: "Of all England's performers against Italy, you have to say that Glen Johnson suffered more than most. For whatever reason, the full-back just does not look right at the moment, his form having also been poor in the lead-up."
Of all England's performers against Italy, you have to say that Glen Johnson suffered more than most. For whatever reason, the full-back just does not look right at the moment, his form having also been poor in the lead-up
Alan Smith
It is difficult to disagree. The drop in form and confidence suffered by Johnson in England's warm-up games continued into the World Cup against Italy. There have always been questions about Johnson's defensive capabilities but, for England, his rampant attacking, which was such a factor in Liverpool's successful season, also seems to have subdued.
Johnson made three tackles against Italy, the joint-most in England's line-up with Gerrard and Danny Welbeck, but, as Smith said, something seemed wrong.
It could be questioned whether Johnson is suffering from fatigue after his end-to-end season for Liverpool but the right-back did not play a full campaign after missing nine games following two periods out with an ankle injury.
The worry for Hodgson, who will surely be hesitant to drop one of the few experienced players in his team with more than 50 caps, will be that he does not have a specialist replacement in any of James Milner, Chris Smalling or Phil Jones.