Simon Veness
View from America
World Cup 2014 captures the crowds in the United States
Simon Veness sees football take centre stage across the pond
Last Updated: 18/06/14 9:49am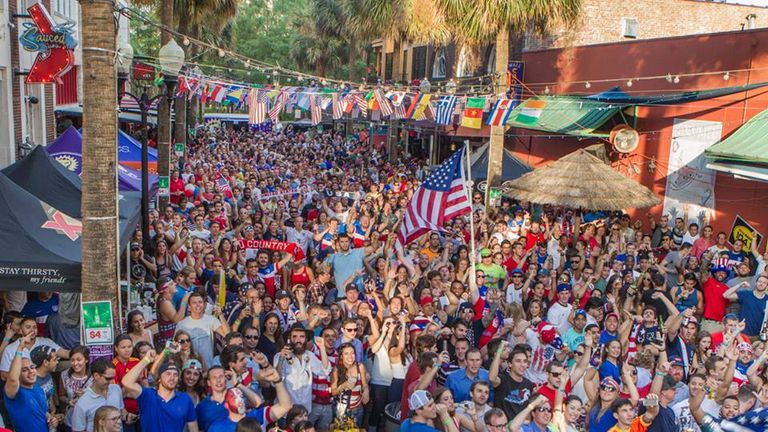 Maybe it's because the NFL is having a (very) quiet off-season. Maybe it's that, outside Miami and San Antonio, not many really cared about this year's NBA Finals. Or maybe it's because four million TV viewers is still a pretty good figure for the NHL and the Stanley Cup finals.
Or maybe, just maybe, the USA has finally realised that the four-yearly annual soccer fiesta known as the World Cup really is A Very Big Deal.
Whatever the actual reason, Copa Mundial 2014 from Brazil is getting absolute headline coverage here in the land of Uncle Sam, and we are enjoying wall-to-wall viewing on TV, with games on ESPN, ESPN2 and ABC, as well as a variety of online options. The head TV honchos confidently expect this tournament to eclipse the previous viewing record of 18 million for the 2010 final.
Early viewing figures for the first few days are just under 4 million, which compares very well with the 4.2 million peak figure for the NHL finals last week, so soccer definitely has more than a foothold.
It receives regular headlines on the main news programmes, is extensively reported all over the sports wires and has sparked World Cup parties in just about every sports bar and big-city area you care to mention (and we do have a LOT of sports bars in these here parts – witness the picture of US fans in downtown Orlando!).
Oh, and America is second only to Brazil in game ticket sales and we have more hours of TV coverage than any other nation except, again, the hosts.
Heck, even Walt Disney World here in Orlando has set up a special World Cup viewing lounge inside their Epcot theme park, which is tantamount to flying the Stars and Stripes from Buckingham Palace. Disney doesn't like to acknowledge that the outside world even exists, let alone parade an event like this in all its 32-country glory.
For a country that's often said (by those who don't really know), that the US hates football, except if you put 'American' in front of it, it is a pretty startling revelation.
Growing
The reality, though, is that this is all part of a 15-year process that has seen soccer grab a serious and deep hold on US sporting fandom. The steady growth of Major League Soccer, aided and abetted by David Beckham's six-year sojourn with Los Angeles, the growing internationalisation of the game and America's own expanding ethnicity have all combined to give soccer a much higher profile than many would expect.
It is especially true here in Orlando, where there is the kind of broad ethnic profile you would usually expect only of the biggest cities like New York, San Francisco and Los Angeles. I'm pretty sure that, if you tried hard enough here, you could find both visitors and immigrants from each of the other 31 countries currently represented in Brazil.
You may well have heard the transatlantic roar when Daniel Sturridge equalised, but equally it was a massively subdued crowd when Mario Balotelli applied the second-half coup de grace.
Simon Veness
Yes, it's that kind of cultural melting pot, especially with its relative proximity to much of Latin America. Florida is Brazil's favourite holiday playground, while you will also find thousands of tourists from Argentina, Colombia and Mexico.
In fact, if you look at the huge and seemingly ever-growing South American component, it's a wonder the House of Mouse hasn't rebranded itself Walt Disney Mundial this month in order to capture even more of that eager Latino market.
It also helps to explain why Orlando City will do extremely well when they officially join the MLS ranks next year, complete with multi-millionaire Brazilian backing and the ongoing possibility of Kaka being lured away from AC Milan at the end of his current contract.
They are joining the big-league ranks at exactly the right time to benefit from this soccer explosion, and in the right place to appeal to a rabidly-keen element of the populace.
It also helps to explain why I will be in a brand new sports venue to watch every game (where possible), and it won't just be to try my hand at the 50-plus replica courses you can play on their 10 state-of-the-art golf simulators.
Dewey's Indoor Golf & Sports Grill is a unique opportunity to sharpen your golf game (or, in my case, find out how many over 100 a typical hacker would shoot at St Andrews, or Pebble Beach, or Sawgrass, or Druids Glen, or any of the other formidable courses on offer), sink a few beers, practice your putting or just sit back in their deep recliners and watch the sporting action on the main 25ft TV screen (there are also another 70 – count 'em, SEVENTY – high-def TV screens throughout the bar area).
It is like something out of Las Vegas, a huge, glitzy sporting playground for locals and tourists alike and, on Saturday, it was full of Brits (and one lone Italian!) for England's debut in this year's tournament.
You may well have heard the transatlantic roar when Daniel Sturridge equalised, but equally it was a massively subdued crowd when Mario Balotelli applied the second-half coup de grace. Wayne Rooney's key miss was soundly razzed (predictably) and Ross Barkley's entrance was cheered to the rafters (perhaps less predictably).
In between, we enjoyed bacon sandwiches, sausage rolls and pints of Bass and Magners, along with more typical American fare (burgers and hot dogs and an extremely good amber ale from the New Belgium Brewing Co of Fort Collins, Colorado) and were spoiled for choice for which screen to watch at any one moment.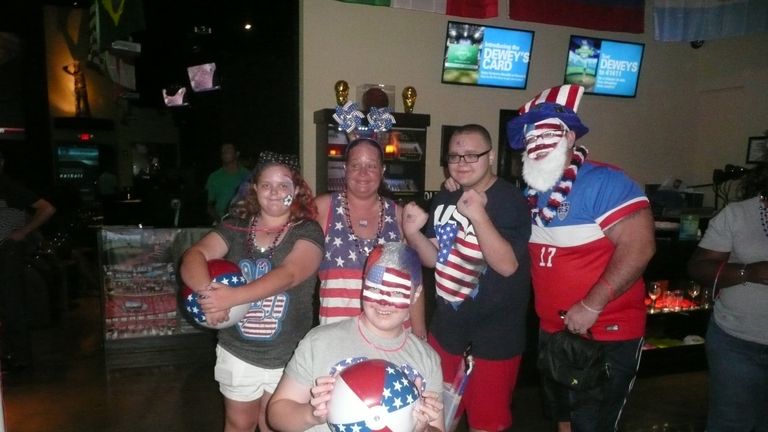 In addition to the 10 simulators, there is also an indoor 40ft putting green, a (simulated) driving range and even – in honour of Brazil 2014 – a penalty kick challenge throughout the month, with the chance to win a replica World Cup trophy worth $1,000!
Fiesta
It probably helps that this tournament is shaping up as one of the most memorable in recent times (the struggles of Roy Hodgson's men notwithstanding). Fox Sports came up with the great stat on Sunday than only one of the first 10 games this year has failed to produce at least three goals, while only ONE of the first 10 in 2010 yielded more than TWO goals.
By my calculations, we are on course for something like 220 goals in all 64 games, which would be a record by some 49 (there were 171 at the previous best, France in 1998). It is football on fast-forward, a fiesta of soccer in keeping with a country that beats with the spirit of Carnival.
And, whether England (or the USA) make it to the knockout phase, this Copa has most definitely caught the imagination of the public over here. It is competing on a level playing field with the other major US sports, and eclipsing some of them (baseball and NASCAR have been barely an afterthought, while the US Open golf suffered from the lack of drama that Brazil is currently producing in spades).
Did I also mention Dewey's was packed on Saturday? That's what this World Cup will do for you. And the USA is most definitely alive to the possibilities.