Ian Watson
Comment and Analysis
World Cup: End of an era as tired Spain are dumped out
Many were expecting a response from holders Spain following their 5-1 reverse against the Netherlands in their World Cup opener. Instead they were beaten 2-0 by Chile and dumped out of the tournament with a group game still to play. Ian Watson assesses the demise of a great team...
Last Updated: 19/06/14 11:33am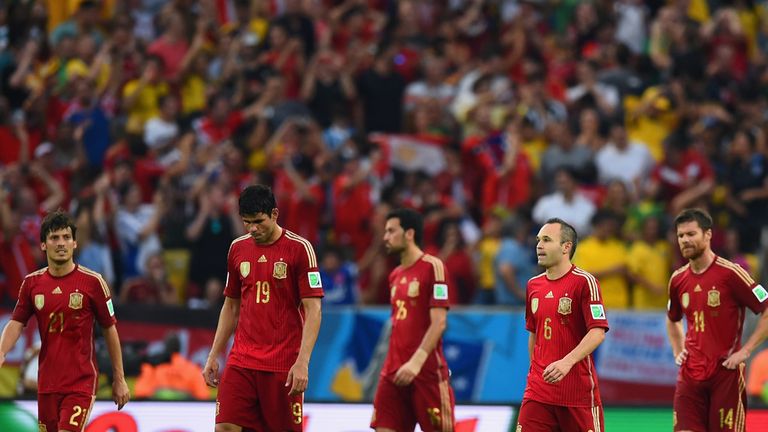 Tiki-taka may not be dead, but the great Spain side who conquered the world with it almost certainly are. No one expected the end to come quite so soon but when it did, it was a painful death.
Some predicted that Spain might struggle to retain their crown in the company of Brazil and Argentina, but nobody foresaw that next Monday's dead rubber against Australia would be the wake of this great team.
Vicente Del Bosque has stayed loyal to the players who have helped Spain win their last three major tournaments and those who arrived in South America on the back of 53 unbeaten qualifying matches. The coach, it would seem, knew something was not right but he opted to tweak rather than transform.
The bloody nose received at the Confederations Cup at the hand of Brazil was a warning. The lack of a Plan B was starting to hurt Spain on the increasingly frequent occasions opponents had sussed a way to neutralise Plan A. Diego Costa was seen as the remedy, and luring him from within the Brazil squad seemed a smart move. By strengthening their ranks and bringing more variety to their squad, they also weakened a major rival.
The plan failed. Costa started both Spain defeats and looked a player ill at ease with his role, which maybe should not come as a huge surprise. There are few parallels between Spain, who traditionally probe patiently, and Costa's Atletico, who employed a more direct style on their way to the La Liga title.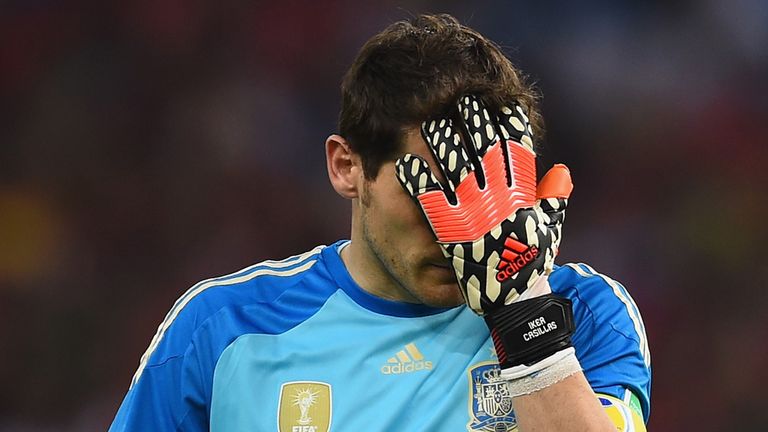 It would be unfair to lay the blame for Spain's demise at Costa's feet, Iker Casillas's hands or any individual - perhaps with the exception of Del Bosque.
The coach failed to freshen up his side sufficiently, and though his is hardly a squad disfigured by age (their average age is only marginally higher than Argentina and lower than Brazil), time has taken its toll, most obviously on the team's two figureheads.
Xavi arrived at the finals on the back of his worst season at Barcelona, with the great man's legs no longer capable of carrying him around a pitch in the way they used to. The playmaker has even appointed his own successor - the "extraordinary" Koke - but, not unreasonably, the 34-year-old wanted one last tournament and the chance to make more history by helping Spain to retain their title.
Horrible mistake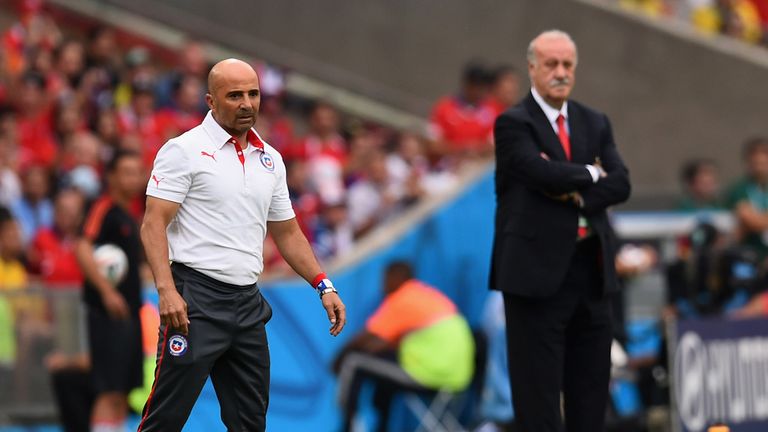 Unlike Xavi, Casillas was spared the chop against Chile, with Del Bosque believing his captain was mentally strong enough to shoulder the criticism which came his way after gifting Holland two of their five goals last week. Another horrible mistake - initially, the decison to punch Alexis Sanchez's free-kick, then the woeful execution - just five days later will have the 33-year-old asking his team-mates for forgiveness once more.
Casillas's form going into the tournament was difficult to judge given Carlo Ancelotti preferred to trust Diego Lopez with the Real Madrid gloves, just as Jose Mourinho did. Former Real coach Mourinho had an agenda in attempting to strip the keeper of some of the power he held in the dressing room, but Ancelotti had no such ulterior motive. Maybe that, and Casillas's Champions League final mistake, should have made alarm bells ring in Del Bosque's mind over Spain's most-capped player, especially given the quality in reserve.
Not that the once-great keeper should be singled out. Xabi Alonso struggled to identify a red shirt for much of the first half on Wednesday, while Sergio Ramos fared no better alongside Javi Martinez than he did with the axed Gerard Pique last week. Sergio Busquets' only contribution of note was to miss a second-half sitter while David Silva was again anonymous.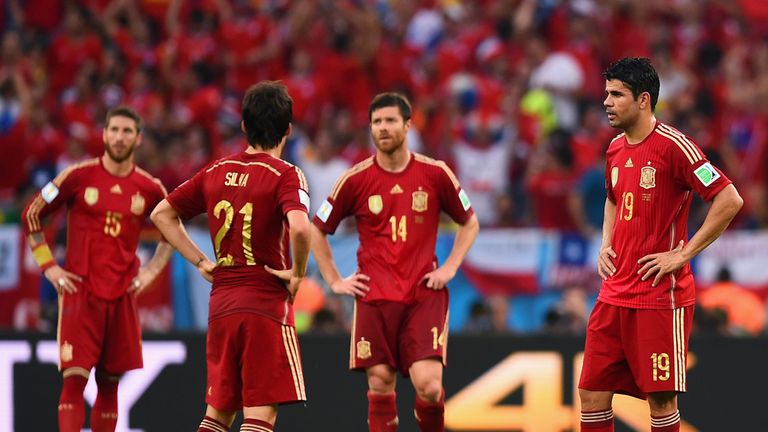 This squad contained only four variations from the party which travelled to Euro 2012, while the XI to face Chile contained only two changes to the side which beat Italy in the final two years ago. Del Bosque's loyalty is admirable, and understandable given the status of many of his players. But with the Under-21s having won the last two European Championships, perhaps this summer was the time to bring through some of that talent.
Koke played the second half against Chile, while the likes of Isco, Iker Munian, Alvaro Morata and David De Gea mean Del Bosque can bring some badly-needed new impetus, pace and hunger into his squad - provided he is still around to select it.
While the obituaries are being published for this team, of course, their current failure is not what they should be remembered for. This group of players did more than simply win; they have defined an era, similarly to Pele's Brazil, Cruyff's Holland and Puskas' Hungary. Individually and collectively, though, their time is up.